Where You From? Beau Ryan Feat. Justice Crew
Check out the hilarious official video of Beau Ryan Feat. Justice Crew -Where You From?' on YouTube.
Former NRL Cronulla Sharks player, Beau Ryan has teamed up with the ARIA chart topping dance group Justice Crew on his debut single, -Where You From'.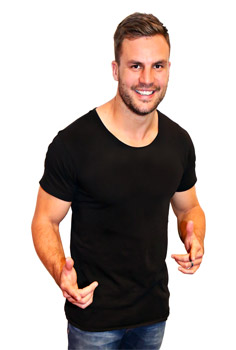 The single, a cultural parody, was co- written by the former Rugby League player alongside emerging artist/producer Miracle who also penned the record breaking #1 single, -Que Sera'.
When asked about the making of the single, Beau explains, 'This was an opportunity to try something new, get out of my comfort zone and learn from the Justice Crew guys. It was heaps of fun!"

John from Justice Crew adds; 'We love to have fun and muck around, so doing this track with Beau was a great chance for us to show off our silly side."
Beau Ryan has been making regular comedic appearances on The Footy Show since 2009 and in 2010 Beau started his own segment -Beau Knows' which included the character DJ Yallah. In 2013, Beau created a new segment called -The Footy Show Multichannel Network', which interrupts the show. This segment forms one of the highest rating blocks in The Footy Show and has highlighted Beau as a gifted impersonator with natural comedic timing.