Vivien Aisi, previously known as Ms. V, is a versatile singer known for her distinct soulful voice. Originally from PNG, Vivien moved to Australia settling permanently in Cairns QLD. Since then she has supported various bands and recording artists in the studio and out in the music scene for the past decade. After showcasing her songs around Cairns, she gained the confidence to record her own material and has since released "Lost In Time", "Kiss The Stars", and "Nine To Five". Vivien now finishes the year on a high note with the release of her soulful debut EP titled Lost In Time. Motivated from her journey, Vivien expresses her life experiences throughout the EP, touching on the raw emotions of love & loss and creating an experience she refers to as music from the soul.

Vivien explains the introspective nature of the EP, stating that it "is very sensitive in itself which I feel I want to portray first hand as an artist and to take my listeners on the journey throughout my career. Like they say 'Before the rainbow there is always rain'. We took a couple of weeks off recording to listen to all the tracks and decided what songs to put on the EP that portrayed that journey best." Recorded in Cairns with Lawrence Goodwin at Coconut Grove Studios ("Lost in Time", "Just Leave" and "Yesterday") and with Damian Codotto at Purple Sound Studios ("Kiss the Stars" and "Nine to Five"), the EP was originally comprised of 6 piano-driven tracks, however the direction changed as Vivien felt as though "there was something missing. I thought of how I wanted to share my songs and how to relate to the listener through everyday experiences". This change in direction helps to deliver fans with a sense of vulnerability which can be heard across the tracks which came to form Lost In Time.

Although Vivien has been in the scene for many years, it is only in recent months that have seen her lifelong dream begin to flourish. 2019 saw Vivien explore new genres such as Electronic Pop & Hip Hop leading up to the release of rap artist MC Pyrit's debut single "Dream Walkers" which featured the vocals of Vivien Aisi. Inspired by this release, Vivien went on to record & release her first ever single and video titled "Lost in Time" which has found its way onto various Spotify playlists including the Caribbean Broadcaster Network Spotify Playlists and Q Music's Keep Listening Playlist. Lost in Time EP is a compilation of songs introspective of Vivien's journey in Australia. "It has been a challenging decade and my music has been a major source of strength and healing throughout. The photography symbolizes me putting on my brave face and the year where I finally stopped running and faced my demons finding strength in self reflection, acceptance and perseverance."


Interview with Vivien Aisi
Question: How would you describe your music?

Vivien Aisi: My music is blend of genres embellished with Neo-Soul, R&B undertones layered with Pop elements creating what I like to refer it to as Music for the Soul


Question: Can you tell us about Lost In Time?

Vivien Aisi: Lost in Time is vulnerable to the soul. This EP has a collection of songs drawn from life experiences and challenges. These songs bring healing to the artist in every way possible in the hope to share with the audience moments of self-reflection, acceptance & perseverance.

Lost in Time EP is a compilation of songs introspective of my journey here in Australia. I've lived here for over 10 years now away from my home country and family, so it has been a challenging journey where music has been a source of strength and healing. I remain grateful for everything I have and to be living my dream and raising my daughter with many opportunities I never had as a little girl.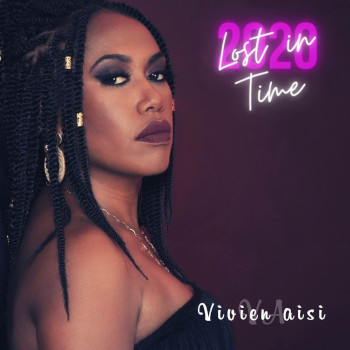 Question: Is there a particular message you hope listeners take from your music?

Vivien Aisi: I believe each listener will relate to the songs in their own way to fit what they are experiencing and take what they need if it's acceptance, self-reflection, perseverance – that's the beautiful thing about music. Sometimes we think we are alone in this world and no one understands but music and experiences connects us all.


Question: Has moving to Australia influenced your music?

Vivien Aisi: Moving to Australia has greatly influenced my music is many ways. Through the life experiences here, different genres I'd never heard off or listened to, performances and educating myself about my voice and how to use it properly for longevity in the industry. The more information I had, the more I explored to discover and accept my sound.


Question: Can we expect a tour now the borders are opening up?

Vivien Aisi: 2021 is the year to get on the road and bring the music to people. I love live shows and the experience of performing for people – it's such an honour to touch people with the power of music.


Question: If you could have anyone, in the world, attend a show, who would it be?

Vivien Aisi: I'd have my beautiful parents who haven't experienced watching me perform at a show in over 10 years. They have seen me as the 23-year-old young mum who wasn't sure of who she was – lost in time 😊 Now confident of the woman I have become, I would have them over anyone else in this world as they deserve to share the experience with me. They both cried hearing my EP for the first time and I just want them to be proud


Question: Which music/artists are you currently listening to?

Vivien Aisi: I am listening to a variety of new artists, different genres in Australia and back in my home country supporting them by buying their music, merchandise and sharing their music with my fans as well. A little support goes a long way.


Question: What or who was your inspiration to go into the music industry?

Vivien Aisi: Growing up in a big family of 8 kids and extended family, music was always present in our lives. We'd perform at parties, churches, anywhere there was entertainment, we would sing and perform. Everyone in my family sings, plays an instrument. My first memories in life are of singing and bringing joy to people as they watched on - It always brings joy to my soul, so I knew that was my purpose in life.

After many years of writing songs that I never did anything with and singing in cover bands/ ensembles, I steered away from music to get a skill elsewhere such as Telecommunications, Technology, Tourism and Health. Nothing could light that fire within me like what music does to me.

So, when I lost all my hours in my job earlier this year in Tourism, it gave me that push to do my music and take it seriously. Best decision I ever made – I feel I am living my purpose.


Question: Did you have any pre-conceived ideas about the music industry?

Vivien Aisi: Yes, I did- boy was I in for a shock lol. I've always thought that once you put out a good song it would do its thing and you'd get the attention on the song and bang life would be sweet, do tours, performances etc..

I now have learnt that is not the case and there is in fact more to do before a song moves successfully. With the help of individuals in the industry, I am so excited for my next couple of projects after my first taste.


Question: Was there a moment you contemplated throwing in the towel?

Vivien Aisi: Yes, so many times I've lost count. Initially trying to get a team together, working around each individual in the band and staying on track. Then came missed opportunities, lack of funding, cancellations you name it – all contributing to days of total despair. I gave up so many times, but the love of music never went away, if anything it grew stronger each time I walked away.


Question: What has been your favourite part of becoming a music artist?

Vivien Aisi: My favourite part has been the recording process. I have always held back due to my own insecurities as an artist in my creativity. This really gave me a boost working with 2 sound engineers absolutely loving the songs and the ideas that came up off the recording.


Question: What's a typical day like?

Vivien Aisi: I start my day off checking my plants (absolutely love my garden) and my animals (2 dogs) generally about 6 (early days for me) I have my first coffee of the day and visit my to do list for the day.

Get the family on their way to school and if I have a shift doing Reservations start that, if not its study time as I am still not getting hours at work in Tourism (Cert III in Business specialising in Social Media) I also create content for music or work on music during the day.

After lunch depending on if I have a gig generally start preparing for set up at the venue or if nothing I do chores around the house. Then its school pickups, dinner and most of the evenings is spent practising, writing, and creating.


Question: How would you describe your personal style?

Vivien Aisi: Strong but pleasant and fun.


Question: What's next, for you?

Vivien Aisi: A tour, a couple more singles with video clips and an album.


Question: Can you share your socials? (links please)

Vivien Aisi: Facebook
Instagram
Spotify
SoundCloud
Link Tree


Interview by Gwen van Montfort