The 23-year-old voice talent Alessia Labate and the musician Leonail herald the coming winter with their joint single HIGHWAY. The dance-pop song was released on Golden Chocolate.

At the tender age of 12 years Alessia, who lives in Milan, was discovered. She took part in an Italian talent show. These were her first steps in the music business. Even before she came of age, she began to compose and write her own songs. This passion led her to the prestigious songwriting school (CET - Mogol), where she was able to further sharpen her talent. After graduating, she devoted herself entirely to music and made it her profession. Her debut single "Black Soul" followed in 2019.

Leon alias Leonail is 25 years old and lives in Germany. He started playing the drums at the age of six. A little later he developed a love for electronic music. As a student he had the time to perfect his qualities as a producer. He started producing for numerous artists worldwide. His tracks and remixes appeared on labels like Spinnin' Records, Kontor Records, Sony Music and many more. Many millions of streams are in his discography.

Alessia Labate can also look back on an impressive musical vita. Her songs have been played many times on the radio and found their way into big Spotify playlists like New Music Friday, Friday Cratediggers, Fresh Finds, Tokyo Beat Club, Dance Brandneu, Dance Rising, Hot New Dance, Dance Coversì or Fresh Finds. Alessia lent her voice for EDM acts, whose songs were then released on labels like STMPD Records (Martin Garrix) or Smash the House Records (Dimitri Vegas & Like Mike). With the beginning of the Corona pandemic Alessia decided to release more of her own songs again, which were featured in Billboard USA, nss G-club and the coolest music blogs.

HIGHWAY has an optimal balance to function as radio-friendly as well as dancefloor-compatible. Due to its strong topline and the sophisticated composition HIGHWAY burns in the ear very fast. In the drop a danceable beat is fired, which makes the song also interesting for DJs.


Interview with Alessia Labate
Question: How would you describe your music?

Alessia Labate: I'm not really good describing it, I'm better at making it lol. But someone said my music feels nostalgic, fun, personal yet universal. I imagine people listening to my music while driving and vibing to it. I try to infuse it with my whole personality, which has different facets.


Question: Can you tell us about Highway?

Alessia Labate: Highway is a nostalgic dance pop song about hitting the road to go somewhere else. I really miss travelling right now, that's a homage to it even though I wrote it over a year ago. When I wrote it the intention behind it was different.


Question: What inspired the video?

Alessia Labate: I wanted it to make it feel like a dream/trip and I'm so happy with how it turned out. I had the idea of the screen projector and all the rest was Ivan, the director.


Question: Is there a particular message you hope listeners take from your music?

Alessia Labate: I want them to feel loved, accepted, allowed to dream, to make mistakes and to be assertive about what they want. Everyone will get a clearer vision of what I mean when my debut EP is out.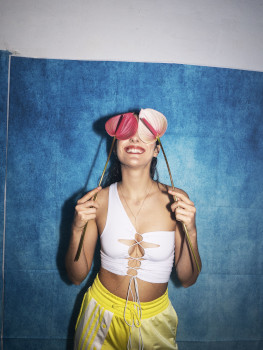 Question: Tell us about working with Leonail?

Alessia Labate: Leonail is great, he's one of the most talented producers I know. Working with him is smooth! We are always on the same wavelength.


Question: What motivates you most when writing music?

Alessia Labate: Making something that me and other people can enjoy effortlessly and that makes the listener feel understood. I'm also a sucker for manufactured pop, so I can't wait to listen to the final product and I want to be able to play it in the same playlist with Kim Petras and other pop stars I love.


Question: Which music/artists are you currently listening to?

Alessia Labate: While writing this interview I'm listening to Remi Wolf :)


Question: If you could collaborate with another artist, who would it be?

Alessia Labate: Flume, Tove Lo, and I'm recently really loving Blanks.


Question: How does it feel to hear your song played all over the airwaves?

Alessia Labate: So gooood <3 My ego is happy lol


Question: Did you have any pre-conceived ideas about the music industry?

Alessia Labate: We all do. This one is real though: the Italian industry doesn't accept Italian artists making music in English for the international market. They say "you will never be taken seriously because you are Italian and will never be as good as the natives in anything" but they're just missing out on so many young artists! My managers are American and I work with people from all over the world and no one has a problem with me being Italian or my pronunciation, I'm really open about it and when I'm wrong (which is okay not being a native) they just tell me and I fix it; they find my "Italianess" funny cause I go "OH MADONNA" in the middle of a session or I pick up the phone and speak dialect to my granny, they all love it. But the Italians do not understand how precious our heritage and the ways we could use it. One of my fav Italian/international rising artists right now is Andrea Di Giovanni, check them out!


Question: What has been your favourite part of becoming a music artist?

Alessia Labate: My job is basically getting to know myself more and more, how cool is that? I'm happy I constantly get to question myself and grow.


Question: How would you describe your personal style?

Alessia Labate: Lots of shade of Pop.


Question: What's a typical day like?

Alessia Labate: Not so glamourous: I wake up, I do yoga when I have time, I reply to dms and emails then I either work on vocals or have zoom sessions with awesome people. Sometimes I have sessions in real studios with actual people in Milano and that feels so good, there's nothing like human interaction.


Question: What's next, for you?

Alessia Labate: An EP I'm working on, I can't wait to show you!


Question: Can you share your socials? (links please)

Alessia Labate: Sure!
Facebook
Instagram
YouTube
SoundCloud


Interview by Gwen van Montfort