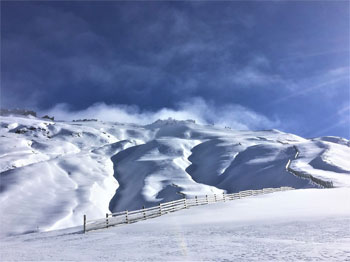 Extending The 2018 Ski Season
Outstanding early season conditions have skiers and snowboarders across New Zealand anticipating a long, cold winter.
And winter has just been extended, with the announcement from Wanaka's iconic Treble Cone ski area that it will open for the 2018 season on Saturday June 23, five days earlier than scheduled.
The mountain's loyal season pass holders and lucky locals with day passes will be able to access Treble Cone's legendary terrain, thanks to an early season storm that delivered well over a metre of snow, and the combined efforts of the Treble Cone team.
Treble Cone General Manager Toby Arnott says they are "stoked" to be opening early.
"Conditions are outstanding for June and that's got the entire team up here focused on getting the mountain open," he says.
"We know people want to ride, so we've pulled out all the stops and been working round the clock to make this happen."
With plenty of snow across the mountain, these are the best June conditions that Wanaka has seen in some time, and enthusiasm levels among Treble Cone's staff are apparent.
"There's a huge amount of work involved in preparing a mountain like this for the season," says Dave Rutledge, Treble Cone's Head of Operations.
"We've got a great crew of new and long-term staff up here and we all want to get the mountain open.
"Snow-makers, maintenance, lift operations, groomers, snow sports and the F&B team have all been working tirelessly so our guests can take advantage of this amazing snow. It's been a big week, but it'll be worth it when we see the grins on the faces of the lucky six people riding that first chair of winter."
It's not too late to take advantage of the early opening, with a range of multi-day passes available at the Treble Cone office in town or on the mountain.
"There's an extra weekend of riding for the weekend warriors, with more for those who might just happen to come down with the old 'Wanaka Flu'," says Toby.
"If you've already bought your pass, come into the office and collect it so you can get straight onto the lift. The team's made a huge effort to get us open and we're looking forward to welcoming everyone back up here."
Lifts will run from 9am on Saturday, June 23 accessing the Main and Saddle basins and all runs, and all mountain facilities will be operating including rentals, lessons and a full F&B service.
A free new shuttle will operate from the bottom car park meaning guests can park up and enjoy a scenic ride to the base building without having to worry about chains.