Top 10 -Bucket List' Experiences from Check-in.com.au's Escape Lounge

Australia has so many unique experiences, creating a bucket list is no easy feat. It's like choosing your favourite child, or finding free parking in Sydney. But someone had to do it, so here we go – the top 10 things you simply must do in Australia.

Visit Arnhem Land
Made up of 91,000 square kilometres of tropical wilderness, Arnhem Land is as unspoiled and remote as you can get. Its small population is predominantly Aboriginal people, whose traditional culture remains largely intact, making it a huge tick on our bucket list.

Access to Arnhem Land is so restricted that only selected tour operators who have earned the trust of traditional landowners may bring visitors in. If you're looking for an even more exclusive affair, head to Bremer Island, 3.4 km off the north-eastern corner.

At Banunanu Wilderness Retreat, a sustainable resort with a maximum of eight guests at a time, you can join a private fishing charter. The pièce de résistance is returning to the beach restaurant made from driftwood where your catch of the day will be cooked for you.

Dive with great white sharks in Port Lincoln
Cage diving with deadly great white sharks is not only thrilling, it has a 100 per cent non-fatality rate. Adventure Bay Charters or Calypso Star Charters run shark diving expeditions from Port Lincoln and they'll take you way out to sea to a location known for its abundance of sharks, sea lions and fur seals.

You can't do this on a whim, it's a full day out at sea and once Jaws is spotted, you'll be dropped into the ocean with nothing but a metal cage to protect you. If you really can't face the sharks, try the cheeky option of swimming with sea lions.

Road trip from Darwin to Adelaide
You've probably heard of Gibb River Road and the classic Nullarbor drive, but one of the most overlooked road trips is the journey from Darwin to Adelaide along the Stuart Highway.
Known as the Explorer's Way, this journey traces the trail of pioneer John McDouall Stuart and spans over 3000km from the Top End to Central Australia and down to Port Augusta in South Australia.

Taking in some of Australia's most interesting towns, like Alice Springs, Katherine and Coober Pedy, the road trip will take you around 11 days. Of course, the highlight for many will be visiting Uluru – just make sure you stay overnight so you can see it at sunset and sunrise.

The highway is bitumen meaning you can do it safety, but if you really want to go off the beaten track, head down the Oodnadatta Track, a dirt road following an old Aboriginal trading route.

Witness the miracle of turtle life at Mon Repos
From January until March, the dunes of Mon Repos (12km from Bundaberg) on the Southern Great Barrier Reef wriggle with life as thousands of tiny turtles burst through their sandy nest and dash to the safety of the ocean, beginning their epic journey of survival.
You can watch both nesting and hatching and meet the rangers and volunteers who work tirelessly to ensure the survival of this species.

After a night that may include counting eggs, relocating nests and helping the scaly newborns scurry to the water, board a plane and fly to Lady Elliot Island, one of just three true coral cay resort islands on the Great Barrier Reef – it's the perfect spot to swim with the turtles. Witness the circle of life in just one weekend!

Climb Cradle Mountain
If you really want to experience the Tasmanian wilderness you need to experience it on foot. You can do this by walking the world famous Overland Track, a six day walk which takes in the iconic Cradle Mountain, Cradle Valley and Dove Lake. At the summit of Cradle Mountain you'll be treated to 360-degree panoramic views of Tasmania's highest mountains.

If you are short on time, you can climb it over a long weekend on a three day trip with World Expeditions and they'll even put you up in their comfy cabins. Although after all that hiking, we recommend a stay at one of our -bucket list hotels', the Cradle Mountain Lodge – you deserve it!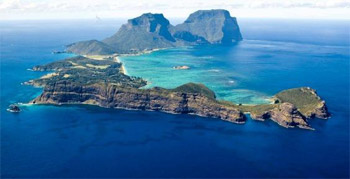 Swim with whale sharks
You've swum with sharks, now how about experiencing something that doesn't feel like you're volunteering at feeding time at the zoo!

On Western Australia's Coral Coast at Ningaloo Reef you can partake in the underwater experience of a lifetime.

Every year, between mid-March and mid-July, these gentle giants of the ocean congregate in the Ningaloo Marine Park following the mass spawning of coral. They can grow up to 18 metres in length (just the size of an NBA basketball court) but are completely harmless to humans. Swimming, snorkelling or diving with the world's largest fish is a bucket list treat for the whole family!

Visit Lord Howe Island
Forget Sydney, New South Wales' shining star is 660km off the north coast, and a trip here means you're one of only 400 visitors.

The World Heritage listed island in the middle of the Pacific Ocean boasts outstanding natural beauty, remarkable geology and a rare collection of birds, plants and marine life.

Here you can hike, surf, dive, even hand feed fish. It's one of the most pristine and 'green" spots on the planet (75 per cent of the island's original natural vegetation remains intact and undisturbed). At only a two hour flight from Sydney and surrounded by the southernmost coral reef, you'll feel like you are miles from anywhere, and you don't even need your passport.

Cruise the Kimberley
If the Kimberley isn't on your bucket list, then you're going to live a long and uninspiring life!

The region is often named amongst the top destinations in the world by reputable travel sources – and we are inclined to agree. It's one of the last true wilderness areas on Earth, with iconic outback landscapes which cover nearly 423,000 square kilometres in north WA.

One of the best ways to see the area is by cruise ship where you can get up close to the rocky shores and ochre-coloured gorges as they meet the lush waterfalls, breathtakingly blue waters and white sandy shores. Carved by millions of years of extreme tidal patterns, the coastline's complex river systems provide access to this contrasting scenery and make travel by small cruise ship the ideal way to explore the area. Award-winning Aurora Expeditions will take you there on a 35-metre luxury catamaran with just 44 guests.

Drive the Great Ocean Road
California has the Pacific Coast Highway, but in Victoria you can get your kicks on the Great Ocean Road. Hire a car in Melbourne and take a journey along the country's stunning south-east coastline. Drive through the iconic surf spots of Torquay and Bells Beach (this break should be on any surfer-worth-their-salt's bucket list), then onto the laidback town of Lorne and the spectacular Twelve Apostles.

Walk through waterfalls and lush forest in Otway National Park and watch whales from historic Warrnambool. For the 'well-heeled' traveller, consider the Great Ocean Walk, an eight day walk from Apollo Bay to the Twelve Apostles.

Explore Kakadu
Kakadu National Park is Australia's biggest national park, and it's here you'll find rugged escarpments, lush rainforest and rock art galleries up to 50,000 years old. Learn about Aboriginal culture from traditional owners, the Bininj/Mungguy people. Witness millions of migratory birds amongst the wetlands. See delicate waterlilies and prehistoric crocodiles, thundering waterfalls and sparkling waterholes.
It is a natural wonder that holds both a World Heritage Area listing and as a UNESCO site (there are only two other sites in the world that hold both awards). While we absolutely love Uluru, let it be on record that a three day trip into Kakadu NP is where you'll really lose yourself in the wonders of the Northern Territory.

*We couldn't neglect: Camping on Fraser Island; Cruising the Whitsundays; Skydiving above Byron Bay; Learning to surf at Bondi Beach; Taking a journey on the Ghan.

For more information visit www.check-in.com.au or www.facebook.com/checkinsescapelounge.