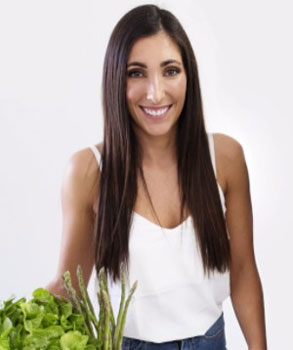 Shannon Young and THR1VE Help Aussies On Demand
People around Australia are taking advantage of nutritionist Shannon Young's wise advice, with THR1VE making her available to their customers to answer questions and guide nutrition plans for free. THR1VE have introduced the -Ask our Nutritionist' campaign to help Aussies get better results and live healthier lives, further demonstrating their commitment to healthy food and science-based nutrition. THR1VE is also taking advantage of Shannon's extensive knowledge by having her contribute to the THR1VE store and THR1VE@home menus.

Shannon has a Bachelor of Health Science majoring in Nutritional Medicine and holds a Certificate IV in fitness, making her the perfect advisor for both healthy eating and training. Her down-to-earth, positive approach to wellness allows her to provide nutritional plans that people find easy to integrate into their daily lives. Shannon's expert input on the THR1VE menus has resulted in the release of two 'Summer Bodies Made in Winter' bowls promoting overall health and a balanced diet.

Shannon has designed the -Pure Bowl', a grilled chicken and turmeric roasted cauliflower dish, which is described as the perfect metabolism boost for effortless fat loss. She also created the -Splendid Bowl,' which features grilled chicken, roasted pumpkin, and feta, with the purpose of keeping you energised and alert all day. Both meals are designed to promote healthy fat loss while providing clients with the nutrition they need to live busy, active lives.

'I'm incredibly passionate about health and nutrition, and THR1VE enables me to help thousands of Australians achieve their health and fitness goals with science-based meal plans," said THR1VE's resident nutritionist, Shannon Young. 'It's a joy to help people achieve their dreams while offering a well-rounded approach to health and nutrition."

THR1VE's menu is based on the latest nutritional science and draws on the best research from the Mediterranean, Paleo, Primal, Keto, and Vegetarian diets. With a focus on effortless fat loss and sustained energy, THR1VE is helping Aussie achieve their dream bodies while enjoying deliciously healthy food.

THR1VE's -Ask our Nutritionist' campaign is a key part of their plan to help Australians look, feel, and perform their best while eating delicious, healthy food. As well as offering one-on-one consultations Shannon also helps host bigger corporate challenges and eating plans. You can ask Shannon questions via a form on THR1VE's website, found here. Shannon will answer your questions in THR1VE's e-newsletter.