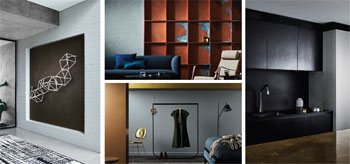 Make a Design Statement
Decorating with luxurious texture, shimmering metallics and unique paint effects is the easiest way to make a design statement.

Comprising Dulux Copper, Copper Patina, Metal Shimmer, Stainless Steel, Gold, and Concrete Effects, these additions to the Dulux Design Effects range are perfect for adding interest to feature walls, updating furniture or even transforming home accessories.

With six new paint effects in a range of colours, the new-look Dulux Design Effects Collection offers homeowners virtually endless possibilities to get creative and inject personality into their DIY projects.
According to Dulux Colour Expert, Andrea Lucena-Orr, textured or unique paint finishes not only add colour but also a level of tactility and personalisation.

'There are so many ways you can create a design statement with Dulux Design Effects. From the simplest idea such as painting pots for indoors plants or a block texture behind your favourite artwork to painting an entire space.

'Painting patterns on a wall with a Design Effect in combination with Dulux Wash&Wear interior paint add a bit of fun to a room. You can even make a design statement by painting your favourite timber side table, lamp base, old vases or ceramic items," says Andrea.

The versatile Dulux Design Effects Collection achieves a unique finish depending on the application technique. Homeowners can experiment with brushes, dry rollers or muslin by dragging the paint in random or overlapping patterns to achieve a truly personalised look.
The Dulux Concrete Effect will achieve the refined modern industrial textural effect of polished concrete. Available in two colours,
it is ideal for interior walls in the living room, bedroom or study.
Handy tip: The more you polish the final coat, the more depth of colour you will see.

The Dulux Copper Effect creates the look of lustrous metallic copper. Add Copper Patina Effect to create the green patination of aged copper. Ideal for interior and exterior feature walls or home accessories.
Handy tip: The level of patina will vary depending on drying time and application method.

Give an authentic, sleek and stylish stainless steel appearance with the new Dulux Stainless Steel Effect. Ideal for interior feature walls, architectural features and home accessories.
Handy tip: Add a clear coat if you're using the Design Stainless Steel Effect in a high traffic area.
Create drama on broad wall areas with the Dulux Gold Effect or add a touch of luxury to interior trims, picture frames or furniture.
Handy tip: Tint your Design Gold Effect to one of five shades such as a Rose Gold or Bronze Gold for a sophisticated feel.

Add a subtle shimmer to interior or exterior surfaces. Available in five colours, Dulux Metal Shimmer Effect is perfect for gates, fences, trims and much more.
Handy tip: Resist the temptation o touch up as you go as it will ruin the effect.