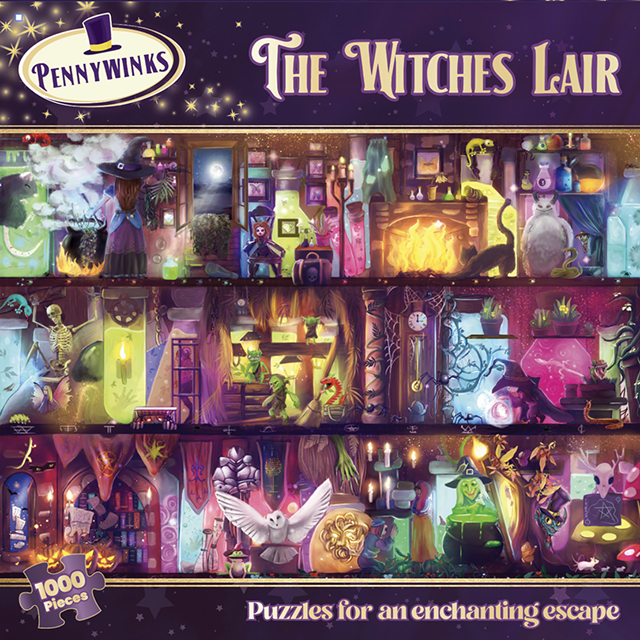 Pennywinks is a new Australian puzzle company that has just released its first 1000 piece jigsaw puzzle "The Witches Lair" with the aim of helping Aussie families have some good old fashioned fun away from screens.
The Sydney based couple, Pam and Phil, set out to create a fantasy jigsaw puzzle that is whimsical and atmospheric and loaded with detail to keep puzzlers captivated. The unique magical puzzle artwork is digitally hand drawn and took over 150 hours to make.
"We've been puzzle nerds for years but couldn't find the type of puzzles we loved in Australia. This inspired us to create our own during the start of lockdown last March 2020. We wanted to give Aussies puzzlers something new and different" .
Puzzles can help bring families and people together in times when isolating can feel very lonely, especially when household members are glued to their own separate devices. There's also proven mental health benefits such as improving short term memory, concentration and visual spatial awareness skills. Studies have also shown. Puzzles have also shown to have therapeutic benefits for patients suffering from Dementia and Alzihmers. Puzzles are also great when on vacation and to take a time out from electronics.
The Witches Lair Puzzle
RRP: $54.95
Available at https://www.pennywinks.com/ or Amazon
Review: We love the creativity that's gone into this puzzle, the halloween inspired artwork make for a fun, unique, bright and challenging piece, the perfect gift anyone who loves magic and puzzles. So refreshing bringing magic to life, with an element of 'where's wally' once you have built you can keep playing.