Gentle, philosophical and lush, Melbourne-based indie folk group The Redwoods have unveiled their new single I Wrote A Letter. The track acts as a loving obituary of sorts for a band no longer together; a collage of memories and happier times. The Redwoods have also released a stunning video to accompany I Wrote A Letter, directed by Tomas Busby (Millar Jukes) and starring Jessie Oshodi.

I Wrote A Letter has a reverie to it that is deeply compelling – temperate, rambling percussion assuredly drives the story forward as soft acoustic guitar strums along underneath lead vocalist Joshua Moore's idiosyncratic voice. Recorded at Sing Sing Studio and at producer Callum Edwards' home studio Sloth Studios, I Wrote A Letter evokes influences such as Fleet Foxes, Mumford and Sons and even iconic troubadour James Taylor. Speaking on the creative process behind the track, Joshua says, "I Wrote A Letter is a song I wrote the day after splitting up with a band I loved due to an altercation with the drummer who I also love but have had a troubled friendship with. The lyrics came together in about 10-15 minutes and are mostly images, memories, and musings from some time we both spent in America, and in particular Oregon. Though there's no reference to the book, I often think of Jack Kerouac's 'Dharma Bums' when I play it. I like to leave my songs open to the interpretation of the listener, but the chorus is intended to evoke a feeling of both overwhelm and hope, two feelings that for myself I have often found to be mutually exclusive."

The video for I Wrote A Letter is as compelling and powerful as the track itself. Footage of The Redwoods performing the track amongst an actual forest of redwood trees is interspersed with footage of a young woman scrambling for answers amongst a steadily growing influx of letters, appearing as if from nowhere. The clip is visually beautiful, hypnotic even – as Joshua describes, "I workshopped the idea for the clip with Tomas Busby, the director, one afternoon during lockdown. I knew I wanted the clip to be shot at the Redwoods in Warburton and that I wanted a female lead to play a part, but it was Tomas who brought up the idea of letters actually appearing in the video, which made me think of the scene from the first Harry Potter book when letters come streaming through the chimney. So, the aim became to slowly overwhelm the screen, the band, the lead actor Jessie, and the viewer with letters as the song went on, in something of a surreal horror-esque concept that could leave the audience guessing as to what was what and who was who. Often I find that music and nature can tell their own stories without us getting in the way."

I Wrote A Letter is a truly captivating song, expertly crafted by a songwriter who so clearly understands the power of exceptional songwriting – with this understanding probably due to a lifetime of loving music, as Joshua reflects, "I got into music through my father, who played, and still plays, bass in blues and rock bands. So I spent a lot of time at pubs in Warrnambool when I was young watching him play. I later took guitar really seriously when I left to board in Geelong, as I wasn't really interested much in doing well in school and preferred to learn to play all my favourite records. Things like Led Zeppelin, Bruce Springsteen, Tom Petty were staples, but there were bands like Jet, the Darkness, and the Vines that were popular at the time too."


Interview with The Redwoods (Joshua Moore)
Question: How would you describe your music?

Joshua Moore: I think the thing I focus most on when it comes to music is storytelling. My personal take is that whether it be through melody, dynamics, or lyrics if a piece of music isn't relaying a story to the listener, then it probably belongs in an elevator. So that's what drives the direction of the Redwoods' music, and for now, that storytelling has lent itself mostly to our folk, rock, and indie sound, which is based on a lot of my own influences. People like Tom Petty, Julian Casablancas, Paul Kelly, or Joni Mitchell, all from different genres and eras of music, but great storytellers and lyricists.


Question: Can you tell us about I Wrote A Letter?

Joshua Moore: 'I Wrote a Letter' is an interesting song for me because it is one of those pieces of writing that was so effortless that I sometimes wonder how it even came to be. Some tracks take months (or longer) to get right. Maybe there is a missing verse, or the bridge doesn't suit, or the track needs to be edited down from fifteen minutes, and it feels like it's a real journey to get it all perfect. With 'I Wrote a Letter', the final recorded version is exactly as it was written in the first ten minutes, I remember having to race to my laptop to jot the lyrics down quickly before I forgot them. That's rare enough for me, but it sometimes happens, and I usually take it as a sign that whatever it is that I'm expressing through the song is probably pretty important to me, whether or not I understand it yet. The song is very strong in its imagery, talking about forests and mountains and things I had seen or imagined over the years, but within that, there is a very personal story that might not be obvious to the listener. And I like that because it means the song is less about me, and more about a vague emotional experience that most anyone could relate to in their own way.


Question: What inspired the music video?

Joshua Moore: The video also came together quite intuitively. I just knew I wanted the band in nature, and I knew I wanted something going on around that, which is where Jessie's role came in. I can't even remember if I had decided on calling the group the Redwoods or if I decided that after the video was shot in the Redwoods, but there is obviously a nice link between the name and location now. I didn't take any particularly detailed scenes to Tom, the director, I just gave a brief overview of what I was searching for and through workshopping it with him, we came up with the idea of the letters being in the forest and on the band. From my experience, if you take a camera and some instruments to a beautiful location, it is really hard to get it wrong. Emma, Tom's partner, printed and designed the letters herself, which was a great touch. As we shot the video, tourists to the forest were walking up to trees to read them, like it was an exhibition. I wish we had some footage of that!


Question: Is there a particular message you hope listeners take from your music?

Joshua Moore: I had to think about this question a little bit. In the end, I think the simple answer is no. I like to have faith that people are going to take some positive from a piece of music or art and use it for their own good, regardless of how different their perspective is from mine. Perhaps that's naive, but I'm also aware that I don't want to be the sort of artist that is constantly projecting a message upon their audience. The world has enough of that. Having said that, depending on the song, there are likely lyrics or even melodies that are really obvious in their intention, so it's always going to be impossible to not be imprinting some message on those who are listening. All I hope is that the music can be thought-provoking and enjoyable.


Question: Do you prefer performing live or recording?

Joshua Moore: At my deepest core, my favourite musical experiences have been random kitchen jams at a party or playing on the side of the road to a stranger. I once was travelling on an almost empty train and absolute thrashing an old nylon string guitar. I didn't even realise that someone was listening until a bloke in his forties came up to me and took me by the shoulders and really enthusiastically cried "Yes!", then got off at his station. That was probably ten years ago now but I never forgot it. That's what really excites me about music. I love playing shows and showing up to the studio as well, and there's a dance that happens between the two, sometimes it is time to record, then it's time to perform. It's a rhythmic, seasonal sort of thing. But sometimes I read fantasy or medieval novels and the author will drop in a bit about a travelling minstrel, and I just think "that should have been me". Most days I feel like technology and the modern industry of music has made everything so much more complex than it ought to be.


Question: Can we expect any upcoming shows?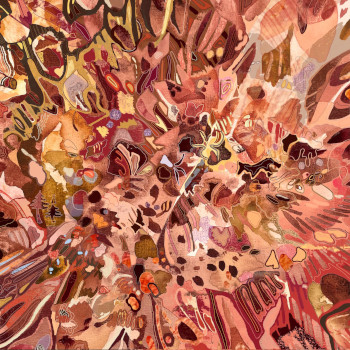 Joshua Moore: It's 2021 - I can't predict what will happen by the end of the week. But I'd like to be playing shows soon, and as things change and adapt, The Redwoods will adapt too. I definitely feel hungry to perform and I know the rest of the band does too. I also feel like there is such a hunger for live music again, now that it hasn't been accessible for a while. But right now, we are still in hibernation, waiting for the opportune moment...


Question: What is the story behind The Redwoods?

Joshua Moore: The Redwoods really happened when I first found out I was going to be a dad. As soon as that news hit me, something in my brain snapped, and I knew I had put my money where my mouth was, get into the studio, track the songs properly, and start the band that I had always wanted to start. And somehow, it has happened. Throughout fatherhood, the pandemic, my marriage falling apart, this track, the video clip, the rest of the album, it has somehow materialised before my eyes. It's still the beginning though. Having been either in isolation or changing nappies over the last two years, I haven't really had much time to feel like I'm in a band. So the story is just being written, but I'm really thankful for how it's started out.


Question: What motivates you most when writing music?

Joshua Moore: I think my motivation changes. When I was younger I was more motivated to write about women, or God, or drugs, or death; concepts that most young men are grappling with. As I get a bit older I still write about all those things, but the motivation is different. I try to lean into the curiosity of what I'm creating. I try to work out how each line, or chord, or melody affects the way I am receiving the music. I try to see if I can tailor it so the audience can feel that too. Maybe they can feel something beyond that. I think what really motivates me is just getting out of the way of the process, so that it comes through naturally. I look back on so many songs from when I was starting out, or especially when I was studying, and they are sickeningly clever, like I knew that I was smart and I needed to show it to the world. My favourite songs are just so much more simple than that, and honest. 'Cecilia' by Simon and Garfunkel or even 'Let it Be'. They are simple and beautiful songs.


Question: Which music/artists are you currently listening to?

Joshua Moore: This year I have absolutely loved Spacey Jane's album 'Sunlight'. It is just such a heartfelt and passionate rock album. I have also been listening to a lot of the Jungle Giants, who I hadn't really noticed until this year. If I had been born ten years later than I was I am sure they would have been my favourite band as a teenager. I also really enjoyed Ball Park Music's newest album, especially 'Cherub', and that lead me to go through their whole catalogue, which is such an awesome body of work. Holy Holy have had some great recent releases too. Most recently I have been listening to the German producer Roosevelt. Sometimes I just go through a period of listening to disco and house music like it is heroin.


Question: What or who was your inspiration to go into the music industry?

Joshua Moore: I was really lucky to grow up in a household full of my dad's guitars, so it was natural to feel like I could pick them up and play. But it was when I left for boarding school that I took playing really seriously and thought I could make a lifestyle out of it. Before then I had thought I should be an actor, which isn't really so different I suppose. I was terrible at sport but I got a lot of encouragement from my mates when I started playing the guitar. I was learning all the Zeppelin riffs, The Offspring, Chili Peppers, Queen, Guns n' Roses. I loved all that stuff, and some of it I still do. But I was always a bit in love with the mythological notion of being a touring musician. Movies like Almost Famous, The Commitments, the Blues Brothers, even Spinal Tap and some of my favourites from when I was growing up, and I still watch them every so often. My life has been very different, but it's those sorts of characters and adventures that I like to aspire towards.


Question: If you could collaborate with another artist, who would it be?

Joshua Moore: I don't know why, but the first person who came to mind was Stevie Nicks. I'd love to write a song with her. Whenever I hear 'The Edge of Seventeen', I was always wish I had been a part of that production, it has so much energy. Can't imagine how that would come to be, but it doesn't hurt to dream, right?


Question: What has been your favourite part of becoming a music artist?

Joshua Moore: It's a tough question because I'm one of those insufferably artists who complains all the time so I can think of a lot more things that aren't my favourite parts of being a musician. Ultimately I think my favourite part of being a musician is just knowing that come what may, I have these songs that I've written. They are a part of me that can't be taken away. They are little diary entries that I'll be able to look back over the years, and that gives me a lot of reassurance.


Question: What's a typical day like?

Joshua Moore: Presently, a typical day involves walking the dog, feeding my daughter, cleaning up after the dog, cleaning up after my daughter, praying that they both take a nap, praying that I can get a nap in myself, feeding them both again, and repeating the whole thing until we collapse in front of a movie. It's not particularly glamourous, but I keep being told by other people that I should enjoy this because it won't last forever. Mostly, as long as I get my morning coffee and a glass of red later on, I get through it okay.


Question: What's next, for you?

Joshua Moore: I'm really excited for the next video and single release. With Melbourne starting and stopping constantly it is hard to plan for shows, but it's still possible to get a shoot in here or there when we can. So I'm hoping we can pull the next single together in the next couple of months, and maybe there will be the possibility of shows around the same time.


Question: Can you share your socials? (links please)

Joshua Moore: One link to rule them all here.


Interview by Gwen van Montfort