After the release of her debut single "So Bad", nationally-renowned performer Lisa Woodbrook is back with her next hot single, "Hold On". Known for her sensational vocals, hilarious energy and larger than life stage presence, Lisa has transferred all of this into her music and "Hold On" is nothing short of this. With catchy production, infectious vocals and an overall groovy vibe, Lisa really manages to stamp her mark within the pop music scene.

Co-written and produced with Bri Clark and mastered by Mark Lizotte (Diesel), "Hold On" sees Lisa separate herself from her first single, showing off her range as an artist. With a chilled out, cheeky vibe, Lisa creates a track fit for all occasions.

Lisa describes the track as, "cooling the jets and enjoying a good time,' and says inspiration came from a refreshing weekly routine, 'around the time we wrote this song, I had just started going to the beach every Wednesday at 6am with mates and it was awesome, super chilled, super refreshing and I wanted that chilled out vibe reflected in the song.'"

Lisa also gained inspiration from the feeling of a blooming relationship, stating, "the story behind the song is a reassuring answer to someone a bit nervous at the beginning of a relationship. 'Hold On' is all about letting someone know you're in it for the real deal, but let's relax into it. This song reminds me of a track you'd listen to as you pull up to the beach ready for a swim, it's chill, fun, with a bit of sass."

After breaking into the pop music scene earlier this year, Lisa has received rave reviews with her first hit being praised as "a fierce, poignant indie pop banger that echoes Adele vibes". Lisa's influences range from Sam Smith and Dua Lipa, to the brilliant musicality of Tom Misch and Mark Ronson. Her smooth vocal tones, matched with her velvet lower register and power belt equals a stellar pop sound hitting those feels.

Lisa is in high demand across Australia performing at major events throughout the country. Lisa's award winning one woman comedy show It's Not Me, It's Definitely You has toured Australia, selling out in Melbourne, Sydney and Perth with regional tours bringing her to amazing places across the country. She's a regular at the national anthem performing for the Hyundai A-league and TABtouch, along with countless performances for high profile clients. With such a long list of achievements in performing already and two mint singles under her belt, it only excites us even more for what the future for Lisa may hold!


Interview with Lisa Woodbrook
Question: How would you describe your music?

Lisa Woodbrook: I'm at the start of my original music journey and really enjoying exploring different styles and ideas. So far the focus is to embrace my honest songwriting and love of pop! It's been really awesome creating in this new way and sharing more intimate stories about myself. Also trying out new styles and what works for me as an artist.


Question: Can you tell us about Hold On?

Lisa Woodbrook: 'Hold On' is the perfect tune for a coastal drive, chilled, fun with a bit of sass. It's my second single and I wanted to do something different to 'So Bad' and show another side of my personality.


Question: Do you prefer performing live or recording?

Lisa Woodbrook: There's magic in both processes but I definitely love performing live and connecting with audiences in real time. The recording process is such an awesome opportunity to take your time with creating, allowing for improv and trying new ideas. It's been really interesting creating in both arenas as they offer different ways for the music to flourish.


Question: Can we expect any upcoming shows?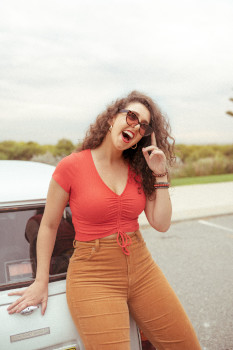 Lisa Woodbrook: You sure can! I'm performing my new comedy cabaret in October at Downstairs at the Maj in Perth!


Question: What motivates you most when writing music?

Lisa Woodbrook: Inspiration from my own personal experiences really takes charge, then building a deeper story fleshing out the music and lyrics. Also if I'm really vibing a particular artist or style around the time, that can inspire me to discover my own taste of that flavour.


Question: Which music/artists are you currently listening to?

Lisa Woodbrook: Tom Misch, all day, everyday.


Question: What or who was your inspiration to go into the music industry?

Lisa Woodbrook: My love of singing and connecting with audiences was a real driving force. For me, sharing stories through music is one of the most amazing experiences.


Question: If you could collaborate with another artist, who would it be?

Lisa Woodbrook: There's so many amazing producers I'm looking forward to one day working with, however the dream would be to work with Mark Ronson.


Question: Did you have any pre-conceived ideas about the music industry?

Lisa Woodbrook: Entertaining has always been a huge part of my life however moving from theatre and musical comedy into the independent scene has been really fascinating. I love a challenge and always try to evolve as an artist. I've been wanting to write my own original music for a long time, and I was lucky enough to have that opportunity in the past year.


Question: What has been your favourite part of becoming a music artist so far?

Lisa Woodbrook: Hearing feedback from audiences who shared a similar story and felt a real connection to my music. I find it really moving when music so close to me also feels close to someone else.


Question: What's a typical day like?

Lisa Woodbrook: A typical day in the life of Lisa is always EPIC! My almond cap is non-negotiable and I always find time for a walk. I'm usually working on shows, new music and rehearsing for upcoming gigs. Summer's almost here so I try to get to the beach every second day for a swim.


Question: What's next, for you?

Lisa Woodbrook: I'm looking forward to releasing more music this year. I have a few seasons lined up with shows that I'm really excited about and fingers crossed there's more movement on the overseas front. Although, Perth has been an awesome place for creativity.


Question: Can you share your socials?

Lisa Woodbrook: Instagram
Facebook


Interview by Gwen van Montfort