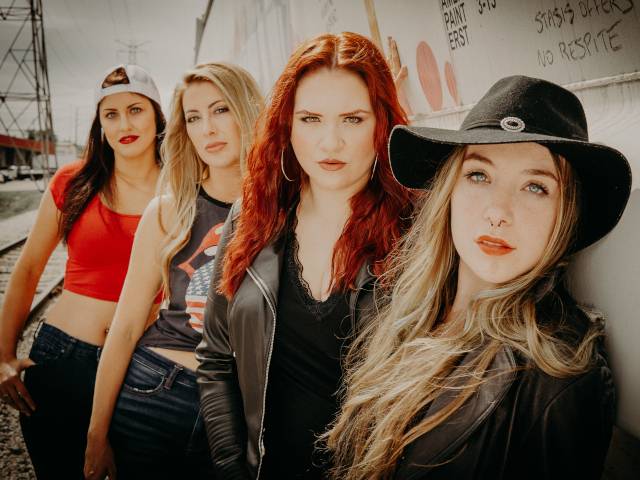 Are you ready for revenge? Your new go-to payback song has arrived, courtesy of the ultimate girl gang, the Highway Women. "Dead Man Walking," the lead single off their forthcoming EP.

The 21st century's answer to "Goodbye Earl," "Dead Man Walking" is bound to become a favorite for fans of The Chicks. Drew Haley, Kristen Kae, Jess Paige and Bailey James' voices meld together flawlessly. This track's fierce mix of rich lead vocals and spot-on harmonies will give you goosebumps as you listen to the story of a womanizing man who's wronged the Highway Women. As the lyrics accuse him of lying and cheating, you can hear the ladies' desire to seek vengeance in their powerful, emotional voices, making this the perfect song to shout. You won't find a more satisfyingly-singable refrain! Rocking electric guitar and driving percussion elevate the chorus, ensuring this country tune will be celebrated by rock and pop fans as well.

If you are in need of a breakup anthem, look no further. "Dead Man Walking" will undoubtedly be blasting through your car speakers on repeat.


Interview with The Highway Women
Question: How would you describe your music?

The Highway Women: Country/Pop/Rock... Definitely a blend


Question: Can you tell us about Dead Man Walking?

The Highway Women: It was written by Drew Haley, Tabitha Hux, and Randy Bryan. Drew asked us to take a listen and we could not wait to get it to one of our producers. We had a vision!!


Question: Is there a particular message you hope listeners take from your music?

The Highway Women: Yes, be inspired and empowered most of all. That is our message every day to our fans and listeners.


Question: Do you prefer performing live or recording?


The Highway Women: Both but of course, with Covid we have not had much of a chance to perform out live.


Question: Which is your favourite song to perform live and why?

The Highway Women: Stand up and Fight. It's a jam and our fans love it.


Question: If you could have anyone, in the world, attend a show, who would it be?

The Highway Women: Dolly! We would bring her up on stage with us.


Question: What is the story behind the band name?

The Highway Women: It is a nod to The Highway Men, Johnny, Willie, Waylon, and Kris


Question: How did the band come together?

The Highway Women: Our Manager and Owner, Jill Pavel. She found all of us!


Question: What motivates you most when writing music?

The Highway Women: We are all driven to write so that we ultimately can perform our songs for our fans.


Question: What or who was your inspiration to go into the music industry?

The Highway Women: Drew... Dolly. Kristen... Reba


Question: Was there a moment you contemplated throwing in the towel?

The Highway Women: Never!!


Question: What has been your favourite part of becoming a music artist?

The Highway Women: We have all been artists in our solo careers, working with other women is a dream come true.


Question: What's a typical day like?

The Highway Women: It depends, we all have day jobs right now so when we are not working we are working in the music industry.


Question: What's next, for you?

The Highway Women: The music video comes out soon and we are back in the studio this week!!


Question: Can you share your socials? (links please)

The Highway Women: Instagram, Facebook, and Twitter are all @highwaywomen, TikTok is @thehighwaywomen.


Interview by Gwen van Montfort