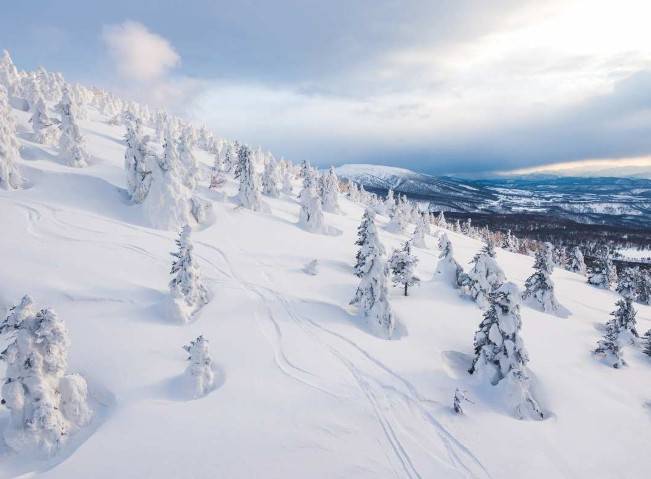 The best spring skiing spots in Japan
What's not to love about Japan's spring ski season? Peak travel costs are down, the northern alps are still dusted with skiable snow, the days are long and sunny, and the cherry blossom season is bursting into bloom.

Discover Tohoku's prefectures of Iwate, Aomori, and Akita in northern Japan, where the climate is cooler and the scenery is equally, if not more spectacular, than other parts of the country. Plus, combine two of Japan's most loved attractions: skiing and sakura (cherry blossom) viewing. Spring is a time of year definitely worth considering for your next Japan adventure.

Traversing Japan's rugged north, Aomori
The beauty of Aomori will astonish you. Visit Hirosaki city, which is built around 17th-century Hirosaki Castle. In spring, its sprawling park practically overflows with cherry blossom trees heavy with full blooms.

Head to Aomori's Hakkoda Ski Area. This gem is blissfully untouched by foreign tourism, its biggest appeal its rugged northern ranges that offer excellent ungroomed, power-snow off-piste skiing.

The untouched beauty of Akita and Iwate
Begin your ski-sakura adventure in Iwate, the second-largest prefecture in Japan. Its size means the landscape is very diverse, with attractions at every turn.

The prefecture's cherry blossom hotspot will astound you, with tens of thousands of cherry blossoms and more than 150 varieties of blooms. And if you still want to see more cherry blossoms, never fear: Iwate is home of the Kitakami Tenshochi Cherry Blossom Festival.

Discover the beauty of Akita by first heading to Lake Tazawa - this alluring lake is framed by a backdrop of snow-capped mountains. See the water from a whole new perspective on paddleboat or sightseeing cruise.