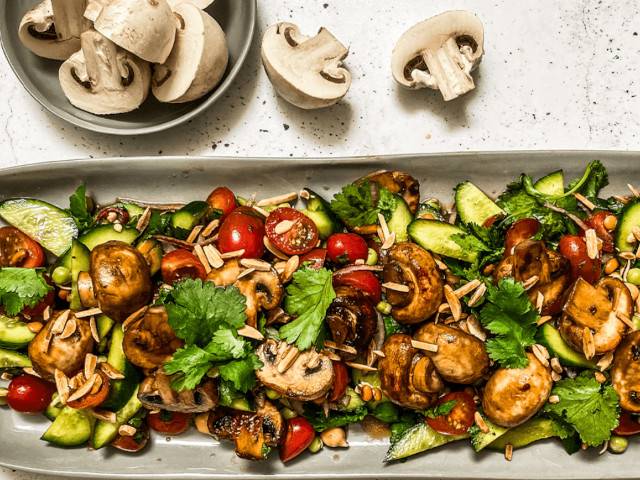 THAI MUSHROOM SALAD
• Serves: 4
• Preparation: 20 Minutes
• Cooks in: 15 Minutes

INGREDIENTS

DRESSING
• 1 lime, juiced
• 1 tbsp fish sauce
• 1 tbsp tamari
• 1 chilli, finely chopped
• 1 clove garlic, minced
• ¼ cup coriander leaves and stems, chopped
• 1 tbsp olive oil

MUSHROOMS
• 3 tbsp olive oil
• 300 g mushrooms, sliced
• 1 clove garlic, crushed
• ¼ cup tamari

SALAD
• 1 cucumber, sliced
• 2 tomatoes, sliced
• ¼ red onion, finely sliced
• 1 cup sprouted legumes
• ¼ cup fresh mint, chopped
• ¼ cup coriander leaves, chopped
• ¼ cup almonds, sliced, toasted

METHOD
1 To prepare the dressing, in a small bowl or jar, combine the lime juice, fish sauce, tamari, chilli, garlic, coriander and oil. Set aside
2 Prepare the salad by placing the cucumber, tomatoes, onion, legumes, mint and coriander in a bowl. Set aside while you cook the mushrooms.
3 Heat a large pan over a medium to high heat. Add in the olive oil and allow it to heat up, then add in the mushrooms to cook. Saute them, stirring occasionally, for 3 minutes then add in the garlic and continue to saute for another 3 minutes. Avoid stirring too much.
4 Pour in the tamari, and allow it to bubble and caramelise, given the whole pan a shake to coat the mushrooms and allow them to soak up the flavours. Remove from the heat and set aside.
5 To serve, pour the dressing into the bowl of salad and toss to coat, transfer to a serving platter. Top with the freshly cooked mushrooms and top with almonds for a little crunch.