Terence Davies Sunset Song
Cast: Agyness Deyn, Peter Mullan, Kevin Guthrie
Director: Terence Davies
Genre: Epic Drama
Rated: M
Running Time: 136 minutes

Synopsis: The Scottish landscape of Aberdeenshire, just before the outbreak of the Great War, is unforgiving; after the loss of their mother the Guthrie family is broken. The two youngest children go to live with their aunt and uncle in Aberdeen, leaving teenager Chris, her older brother Will and her father to run the farm on their own. Will and his father have a stormy relationship, and Will soon emigrates to Argentina with his young bride, Molly Douglas, leaving Chris to do all the work around the house. Soon after this, her father suffers a stroke, leaving him bedridden. He dies shortly afterwards but not before he unsuccessfully attempts to force himself on his daughter. At his funeral, Chris realises what happened to her father and breaks down in tears as she never knew the hardship he had endured for them.

Chris, who has had some education, considers leaving for a job as a teacher in the town, but realizes she loves the land and cannot leave it. Instead, she marries a young farmer called Ewan Tavendale and carries on farming. For a time they are happily married, and they have a son, who they also call Ewan. However, when the First World War breaks out, Ewan Sr and many other young men join up. When he comes home on leave, he treats Chris badly, evidently brutalized by his experiences in the army. Ewan is killed in the war and Chris subsequently hears from Chae Strachan, who is home on leave, that Ewan was shot as a deserter, but he died thinking of her. She begins a relationship with the new minister and she watches as he dedicates the War Memorial at the Standing Stones above her home. The Sun sets to the Flowers of the Forest, bringing an end to their way of life, forever.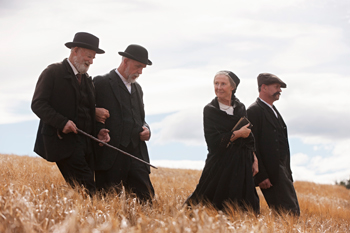 This is an intimate yet epic tale using the full cinematic canvas to bring a classic Scottish novel to life for an international audience. The audience will be drawn by the powerful emotional journey of our multi-layered yet flawed characters as they attempt to come to terms with the hardships of life and the onset of war. Our returning soldier Ewan devastated by what he has seen acts as a mirror for the times we live in today.

Sunset Song
Release Date: September 1st, 2016


About the Director:
Terence Davies is a globally respected writer and film director of both original and adapted works. As a filmmaker, Davies is noted for his recurring themes of emotional (and sometimes physical) endurance, the influence of memory on everyday life and the potentially crippling effects of dogmatic religiosity on the emotional life of individuals and societies. Stylistically, Davies' works are notable for their symmetrical compositions, 'symphonic" structure and measured pace. He is the sole screenwriter of all his films. The caliber of his work lead to Screen on the Green crediting him as -Britain's Greatest Living Director' in 2009.

Terence Davies was educated at Catholic Primary and Secondary schools in Liverpool followed by work in accounting and bookkeeping. From 1965 – 1973 he gained amateur acting experience, winning the LAMDA Gold Medal and first prize in the National Arts Awards. From 1973 – 1975 he was a student at The Coventry Drama School. From 1967 – 1975 he had a number of short stories and other pieces broadcast on radio, directed a stage play and had a one act play performed at Manchester University.

From 1977 – 1980 he was a student at the National Television and Film School. His first three films; Children, Madonna and Child and Death and Transfiguration, became known as his Trilogy and established his powerful aesthetic on the filmmaking scene. The prizes for his early films include Bronze and Gold Hugo's from Chicago, and Madrid's Special Jury Prize among many others.

Between 1985 and 1987 Terence wrote and directed his internationally acclaimed Distant Voices, Still Lives. The film received the following awards and nominations:

International Critics Prize – Cannes Film Festival 1988
Golden Leopard Award – Locarno Festival 1988
Winner of Critics Prize – Toronto Festival 1988
Best Foreign Film – Los Angeles Film Critics Association Award 1989
Best English Language Film and Best Director – The UK Critics Circle Award 1989
Best Film – Leeds Film Festival 1988
Special Mention – Ghent Festival 1988
Golden Spike and Best Photography – Valladolid Festival 1988
Cesar Award Nomination for Best Film from the European Community 1989
Prix de la Grand Prix – Belgian Critics 1990
Best Socially Engaged Film – Centre for Socialist Cultural Policy Belgium
Winner The Norwegian Film Award 1990
Nomination Best Foreign Film 1990 – Independent Spirit Award
Best Photography – Evening Standard Award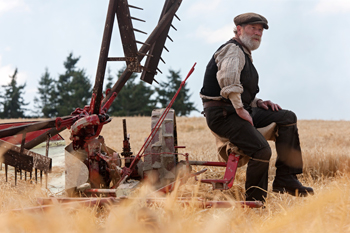 Nominated in 5 categories for The European Film Awards 1980
Best Film and Best Director – The Guild of Regional Film Writers Great Britain Terence then wrote and directed The Long Day Closes for Channel 4 and The British Film Institute. The film received similar approbation from critics worldwide and was selected in the Official Competition at The Cannes Film Festival 1992. It also won Best Film at The Birmingham Film Festival in 1992, joint first prize, The Golden Spike, at Valladolid in 1992 and in the 1993 Evening Standard British Film Awards won Best Screenplay and was nominated for Best Film and Best Technical Achievement – Lighting, Editing and Design.

In 1996, Terence adapted and directed The Neon Bible. The film was taken from the novel by John Kennedy Toole and was financed by Scala Productions.

In 2000, Terence adapted and directed The House of Mirth from the Edith Wharton novel. Winner of Best Actress Award – Independent Film Awards.

In 2007/2008 he wrote, directed and narrated a documentary about Liverpool entitled Of Time And The City. Funded by Digital Departures, BBC and The Office of the City of Culture 2008, Liverpool, the film played over 50 festivals worldwide and won the New York Film Critics Circle Prize for Best Documentary 2009.

In 2011 Terence Davies adapted and directed Deep Blue Sea from the Terence Rattigan play of the same name. Starring Rachel Weisz, Tom Hiddleston and Simon Russell Beale.

Director's Selected Filmography:
2011 Deep Blue Sea
2008 Of Time & The City
2002 House Of Mirth

Director's Statement:

It is thirty years ago now.

When the Sunday night serial on BBC1 went out in ancient Black & White.

'Sunset Song" by Lewis Grassic Gibbon was one of them and its grandeur has stayed with me. It is a dark and brooding novel about the Scottish peasantry, about the land in general and one family – The Guthries – in particular.

They are subsistence farmers extracting a meagre living from the earth.

It is a novel about the power and cruelty of both family and Nature, about the enduring presence of the land and the courage of the human spirit in the face of hardship.

Against this background – but of equal stature – is the story of the daughter of the family, Chris Guthrie and her evolution from schoolgirl to wife to mother to widow then finally becoming a symbol for Scotland itself.

The novel is both symbolic and rhapsodic.

It is a work of epic intimacy set before, during and after The Great War.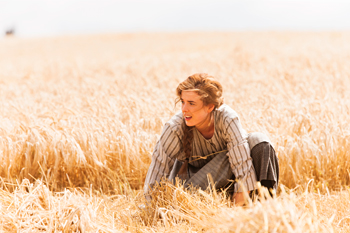 Yet it is delicate.

A filigree of the music of the seasons together with the more modest music of pipes and accordion, played at weddings with the Scottish voices singing the melancholy airs of the old times – 'The Flowers Of The Forest" and 'Auld Robin"; songs to pull the heartstrings, to make you remember the long-dead, making you wish for the longed-for happiness which we all need – content and secure in the knowledge that we will never die…for we are young and in our prime.

But time is cruel and so is the land which gives life its harsh beauty, as well as its moments of epiphany beside the lamp or in the firelight at gloaming.

The song is yours and mine, of all who feel and have suffered or been happy. It is the song heard with quiet courage in the face of death. Or life.

But Chris has a deeper insight, an innate wisdom. Chris sings the Song of the Earth for humanity, a rhapsody for us all as she charts the eternal cycle of birth, marriage and death. As the song explores the timeless mysteries of land, home and family – this last one being the greatest mystery of all. For the family contains all our greatest ecstasies and all our cherished terrors. The book is suffused with a lyrical melancholy, a quiet threnody for the mystery of life…for life is a mystery contained within an enigma.

How can we bear time or subdue nature?
We cannot.
We can only endure.
At the end of the work a remembrance parade and service is held in an attempt to heal all suffering.
At the end of this great work time and the land endure beyond war, beyond human suffering even beyond life itself.
It is a story which deserves to be told.
-Terence Davies


Sunset Song
Release Date: September 1st, 2016