Tassal Salmon Dinner Recipes
Salmon Pizza

Ingredients
220g Tassal Smoked Salmon slices
4 8" ready-made pizza bases
4 Tbsp tomato Napoli sauce
50g baby spinach leaves
½ red onions, sliced
4 Bocconcini cheese balls, cut into halves
2 Tbsp sun-dried tomato pesto
2 tsp capers, drained


Method
Remove smoked salmon from packet, peel away slices and cut in half. Pre-heat oven to 200°C. Place pizza bases onto a baking tray lined with baking paper. Spread tomato Napoli sauce evenly on pizza bases. Top with spinach, red onion, Bocconcini cheese balls and sun-dried tomato pesto. Bake for 10 mins or until base is crispy. Remove from oven and place smoked salmon on top, sprinkle with capers, slice and serve.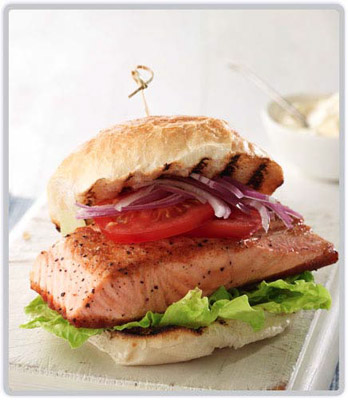 Salmon Burger

Ingredients
2 Tassal fresh Salmon portions, skin-off
2 foccacias, char-grilled
4 Tbsp aioli or mayonnaise
1 ripened tomato
iceberg lettuce
red onion, finely sliced
Salt & pepper, to season

Method
Heat fry pan to medium heat. Season salmon portion with salt and pepper and cook to your liking. Char-grill foccacias. Spread aioli or mayonnaise on foccacia then add salmon portion. Place tomato, lettuce and onion and enjoy.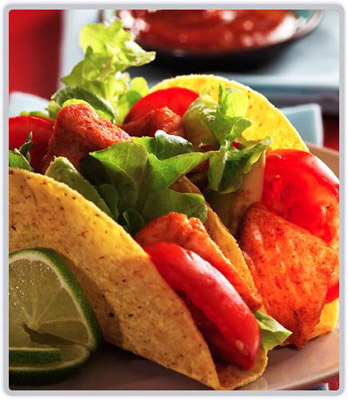 Salmon Tacos

Ingredients
2 x 170g Tassal Tasmanian salmon portions, skin off
1 Tbsp olive oil
2 Tbsp taco seasoning
2 ripe tomatoes, diced
10 iceberg lettuce leaves
1 avocado, sliced
cup taco salsa
10 taco shells or soft tortillas
1 lime, cut into wedges, to serve

Method
Pre-heat oven to 150C. Cut salmon into large chunks. Toss salmon chunks in the taco seasoning. Place taco shells in the oven to warm or place soft tortillas in the microwave covered for 20 seconds on 100% power. Heat oil in a non stick frying pan over a medium heat and pan fry the salmon for 23 minutes until golden brown. Drain on absorbent paper. Fill the base of each taco shell with a little sauce, a lettuce leaf, sliced tomato, sliced avocado and 2 or 3 chunks of salmon. Serve with the taco salsa and wedges of lime.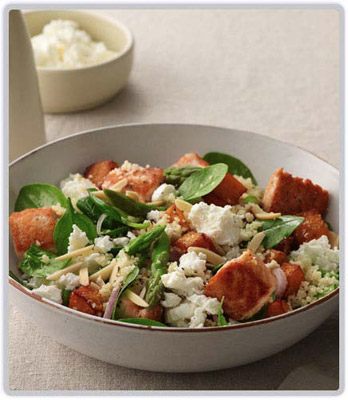 Roast Pumpkin, Salmon with Feta and Spinach Salad

Ingredients
2 Tassal fresh Salmon portions, skin-off
400g pumpkin, peeled
4 garlic cloves, left whole with skin on
1 tsp extra virgin olive oil
1 lemons, juiced
200g baby spinach leaves or rocket
1 shallot, thinly sliced
25g slivered almonds
100g feta, crumbled
100g cous cous, cooked
Bunch of asparagus, blanched & refreshed

Method
Pre-heat oven to 200C. Cut salmon and pumpkin into 3cm cubes. Place pumpkin and garlic on an oven tray, and season with salt and olive oil. Bake for 20-25 mins or until golden brown. Remove and allow to cool. Mix lemon and oil together and then add the salmon. Cook salmon in pan on medium heat and then let cool. In a bowl, combine spinach, shallot, almonds, feta, garlic, cous cous, asparagus and pumpkin. Toss salmon through salad and coat with dressing.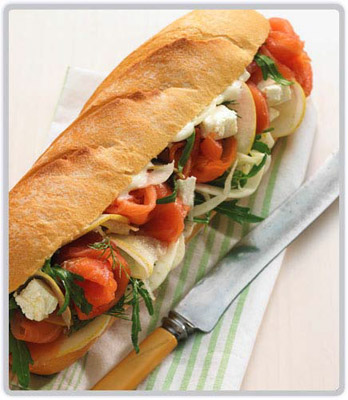 Smoked Salmon Sub

Ingredients
220g Tassal Smoked Salmon slices, cut into strips
1 foccacia or crusty sub roll, toasted or char-grilled
50g aioli or mayonnaise
100g rocket leaves
70g goats cheese
1 fennel bulb, finely shaved
1 pear, sliced thinly
1 lime, juiced
1 Tbsp extra virgin olive oil
1 Tbsp dill, chopped
1 shallot, sliced thinly
1 Tbsp dill, chopped

Method
Slice foccacia in half lengthwise, spread both halves with aioli or mayonnaise. Place fennel, rocket, pear, shallot and goat cheese in a bowl & toss with oil and lime juice; season to taste. Place salad onto the char-grilled sub, top with smoked salmon decoratively. Garnish with dill and replace foccacia crown and serve.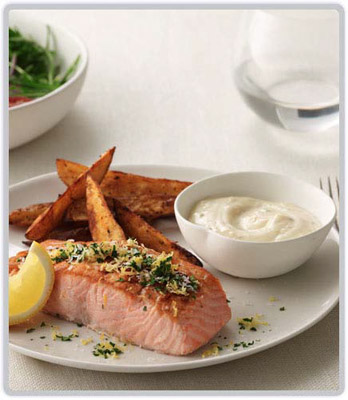 Salmon and Chunky Wedges

Ingredients
4 Tassal fresh Salmon portions, skin-off
500g new season potatoes, par boiled
2 Tbsp olive oil
1 Tbsp sea salt flakes
2 tsp Cajun seasoning
100g tartare sauce, to serve
2 lemons wedges, to serve
Green salad, to serve

Method
Pre-heat oven to 200˚C. Cut potatoes into wedges in a large bowl with olive oil and toss well to coat. Sprinkle wedges with the salt and Cajun seasoning; toss well to ensure an even coating. Spread wedges in a single layer onto an oven tray lined with baking paper and cook in oven for 15 mins. Place the salmon portions onto an oven tray lined with baking paper, coat each portion with a little olive oil. Place the salmon into the oven with the wedges and cook for a further 10 mins. Serve hot with tartare sauce, a wedge of lemon and green salad.