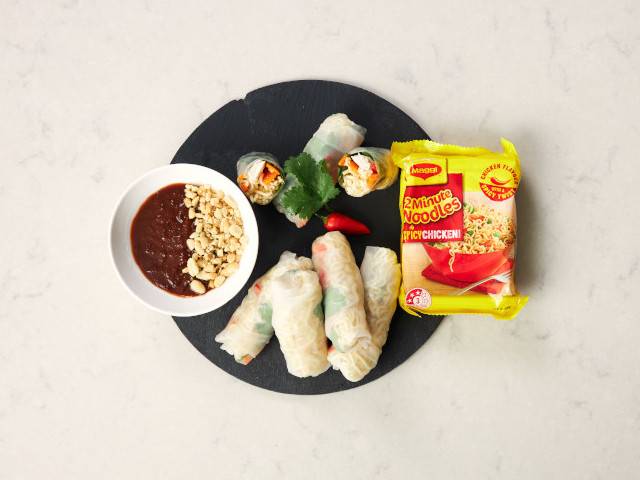 Spicy Chicken Noodle Rolls
MAGGI have extended their classic MAGGI 2-Minute Chicken Flavour Noodles range with the launch of a new and flavour, Spicy Chicken! Created with Aussie teens in mind, the new flavour adds just a hint of spice to the familiar childhood favourite and is perfect for teens to enjoy with a group of friends, to fuel up before a sports training or as a quick snack while studying for exams.

To celebrate the launch, insta-famous school lunchbox expert, bestselling author and Victorian based dad, George Georgievski created a simple recipe - Spicy Chicken Noodle Rolls, to inspire parents with new ways to keep teens excited and broaden their palettes.

Ingredients
1x packet Maggi 2 Minute Spicy Chicken Noodles
4x rice paper (for rolling)
4x chicken tenders
3x tablespoons hoi sin sauce
4x sprigs of coriander
1x tablespoon of crushed peanuts
5x julienne carrots
1x fresh chili (optional)

Cook the 2-minute noodles as per packet instructions, add the sachet in the water also.

Soak the rice paper rolls so they can easily fold and roll.

Add ¼ amount of the noodles in the centre of the rice paper and add the chicken tender and coriander.

Roll the rice paper roll just like a spring roll.

For the sauce simply crush a tablespoon of peanuts and add them to the hoi sin sauce.

Dip away and enjoy.