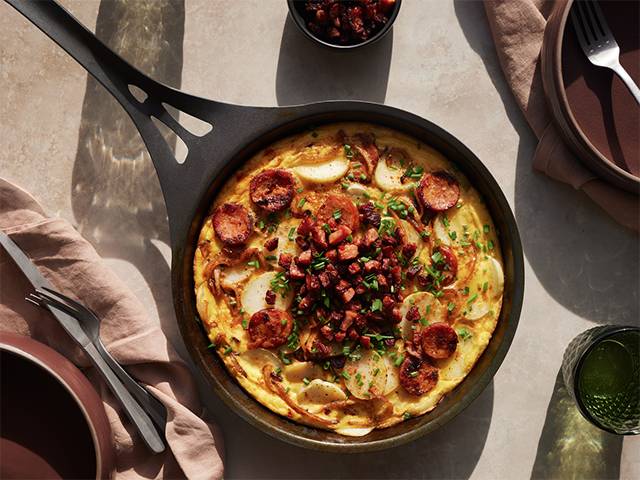 Cook + Prep Time: 45 mins
Serves: 8
Ingredients:
6 eggs
500g baby white-skinned potatoes, thinly sliced
1/3 cup milk
1 tbsp olive oil
1 brown onion, thinly sliced
2 chorizo sausages (250g), 1 thinly sliced and 1 very finely diced
2 garlic cloves, crushed
1 tsp mild paprika
2 tbsp finely chopped fresh chives
Method:
Preheat oven to 220°C/200°C fan forced.
Cook sliced potatoes in a large saucepan of boiling water for 3-5 minutes or until just tender. Drain.
Whisk eggs and milk together in a jug. Season with pepper.
Heat oil in a deep, 26cm nonstick ovenproof frying pan over medium-high heat. Add onion, sliced chorizo and garlic and cook, stirring, for 5 minutes or until onion softens and chorizo is crisp. Add paprika and cook, stirring, for 1 minute or until fragrant.
Add potato and season with salt and pepper. Stir gently to combine. Lightly press potato mixture into pan to form a slightly compact, flat top. Reduce heat to low. Pour egg mixture over potato mixture. Gently shake pan to allow egg mixture to evenly spread in pan. Cook, without stirring, for 2-3 minutes or until base and edges start to set. Transfer to oven. Cook for 8-10 minutes or until top is golden and egg is set.
Meanwhile, cook the finely diced chorizo in a non-stick frying pan for 3-5 minutes or until crisp.
Stand tortilla in pan for 5 minutes before inverting onto a serving plate. Serve scattered with chives and chorizo crumb.