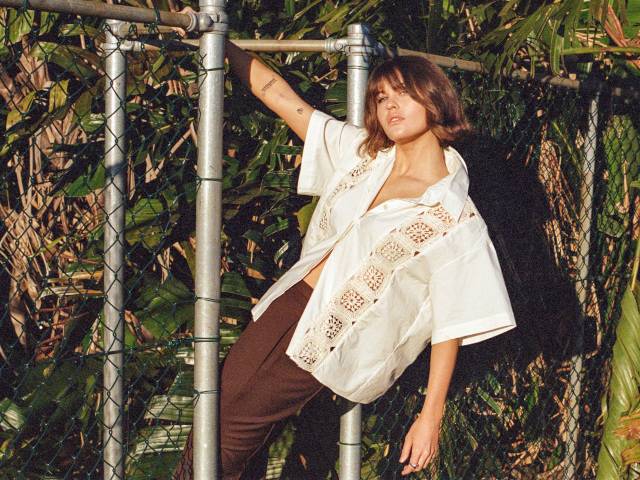 After embracing an electro pop-infused new era with a trio of tracks last year, Brisbane-born singer songwriter Sloan Peterson is today returning to her signature guitar pop sound on her new single "Wear My Heart Out" featuring best friend and fellow musician Pearl. The track made its debut last night with a First Play on triple j Good Nights, and audiences will have the chance to hear it live when Sloan joins Dope Lemon on his Australian tour next month.

Emerging from an impulsive yet restorative move to Byron Bay, where she sought a much-needed change of scenery and to be closer to her family, Sloan describes "Wear My Heart Out" as a product of her most authentic self.

It's this organic return to her rock roots, backed by a groove-driven instrumental, that sees Sloan at her best on "Wear My Heart Out". Carried by her nostalgic, familiar vocals, met with the silky, soulful voice of Pearl, the track ventures through themes of love, lockdown, and a longing for independence.

Speaking on the track and her collaboration with Pearl, Sloan says: "I tend to be a lone wolf, spending a lot of time struggling to socialize or even attend events. Music was one of the only communities I had been a part of or known, and so it was a no brainer – I wanted my next single to have my best friend featuring on it, bringing some girl power and community back into my life! Pearl and I wrote this song one morning over a cuppa in Rose Bay, after dissecting our most recent experiences in life, and relating them to other stories we had heard from people in lockdown."

The new release was recorded with producer and bandmate BUDO at his home studio in Watsons Bay, and includes what Sloan says is the "authentic essence" of the recording session, captured on a separate audio track. "My face hurts thinking about how much we laughed that day, making sure BUDO had recorded the sounds of our banter and laughter. It came together so quickly & naturally, I'd love to say it took longer than a day to complete but we were on a roll."

Accompanying the single is a music video conceptualized by Sloan, and loosely inspired by the opening scene of Guardians of the Galaxy, which sees the protagonist (portrayed by Chris Pratt) dancing to Redbone's "Come And Get Your Love".

"We only had a small team of four, including Pearl & myself, so we had freedom to run around the city with no restrictions," says Sloan. "This was one of the most enjoyable, easy going video clips I've been a part of and watched, as it captures the raw, uninhibited dynamic/relationship Pearl & I share together. She's one of my closest friends so it's been the best to share this journey with her."