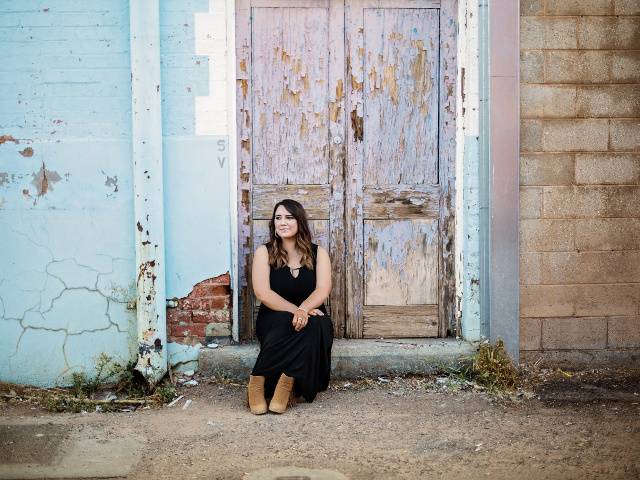 Music from the soul rarely comes without walking through darkness.

For Sharna Burcher, her sophomore album Backwards Town has been forged through hurt and intense challenges, and she has emerged with body of work that documents triumph over adversity. "Redemption ain't my friend…I've got nothing left but too much to redeem" she sings, and she proves she has everything to gain and nothing to lose.

Like the artists that are her influences, Burcher has turned heartache into something timeless. With the direction of producer Bill Chambers, Backwards Town is a work of maturity, rich in sonic colour that references the touchstones of classic country music. Influenced by storytellers ranging from Loretta Lynn to Tammy Wynette and, more recently, Kasey Chambers, Burcher has developed her own unique voice to carry her message.

Recorded at Troubadour House in Nashville with Nash and Bill Chambers, Backwards Town features a cast of musical luminaries, including Australian musicians Jedd Hughes and Lucky Oceans, as well as Tim McGraw and Faith Hill's drummer Shawn Fitcher, Tony Lacido, and Emmie Chambers.

Of the songs on the album, Burcher explains: "'Backwards Town' has captured one of the hardest chapters of my life. I wrote this album over three years; in which time I lost my Mum and four other family members. Writing this album really helped me through my grief. The songs on this album have allowed me to be vulnerable, to be sad, given me strength and resilience, and also allowed me to just have fun and be creative."

Backwards Town contains twelve songs of heartbreak, resilience, survival, strength and passion, with some light-hearted fun and freedom throughout. It opens with the title track, a tale of small-town youthful infidelity, scandal and scurrilous gossip. 'I Choose Me' is an anthem of self-empowerment, a reminder not to lose yourself in the excitement of pouring your heart out for an intimate partner. 'To Be Woman' is a song to inspire young women everywhere and was inspired by Burcher's grandmother who raised her. The previously released singles 'Rise From The Ashes' and 'The Hardest Parts' deal closely with pain, of surviving domestic violence and of losing her mother respectively. The closing track 'Shoot to Kill' is a light-hearted imagining of questionable Tinder dating gone wrong, as set in the old west.

Burcher's ultimate aim is to bring her songs to as many people as possible. She has already toured the USA with Bill Chambers, and has played support spots with Catherine Britt, Fanny Lumsden, Robyn Ludwick, and Aleyce Simmonds. She has also played big festival stages at the Silverton Sunset Music Festival, Clarence Town River Country Hoedown Festival, and the Fred Eaglesmith Charity Festival in Canada. All this hard work is paying off, with the album's title track, and first single, hitting #1 on the iTunes Country Singles chart on release.

Sharna Burcher has proven herself to be artist that can weave an intricate thread throughout an album. She describes the album as a "journey" from darkness and despair, through redemption and hope to happiness. This is a rich work that comes as the result of a difficult period of personal growth. She wants her songs to bring the same feelings to her listeners as the music does for her. "When I go to a show, music just makes me feel hopeful and not so alone, even if I made one person feel like that, it would all be worthwhile," Burcher says.

And with Backwards Town, you're never alone. It's like visiting an old friend and feeling like they've never left. That is the magic of Sharna Burcher. Take a closer look. What have you got to lose?