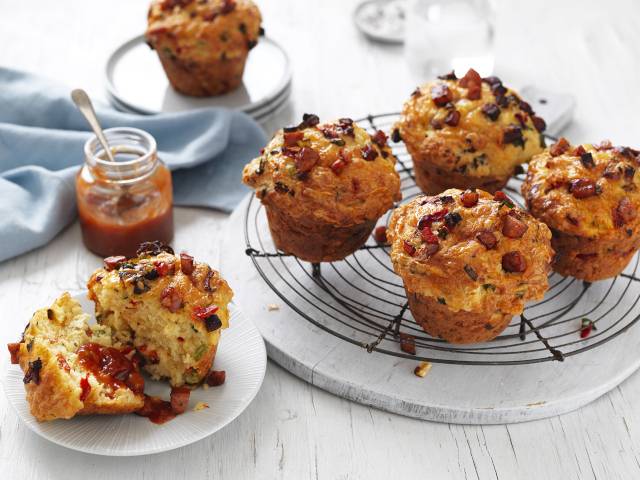 Savoury Texas Muffins: Roasted Capsicum and Chorizo
Prep time: 5 minutes
Cook time: 55
Serves: 8

Ingredients:
• 2 chorizo sausages (250g), cut into 1cm dice
• 1 cup (180g) roasted capsicum, drained and chopped
• 3-4 green onions, chopped
• 3 cups (450g) plain flour
• 1 tbsp baking powder
• 1 tsp salt
• 2 ¼ cups (250g) grated extra sharp cheddar cheese
• 3 eggs
• ½ cup (125ml) vegetable oil
• 1 cup (250ml) milk
• 2 tsp Dijon mustard
• Tomato chutney to serve

Method:
1. Preheat oven to 220°C/200°C (fan-forced) and grease a 6 cup Texas muffin tin with cooking spray.
2. Place chorizo into a non-stick frying pan and cook over medium-high heat until crisp and golden. Add capsicum and green onion. Mix well and set aside to cool.
3. Combine flour, baking powder, salt and ¾ of the cheese in a large mixing bowl. Make a well in the centre.
4. Whisk together eggs, oil, milk and mustard. Pour into flour, along with ¾ of the chorizo mixture. Gently fold until just mixed, do not overmix.
5. Divide batter evenly between 6 muffin holes. Top muffins with remaining cheese and chorizo mixture.
6. Bake for 10 minutes, reduce heat to 200°C/180°C (fan-forced) and cook a further 20-25 minutes or until a skewer inserted into the centre comes out clean. Stand in tin for 5 minutes before turning out onto a wire rack to cool slightly. Serve warm or cold with tomato chutney.

TIPS:
• Store muffins in an airtight container in the refrigerator or wrap muffins tightly in cling wrap and freeze for up to one month. Defrost in fridge overnight and warm in oven or microwave.
• While serving size and nutritional panel is based on mixture being divided into 8 servings, the ingredients will only make enough to fit within a 6 serve muffin pan.