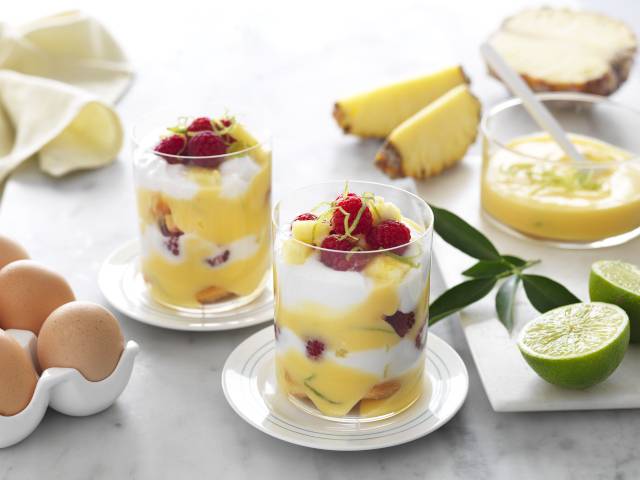 Pine Lime Curd & Coconut Yoghurt Pots
Australian Eggs have your Christmas Day menu sorted with recipes for any time of day you're entertaining. Recipes include Cheese & Chive Egg Bread, Meringue-amisu, Classic Meringues, Rosewater meringues, Eggnog Ice Cream, Green veggie tarts and a collection of curds.

Prep time: 10 minutes
Cook time: N/A
Serves 4

Ingredients
• 8 sponge fingers, cut in half
• ⅓ cup (80ml) coconut white rum or orange juice
• ¾ cup pine lime curd
• 1 cup (250ml) vanilla coconut yoghurt
• 1 punnet fresh raspberries (or any berries in season)
• 1 cup finely chopped fresh pineapple
• Lime zest for garnish

Method:
1. Dip 4 sponge fingers quickly into rum or orange juice, turning to coat.
2. Break fingers in half. Place 2 half fingers in the bottom of each serving glass.
3. Spoon over a heaped tbsp of pine lime curd into each glass, to cover the sponge fingers.
4. Dollop over some of the coconut yoghurt and top with raspberries and pineapple. Repeat layers one more time.
5. Garnish the top with lime zest. Refrigerate until serving.

TIPS:
• Prepare pots at least 3 hours ahead of serving.
• Use any fruit in season.
• Substitute coconut yoghurt with coconut ice cream or gelato.