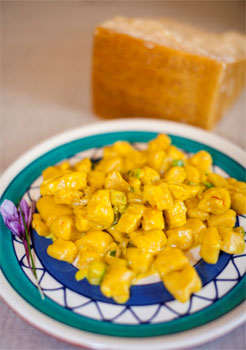 Ricotta, Parmigiano Reggiano and Saffron Dumplings
Who wouldn't want to enjoy a beautiful dish that looks vibrant and tastes delicious? Try this recipe for Ricotta, Parmigiano Reggiano and Saffron Dumplings, sure to brighten up the day and tickle the taste buds.
Parmigiano Reggiano, known as the King of Cheeses, is one of the world's oldest and richest cheeses – still produced today as it was nine centuries ago. It's the only cheese that has such an extensive maturation, which develops its delicious flavour and unique characteristics.
Parmigiano Reggiano is a P.D.O. product. P.D.O. products are defined and protected by European Union law in order to defend the reputation of regional foods. This mark ensures that Parmigiano Reggiano can only be produced in Parma, Reggio Emilia, Modena, Bologna to the west of the Reno River and Mantua to the east of the Po River.
Serves 6
Ingredients
500g cow's milk ricotta cheese
30g egg yolk
250g type -0' flour
25g Parmigiano Reggiano, grated
150ml fresh milk cream
1 courgette
1 shallot
1/2 glass brandy
extra virgin olive oil
0.2g saffron
salt, to taste
Parmigiano Reggiano, grated to dress

Method
Mix ricotta, the egg yolk, flour and Parmigiano Reggiano in a bowl. Add a pinch of salt and mix well.
Peel the courgette and cut into small pieces. Chop the shallot and sauté in a little olive oil. Add the courgette and brown. Then add the brandy and allow to evaporate. Once evaporated, add the cream and saffron, then cook for a few minutes.
Meanwhile, cook the gnocchi in salty boiling water, then drain as soon as they float to the surface. Sauté in the pan with sauce and serve with a handful of grated Parmigiano Reggiano.
The Consorzio del Formaggio Parmigiano Reggiano
Food Styling and Photography: John Holdship
Recipe Creation: Francesco Dall'Argine – Agriturismo La Macchia Tonda