Roo Arcus may have only just released his single 'Lovin' Right', but fans have plenty more to look forward to with the release of his brand-new album Tumbleweed, sure to cement his position as one of Australia's most authentic country singers. In a year in which he's been so drastically affected by drought and pandemic, Roo is incredibly excited to release his fourth studio album.

'Tumbleweed is very special to me,' says Roo. 'With the help of Tim Crouch, my longtime friend and the album's producer, we assembled the greatest players available as well as the musicians most suited to each track. Each song was given its own treatment – different players for different sessions, backing vocalists selected for particular songs – and the recordings were all done live in the studio, not built one instrument at a time.'

The care and dedication is evident on every one of Tumbleweed's tracks, which were recorded on Music Row in Nashville. 'To record an album at SONY on Music Row was a real buzz and a dream come true,' says Roo. 'The whole crew put an immense effort into this project, and I think the fans are going to love it.'

And it's fair to say the fans already love it, given their reaction to the title track 'Tumbleweed' that was released late last year. It peaked at #1 and has amassed over 90,000 streams so far, a classic country tune that sets the perfect pace for the rest of the album. The other 11 tracks showcase why Roo has been described as one "who can quiet American naysayers arguing an Australian can't birth authentic country songs", covering a variety of topics including love, heartbreak, family and faith. 'We had the dilemma of having too many great songs to choose from,' says Roo, and 'it was a real struggle to whittle it down to just 12 for the album.'

There's no doubt that Tumbleweed has spawned some Roo Arcus classics that are sure to be belted out in country and honky-tonk bars, and down highways throughout Australia and over in the US. Few artists do it like Roo, who represents the illusive blend of old-world cowboy and international touring artist. This new release is a testament to his country roots and uncompromising commitment to blazing his own trail. It may be the road less travelled, but it's about to become a whole lot louder.


Interview with Roo Arcus
Question: How would you describe your music?

Roo Arcus: I'd say the best way to describe my music… is honest. It's modern but traditional, it's pure and authentic. It's unashamedly and unmistakably, country!


Question: Can you tell us about your album Tumbleweed?

Roo Arcus: Tumbleweed is my 4th studio album. Luck was on my side and the stars aligned, to be able to record right on "Music Row', at a Sony Recording Studio in Nashville. My good friend and Producer, Tim Crouch from Arkansas, was instrumental in assembling an incredible team of musicians and engineers. We really focused on creating an album that was sonically different to the previous ones, and had even more variety. With access to so many great songwriters, we found ourselves in the fortunate position of having too many songs. It was hard to whittle it down to just 12 tracks.


Question: How has Covid-19 affected you?

Roo Arcus: When Covid hit, we had already been battling through years of drought. As Cattle producers here on the Southern Tablelands of NSW, we were accustomed to toughing it out, but make no mistake we were hit hard. All gigs stopped. I have another business called Arcus Adventures, where I take small groups of people to discover the US and see where I perform. 2020 was to operate 4 tours… that had 3 sold out. All were cancelled. So it was a triple whammy! Drought, no gigs… and no tours.


Question: Is there a particular message you hope listeners take from your music?

Roo Arcus: I'd say, if you listen closely to the lyrics, you'll find lots of messages of hope, values, truisms, and courage. Most of all I hope they enjoy it!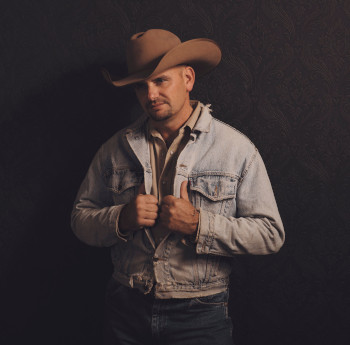 Question: Do you prefer performing live or recording?

Roo Arcus: I must admit, the recording process is a lot of fun… but there's nothing quite like playing to a live audience. When you get a great crowd and you're feeding off that energy… that's it right there. It's why we do what we do.


Question: Which is your favourite song to perform live and why?

Roo Arcus: I could name any number of great, fun, upbeat songs… but there's a song I wrote a few years back called 'Red, White & Blue'. It's a song that I wrote to remind us of who we are, the things we stand for, to honour those who serve and have died for our country… and to reignite patriotism. It does! I've had more standing ovations for this song than any other song… but that's not why it's my favourite. It's because it really connects with the people.


Question: What motivates you most when writing music?

Roo Arcus: Pure and simply… 'life'. Subjects that folks can relate to. Saying as much as you can with the least amount of words. Also when you connect meaningful lyrics with a great melody… that's when the magic happens.


Question: Which music/artists are you currently listening to?

Roo Arcus: Chris LeDoux, Ronnie Dunn, Randy Travis, George Strait, Easton Corbin, Alan Jackson & Clint Black.


Question: What or who was your inspiration to go into the music industry?

Roo Arcus: I kind of tripped and fell into the business. Someone dared me to sing a song at 4am, at an after party… back in the early 90's. A couple of musos heard me and questioned if I was a singer. I said it was my first time. They encouraged to me to think about being a singer. I guess I did… and the rest is history.


Question: If you could collaborate with another artist, who would it be?

Roo Arcus: I'd have to say that if it was a male, it'd be George Strait… and for a female collaboration, Lee Ann Womack. Both of these artist ooze 'pure class'.


Question: What's a typical day like?

Roo Arcus: Hahahahaha… crazy!!! Between raising cattle, teenage kids, looking after a father with Dementia, keeping the music dream alive, teenage kids, organising oversees tours, did I mention 'teenage kids'? Life is interesting to say the least. No two days are the same.


Question: What has been your favourite part of becoming a music artist?

Roo Arcus: Honestly? Meeting folks… and travel. I love to travel! The real surprise though, was finding out how much my music has helped people. Songs that have inspired the strength to keep going, to give love another try… and life is worth fighting for.


Question: Which moment in your musical career stands out the most?

Roo Arcus: Wow! Really hard to pick just one, so I won't. Touring with the Legend… Slim Dusty in the late 90's was a huge one though. I learnt so much from him. Performing at CMA Fest in Nashville, the Golden Guitar Awards in Tamworth, the main stage at Broadbeach CMF… and right down to singing the American National Anthem at a Rodeo in Southern Utah.


Question: What's next, for you?

Roo Arcus: Keep going! After 25 years in the business, I know how to be innovative, work hard… and survive. As soon as travel opens up, I'll get Arcus Adventures back up and running. This new album 'Tumbleweed' may have just been released, but I'm already thinking about the next one. Like the last song on the album says… 'I Won't Give Up On My Dreams'!


Question: Can you share your socials? (links please)

Roo Arcus: Facebook
Facebook Arcus adventures
Instagram
Twitter
Website


Interview by Gwen van Montfort