Freshly divorced, down-and-out, single suburban mom, Paula Wheeler, gets abducted by a literature-obsessed, S&M dog-masked fetishist who dresses her in fur lingerie and makes her read to him aloud from Uncle Tom's Cabin, then lets her go free, unscathed. This traumatic event precipitates Paula's quest to uncover the world of fetishism, and more importantly fetish fulfillment for monetary gain (hers) so she can provide for herself and her beloved tween daughter, Maude. It's like "Weeds" only with fetish porn.
Adria Tennor earned her BFA in stage directing and acting at New York University and Playwrights Horizons Theater School. She began her career as an actress, and her first professional job was playing a twelve-year old boy looking at porn in Tompkins Square park in Hal Hartley's Amateur, which premiered in the Directors' Fortnight at Cannes. She works regularly in television and film and is most known for her recurring roles on Mad Men and Mad Dogs as well as in the Academy Award winning film, The Artist. She also stars opposite the late, great Danny Aiello in his final, soon-to-be-released feature, One Moment, a heartbreaking comedy about a single mother trying to harness her already hectic life while her aging father slips into dementia.

Dissatisfied with the amount of work available to women in entertainment, Tennor began writing her own material, performing stand up early in her career, then spinning her material into a rave-reviewed one-woman show, StripSearch, about finding love and happiness with the help of a 12-foot pole. Another monologue she wrote and performed, Pie in the Sky, was published in the anthology about lust gone wrong – Worst Laid Plans: When Bad Sex Happens to Good People alongside works by Whitney Cummings, Mary Lynn Rajskub, Allison Brie and Laraine Newman. Tennor made her producing debut on horror spoof, Smothered, shot on location in Baton Rouge. Her directorial debut, a self-penned childhood drama, Cracked, stars Marguerite Moreau, and garnered awards and laurels around the country. Her second film, Pie, starring fellow Mad Men alum Jessica Paré, was a favourite on the festival circuit in 2018, also garnering awards and laurels internationally.

Adria won the CineStory fellowship for her first feature script Never Been Born. While attending the retreat, she met accomplished YA novelist and Emily Dickinson First Book Award recipient Kristen Tracy, and the two co-conspired to conceive, collaborate and produce the short-format series FETISH which will launch in early September 2020. Adria is also in the process of penning a sequel solo show and series to StripSearch called STRIPPED about trudging through the ugly mire of divorce also with the help of a twelve foot pole. Her ambition is to create and tell more stories for and about women and to foster opportunities for a diverse point of view in theatre, film and television.


Interview with Adria Tennor
Question: What originally inspired the idea of Fetish?

Adria Tennor: I tend to get cast as seemingly normal suburban women who are actually doing something crazy, like dealing porn out of their living rooms or baking their cheating husband's body parts into a cherry pie. So, I wanted to build a show for this character to star in and really develop her, get to know her, watch her peak and arc, flesh her out. I met Kristen Tracy, an accomplished YA novelist and poet, at a screenplay fellowship. Kristen has an excellent sense of humor. I pitched her the idea of writing a short format series about this woman, and she came up with the idea that she could be a fetish fulfiller. We decided the world needed a good show about a down-and-out suburban mom pulling herself up by her boot straps and fulfilling fetishes in order to provide for herself and her tween daughter.


Question: What did you learn, about yourself, whilst creating Fetish?

Adria Tennor: I bite off more than I can chew, and I mean that euphemistically, please! I make lofty plans for myself and for everyone I can sweet talk into working with me. The good news is, it gets done because I'm stubborn and adamant about finishing what I start.


Question: How much of your inspiration comes from real life and real people?

Adria Tennor: I'd say 100%. If it didn't come straight from my own experience or Kristen's, it comes from something we learned on the internet. And everything on the internet is real, right? 😉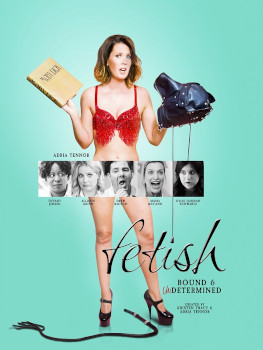 Question: What's the main message you hope watchers take from Fetish?
Adria Tennor:
That you can rise up from the deepest depths of failure, shame and bad wardrobe choices, (Ie.,neon orange capri tights) and persevere against your frenemies, your ex-husband and literature obsessed weirdos by making fetish videos from public domain. All with classic texts, fur, and burlap!
Question:
What research did you do, prior to creating Fetish?
Adria Tennor:
We thoroughly researched fetishes, and that's a tricky thing to Google. It caused some interesting - I'd even say borderline scary - sponsored posts to show up on my Instagram feed…
We found out about:
• Sploshing: getting turned on from rolling around in baked beans - this is a real thing believe it or not….
• Coulrophilia: sexual attraction to clowns…
• Tripsolagnia: ecstasy from getting one's hair shampooed
• Formicophilia: attraction to insects…and
• Libersexusperversus: getting turned on by being read literature to…
Question:
What is the best thing about creating a character like Paula?
Adria Tennor:
The best thing for me was creating my dream role. A woman who is an underdog. She's been beaten down, but not giving up. She's vulnerable as heck, scared and will probably fall over if you blow on her too hard, but she gets back up and will figure a way out of whatever befalls her. She's relatable, likable and we root for her. She's funny and not afraid to look like a goofball, or maybe she's just got more important things to worry about than looking like a goofball!
Question:
What advice do you have for aspiring filmmakers or actors?
Adria Tennor:
Do not wait for your career to happen to you. Make it happen. Do not wait for the things you hope to do to come to you. Just do them. You want to play the lead in a movie? Make the movie. You want to see more strong female leads? Write them and shoot them. With smartphones, there's no excuse to not execute your ideas and hopes and dreams. Hollywood embraces people who do that. So, go do that. Be that kind of person. And think of me when you're making your stuff! I want to be in it all!
Question:
What or who inspired your love of acting/directing?
Adria Tennor:
When I was six my grandma took me and my sister to see Annie at the Fisher Theater in Detroit. I was dazzled. I loved seeing those little girls, who were just like me, singing their hearts out and dancing. I wanted to be just like them and deliver my heart and soul to an audience, and I've never stopped wanting to do that.
An acting teacher named Larry Moss also inspired me greatly. He believes that actors and directors are storytellers and thus politicians. We're here to communicate ideas in the most powerful way that exists: by moving people emotionally. That's why I want to do this, to move the world to progress. I learn and grow and change when something touches me, so I want to tell stories that touch other people and move them to do better, be better.
Question:
Do you prefer to be behind or in front of a camera?
Adria Tennor:
I love both. I don't have a preference. I like the collaboration of being on a set. I like getting into wardrobe, hair and make up, and playing a role, but I also love figuring out the shots and directing a crew and actors. I also love making pasta salad and brownies for lunch, which I've done many times to support other indie filmmakers, and I love running a set for a director as a first AD. I love it all. Except Gaffing. Don't ask me to do that. I am not good at gaffing….
Question:
What's next, for you?
Adria Tennor:
I'm writing a new solo show in tandem with a series about dissolving a love affair, with the help of a 12-foot pole and some strip tease classes. If quarantine goes on much longer, I may investigate performing it over Zoom! I'm also gearing up to promote One Moment, a gorgeous, poignant film I was lucky enough to star in opposite the late, great Danny Aiello, which we shot last summer in Long Island. I'm not sure what publicizing an indie film in the time of COVID entails, but let's check in once I've done it and I'll let you know what I find out!
Interview by Gwen van Montfort