Regional Victorian electro-pop artist LASHES delivers her bold new single 'The Island'. Teaming up with ARIA award winning producer Xavier Dunn (CXLOE / Jack River), the Ballarat newcomer goes from strength to strength on her sophomore effort, showcasing some impressive vocal chops layered over a dark and dreamy cinematic soundscape.

'The Island' is a fictional tale built around real-life experience, serving as a vibrant visual metaphor for the feeling of isolation and emptiness LASHES experienced in a past relationship.

"The concept for 'The Island' came to be while watching the original 'Escape From Alcatraz' film one night at my then-boyfriend's house," LASHES notes. "I was thinking about how our relationship only felt like it was working when we were in his comfort zone – at his house, around his friends etc – and that this was our relationship hub, or "the island".

"The film definitely set the tone for the song and turned my relationship story into more of a concept. It set a bit of a darker, more sinister scene, eliciting thoughts about real life experiences of mental health, and emotional manipulation in relationships. At the time I had wanted this relationship to work, but at the cost of my own happiness."


Interview with LASHES - Yohanna Bright
Question: How would you describe your music?

LASHES: That's a hard one, but somewhere between experimental, electro-pop that at times touches into industrial.


Question: Can you tell us about The Island?

LASHES: It's a dark and dreamy pop song about being stuck on a loopy island and everything is fine as long as you don't ever leave. It's about feeling isolated in a one-sided relationship. I wrote 'The Island' after watching 'Escape From Alcatraz'. The film turned my relationship story into more of a concept. This relationship was only working when we were in their comfort zone- at their house, around their friends. There was no compromise and I was sacrificing my happiness staying in it. If you ever look up an aerial view of Alcatraz Island, it's secluded and surrounded by water. It reminded me so much of my 'relationship hub' at that time.


Question: Is there a particular message you hope listeners take from your music?

LASHES: I hope that people can relate to the things I say, and I hope they find little things in the soundscape to obsess over like I do with the music I listen to. I think everyone approaches music in different ways, but I'm always hopeful people find things or interpret things within my music in their own ways even though much of what I do sound and song writing wise it all has its purpose when it's all put together.


Question: What's it like working with Xavier Dunn?

LASHES: Xav is great, he's such a creative wizard. He's awesome to watch because he's so quick and knows exactly how to get where I want a song or sound to be, even if a demo or things seem incredibly vague. He also lets me wig out and just be me in the studio, which makes the whole creative process for me feel really comfortable as any artist would know it can be stressful or tiring stuck in the studio creating a body of work. But also, when I need to get super intense he knows that this gear within me is there too. He's very patient and has a way of getting the best out of you and I think that this shows when you look at the other projects he's worked on over the years. I think he just really understands the process as an artist himself - it's just a very comfortable, fun time in the studio with him and you know the end product is going to be how you envisioned no matter how long you're working together.


Question: Do you prefer performing live or recording?

LASHES: I can't say what I prefer more yet as the project hasn't had much experience in the live space yet! I was planning on kicking that off this year but then due to this pandemic, it was not to be. I'm going to say that recording is very special but it's stressful trying to get what's in your head, out into something you're happy with or exactly as you envision/hear it. For me, it's one of those processes that I enjoy after it's over and I can reflect on it and have a fully finished, tangible song. I hope a live setting will get me out of my head and feel more in the moment. It'll be a great new experience sharing my songs/stories with people in 'real time'. For now, I'm piecing together just what my live show will look like and it's going to be exciting to see how it all takes shape.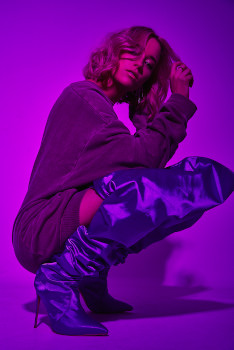 Question: What was your first performance?

LASHES: My first live performance was a gig for my vocal coach a few years ago. I was singing Eva Cassidy renditions/covers.


Question: If you could have anyone, in the world, attend a show, who would it be?

LASHES: Probably my granddad. He used to sit in the back shed and watch me play drums for hours before he passed away. On a less morbid note, probably Zac Hanson. He's my forever crush.


Question: What motivates you most when writing music?

LASHES: Probably just craving that elated feeling I get after I've gotten some new material down knowing that it no longer has to circulate in my brain. Songwriting is such a cathartic process and I'm sure any artist would tell you that. There are many joys in being a musician, but I think we can all agree that knowing or better yet seeing that your music is connecting with people or your fans is truly one of the best. I think the feeling that there are people out there that love the project, love what I'm creating and love what I'm about is a really big piece of motivation for me.


Question: If you could collaborate with another artist, who would it be?

LASHES: I would love to collaborate with Kito…I think she's great and her songwriting is incredible. I think she's certainly someone I very much look too, basically am obsessed with anything she does.


Question: What is the biggest challenge you have faced along the way to your musical success?

LASHES: I think just getting my music out there. I haven't been able to follow each song release with live shows due to this pandemic so I think that also makes it a little more difficult to get my music out there. Overall, I think as a "right now approach" my biggest thing is selling just who I am, the project as a whole and really wanting my music to be heard. Especially as a regional artist (coming from Ballarat) I think there is somewhat of an extra layer (even though slightly small) in terms of challenge in ensuring people notice.


Question: What has been your favourite part of becoming a music artist?

LASHES: Being able to share my stories, who I am and what I love to do with other people. Music is my biggest passion and It's nice to be able to do what you love.


Question: What's a typical day like?

LASHES: A typical day for me at the moment is keeping up to date with my social media, organising things for my next release, brain storming ideas for my next video etc, writing and recording demos in my bedroom, and a few zoom calls. I'm very excited to be able to get back to in-person song writing sessions again. This year has taught me about the importance of being able to adapt as an artist when situations change or your plans are thrown way out of whack. So, I've learnt a lot about how to implement this in my day-to-day schedule.


Question: How would you describe your personal style?

LASHES: I usually just wear what I'm feeling on that day. I love some weird type of jumper, or that 'mismatched' feel but I would say mostly 90s inspired. I think we all somewhat do this, but mood boards on social media are a big thing I have archived or saved that I look at whenever I'm in need of some inspo too haha.


Question: What's next, for you?

LASHES: I have another song on the way for this year and then hopefully an EP next year and of course, live shows and shaping what that looks like. But for now, I'm really living and loving how my new single 'The Island' has been received.


Question: Can you share your socials? (links please)

LASHES: Instagram
Spotify

Interview by Gwen van Montfort