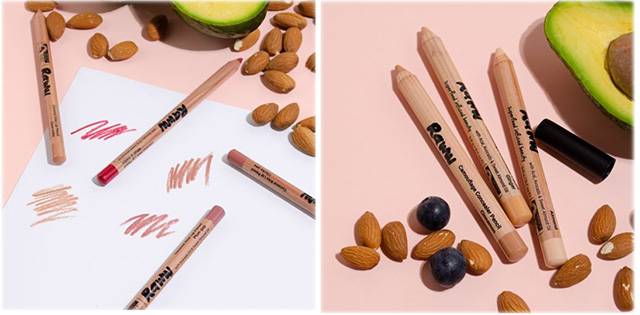 Raww Lip Pencils
With shades to co-ordinate with our Coconut Kiss Lipstick range, our SUPER creamy and pigmented lip pencil can be worn alone for a bold pout or to lock in your lip shape and colour. Packed with Certified Organic ingredients and superfoods to give you SUPER soft and hydrated lips! Available in 4 SUPER cute shades; Coco-nutty, Chicky-pea, Plum-pop, What-a-melon
Tip: Pop a matching Coconut Splash Gloss over the top for a juicy pout.
RRP: $19.99
Raww Babassu Eye Pencils
A SUPER soft, creamy eye pencil that can be blended out to create a smokey eye. Our eye pencil is packed with Certified Organic skin-loving superfoods. Apply to the upper and lower waterline to enhance the shape of your eyes or run the pigmented colour across the lash line and smudge out with the handy sponge tip. Can be applied to the entire eyelid for a bold pop of colour or to create an eyeshadow base for iridescent or holographic pigments. Available in 6 SUPER cute shades.

Tip: Apply Nutty Beige Eye Pencil to the lower lash line and inner corners for a bright-eyed look.
RRP: $19.99
Raww Camouflage Concealer Pencils
A high coverage concealer to cover blemishes, under eye circles and pigmentation with the benefit of skin-loving superfoods. SUPER creamy and blendable, our Certified Organic concealer can also be applied across the cheekbones, nose and forehead to add dimension or used to spot conceal underneath or over foundation. Bye bye blemishes!

Tip: Set concealer using our From The Earth Mineral Powders for a crease-free, longwearing finish.
RRP: $19.99