Colourful and creative baking queen Alisha Henderson, founder of Sweet Bakes, loves nothing more than baking the most of it by whipping up something new, exciting and of course delicious in the kitchen.

When it comes to keeping things fresh and flavourful, Alisha says to check your pantry first, there's always something to add an extra splash to your creations and add a signature touch to a classic recipe!

Something sweet or savoury with the added layer of personalised toppings, try Alisha's Pretzel Party Recipe as the perfect way to fix those homemade bread craving - with a twist!

The soft and fluffy base can be dipped, dunked or dusted with anything you like to take this to the sweet or savoury next level.

This recipe utilises easy-to-source ingredients including CSR Brown Sugar and White Wings Plain Flour, dry yeast as well as the topping of your choice - Alisha loves her Cheesy Mustard Dip - recipe included.

Makes:
● 6 large pretzels

Ingredients:
● 1/2 cup milk
● 1/2 cup buttermilk
● 1 sachet active dry yeast
● 2 tablespoons packed CSR Brown Sugar
● 2 1/4 cups White Wings Premium All-purpose Plain Flour
● 2 tablespoons softened butter
● 1 teaspoon fine salt

Cheesy Mustard Dip:
● 1 cup tasty cheese
● 1/4 cup yellow mustard
● 2 tablespoons Worcestershire sauce
● 50g butter
● 1/4 cup cream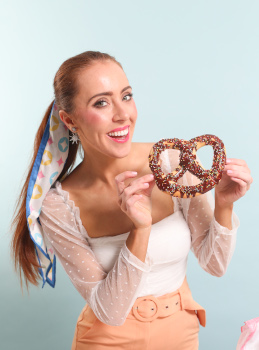 Method
1. Warm the milk & buttermilk in a saucepan to 43c - (lukewarm if you don't have a thermometer!) Pour into a large mixing bowl. Then, sprinkle dry yeast over the top, allow to soften for 2 minutes.
2. Stir in the brown sugar and 1 cup of plain flour with a wooden spoon. Add in the butter, remaining flour & salt and stir.
3. Tip the dough out onto the lightly floured bench, and begin to knead. Knead for 5 minutes until the dough is smooth with a little bit of tackiness.
4. Grease a bowl with butter and place the dough in, cover with cling film and leave somewhere warm for 1hr until doubled in size.
5. Preheat the oven to 200c. Take the dough out, give it a quick punch down and cut it into 6 large pieces.
6. Take 1 piece and begin to roll into a very long sausage. We need it to be around 60-70cm. Once rolled, bring the two ends in, wrap them in a twist, then stick each end down towards the centre of the dough to form a pretzel shape. Repeat with all pieces.
7. Place the pretzels with enough room to rise on some lined baking trays (about 2-3 per tray) cover with cling film and allow to proof for 10 more minutes. If you want to add some coffee sugar, cheese or other toppings you can do that here.
8. Bake for 10-13 minutes (no longer!) and remove from the oven.
9. Eat warm!! Prepare any toppings you wish, like chocolate glaze or cheesy mustard dip and eat these straight from the oven.
10. Pretzels are best on the day, and should be warmed in the microwave if they have cooled down.

Alisha's tips and tricks for this recipe:
For the mustard dip, place all ingredients in a small saucepan over low heat and gently melt. Serve hot and dunk pretzels in!