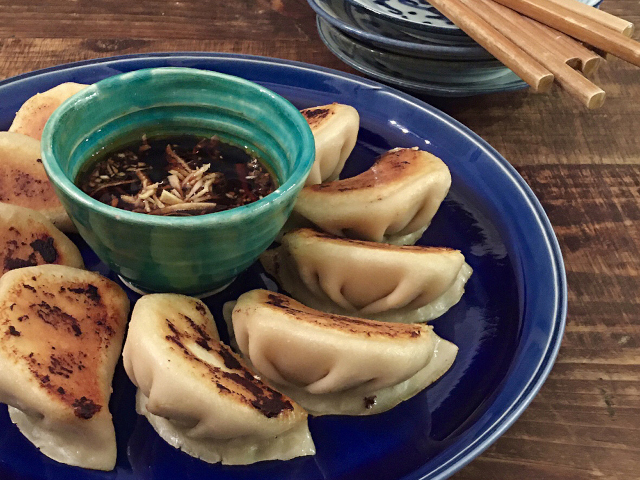 Lilydale Free Range Chicken Pot Stickers (Gau Ji) with Black Vinegar Ginger Dipping Sauce by Poh Ling Yeow
Feeds 2 as a main, 4 as a starter

SKINS
1 cup plain flour
About 110ml freshly boiled water

DIPPING SAUCE
1/4 cup light soy sauce
2 Tbsp Chinkiang vinegar (easily found in Asian grocers)
1/8 tsp caster sugar
2-3 tsp Asian brand chilli oil (in the least not olive oil based)
1 Tbsp full finely shredded, peeled, ginger
2 tsp finely chopped garlic

FILLING
1/2 tsp salt
About 200g Chinese cabbage (wombok), finely shredded
300g Lilydale Free Range chicken mince
1 Tbsp full finely chopped ginger
1/3 cup finely sliced spring onions or Chinese chives
1/8 tsp ground white pepper
1 1/2 Tbsp light soy sauce
1 Tbsp Shaoxin rice wine
1-2 tsp sesame oil

2 tsp vegetable-based oil for pan frying

METHOD
To make the dumpling skins, place the flour in a medium bowl, make a well in the middle and using chopsticks or a fork, mix in enough hot water to bind the flour into a rough ball. When the dough is cooled a little and safe to touch, switch to using your hands and knead into a pliable ball. It shouldn't need flour to prevent it from sticking to the benchtop. Rest the dough on your work surface and turn the bowl over to cover it.

To make the dipping sauce, mix all the dipping sauce ingredients together in a bowl and set aside until needed.

To make the filling, first toss the salt through the cabbage and allow to wilt for 10-15 minutes in a colander. Rinse the cabbage and don't be afraid to squeeze firmly into fists to remove excess moisture. Place in a medium bowl and mix with the remaining filling ingredients.

To make the dumplings, divide the dough into two and roll into cylinders 3cm in diameter. Anytime it feels sticky, dust with more flour. Slice the cylinders into 2cm disks and flatten them with the palm of your hand. Toss them with plenty of flour and cover them with the overturned bowl again for keeping them moist.

With a dumpling rolling pin, roll from the outer edge, towards the centre of the circle only – this will maintain an even circle. Roll the skins until they are about 1mm thick, then place about 1 teaspoon full of the filling in the middle. When crimping, pleat only one side of the wrapper – this will pull the dumpling into a traditional crescent shape. If this sounds too difficult, simply pinch the edges to seal well, but rest it on a well-floured surface with the seam pointing upwards so there's a nice flat bottom for crisping up.

To cook the dumplings, arrange them in a large non-stick frypan with at least 1cm of space between the dumplings. Fill with about 6mm of water and the 2 tsp of oil. Shake the pan very gently to make sure the dumplings are sliding easily. Cover and simmer over medium heat until the water is nearly all evaporated, shaking the pan occasionally to loosen the bottoms so they don't stick. Remove the lid and allow the bottoms to crisp up to a golden brown. To serve, turn the dumpling upside down so the crispy bottoms are facing up or you will steam the crunch away! Serve hot with individual bowls of the dipping sauce.


Poh Ling Yeow's top Lilydale free-range chicken cooking/preparation tips:
• To avoid drying out the breast, slice the chicken into smaller medallions. After you've sliced the chicken bash the breast with a rolling pin to create a thin, almost flat surface. This ensures the chicken cooks at the same rate and holds the quality free-range flavour.
• This may sound a little unusual but when you are cooking a larb, stir fry or even noodle soup mortar and pestle the chicken instead of slicing. This method ensures your quality Lilydale free-range chicken weeps the flavour that has been lingering in the bowl from when you grounded the spices. Ensure you wash it out for next time though!
• Use quality Australian made ingredients! I always use the freshest, most flavourful ingredients I can get my hands on, and it's even better when they come from your own backyard. Fresh produce that's raised and grown by our very own Australian farmers enhances the flavour of the dish and brings with it a new level of complexity. With chicken I find using free-range ingredients soaks up the flavours and makes for a better stir fry, dumpling, curry and beyond!
• Don't waste chicken skin! If you've taken the time to remove the skin, pop it between two baking sheets, season well and roast in the oven until crispy. It is outrageously tasty.
• If you've deboned a chicken or have spare chicken bones (cooked or uncooked), never let these go to waste. Pop them in a freezer bag and these will make for a tasty ingredient in your next homemade chicken stock. • To make the ultimate chicken stir fry add the breast or thigh pieces to hot oil and stir fry over a high heat until it cooks through and is browned. Afterwards, transfer to a separate dish while you prepare the other vegetables and aromatics. Return the chicken when the vegetables are just about done, toss and serve pronto. This chicken stir-fry method ensures the chicken is cooked through, stays juicy, holds its flavour and it keeps the vegetables crisp.