You Plus Me
Australian based Soul/Hip-Hop duo Planetself are proud to present "You Plus Me", taken from their EP "High Tide" released via Tokyo Dawn Records. The smooth soul filled single comes after a number of breakthroughs for the group including touring throughout Europe earlier this year, with a highlight being their set at the Hip-Hop Kemp Festival alongside GZA & Hilltop Hoods in addition to collaborating with well-known underground acts such as N'fa Jones and Yarah Bravo.

"You Plus Me" is a solid rendition of Planetself's presence, exploring the themes of spirituality and being connected with the earth as one through the fundamentals of Hip Hop. With production by group member Inkswel complimenting the heartwarming vocals of Charli Umami, the single showcases a story of love and the concept that perpetuity does exist in a relationship, even through the hardest of times.


Interview with Charli Umami
Question: What inspired the High Tide EP?

Charli Umami: I drew inspiration from the current experience at the time, which was family, my love and the world around me. Becoming a parent opened up a new level of myself with a new direction, and the tones and the themes in the EP reflect this.


Question: How would you describe your music?

Charli Umami: We don't really know what genre we fit into but I guess it is electronic hip hop soul with a little splash of pop. An emanation of love, spirit and being.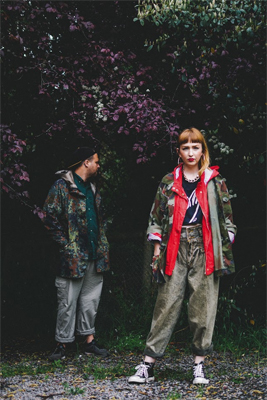 Question: Which is your favourite song to perform live and why?

Charli Umami: Pachamama. This song was written in a prolific time in my life whilst I was pregnant with our second child Jaya and it just brings me back to that place and I'm so grateful for that experience and the blessing of pregnancy and motherhood.


Question: If you could have anyone, in the world, attend a show, who would it be?

Charli Umami: Donald trump so I could orchestrate his assassination (laughs) on a serious note though, probably Georgia Anne Muldrow who is my hero but I can imagine that making me incredible nervous!


Question: Do you prefer performing live or recording?

Charli Umami: Performing live! Getting to share the energy and music with the crowd is what makes it all worthwhile and although nerves can be a part of things and as humans we are self-critical of what we do, it's a constant worthwhile evolution that I love.


Question: What is the story behind the band name?

Charli Umami: It represents the universe within. Everything we are searching for out there is already inside, so it's about looking at our world from the inverse trajectory.


Question: How did the band come together?

Charli Umami: Through marriage, we are a couple who create together so it only makes sense that our life is mirrored in our creative output.


Question: What motivates you most when writing music?

Charli Umami: Mary Jane and the connection to the divine.


Question: Which music/artists are you currently listening to?

Charli Umami: Georgia Anne Muldrow, Elli Ingram, Homeward Bound, Noname, Remi, Social Change, Oshun, Low Leaf, Erykah Badu, Alice Coltrane and Joni Mitchell.


Question: What or who was your inspiration to go into the music industry?

Charli Umami: Always wanted to be a singer since high school performances. I stopped singing though for a long time and luckily my husband (the other half of planetself) helped motivate me to get back into what was important and I am happier than I have ever been doing what I feel is my true calling


Question: If you could collaborate with another artist, who would it be?

Charli Umami: On a super star level Quincy Jones, he is the greatest producer to live on this planet without a doubt and turned so many people into groundbreaking artists… on an underground tip probably Georgia Anne Muldrow as she makes fire on the beats!


Interview by Brooke Hunter