Talented Songwriter, Munro Melano Gets Political in Semi Spinning
Prolific Melbourne-based songwriter, film composer, and session musician; Munro Melano is one talented individual. He has previously released two independent EPs ("Running Round" and "Blue Veins"), and after three years of balancing a day-job as a social worker, a night job composing for the screen, and a weekend job as a session musician, he has finished his deeply ambitious debut, full-length album. "Semi Spinning" is the first single to be lifted from Munro's Debut album.

Half standing, half falling. Semi spinning is an all too familiar feeling. It's the feeling you get when you turn on the TV and are hit with yet another international catastrophe, another crisis, and seconds later are confronted by politicking from people who are consumed only with votes, ego, and the victories to be won over their opponents.

"Semi Spinning" was written as one Australian Prime Minister was toppled mid-term, and another took their place. Munro says there's one line in the song that pretty much sums it up for him: "Now you're dressing up for dinners, and toasting to the mirrors. There's no relief."

Munro recorded the song with long time friend and producer Yen Nguyen (Mechanical Pterodactyl, Tom Woodward). It was slowly pieced together in various locations across Melbourne, including The Aviary Studio, St Charles recording Studio, Echidna studios, Yen's kitchen and Munro's garage. You can read more about the making of Semi Spinning here.

The song's instrumentation floats between programed and live sounds. Synthesizers and programmed drum machines are mixed with a live string quartet, grand piano and live rhythm section. Considering Munro's musical aptitude, it's not surprising that "Semi Spinning" explores a unique sonic palette, coming off like something Frank Ocean, Radiohead and Sigur Ros would concoct if they were all stuck in recording studio together.

In the past year Munro has worked extensively on film scoring, including composing the synth and live string score for multi award winning ABC Documentary "Paper Trails". He also wrote the Jazz-heavy music score for provocative experimental feature film "[CENSORED]", which premiered at the Sydney Film Fest, before launching into an international film run and recently winning "Best Documentary" at the Chicago Film Festival.

Munro Melano will release his self-titled debut album in early 2019.

Listen to "Semi Spinning" here.

Semi Spinning Tour Dates
Dec 6th, Gods Kitchen Mornington, VIC
http://godskitchen.com.au/
Dec 9th, Lupine Studios Melbourne, VIC
https://www.facebook.com/lupinestudio/
Dec 20th, Red Lion Hotel Kilmore, VIC
https://www.facebook.com/redlionbrewery/
Dec 24th, Smiths Alternative Canberra, ACT
https://www.smithsalternative.com/


Interview with Munro Melano
Question: How would you describe your music?

Munro Melano: Paul Simon, Carol King and Rufus Wainwright are song writers I admire, but also have a great deal of love for hip hop and Jazz.

As I've gotten older, I realise that I can't, and don't want to sound quite like anyone else - you draw from all these different influences to build something that feels like yours.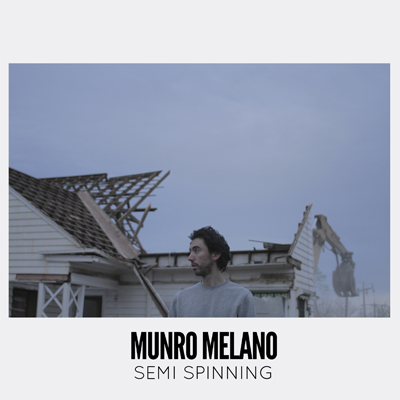 Question: What inspired the song, Semi Spinning?

Munro Melano: The song was inspired by all the changing Prime Ministers in Australia over the past couple of years. This sense that something is broken with our politics when we really just want good governance.


Question: What message do you hope to achieve from Semi Spinning?

Munro Melano: Although the song was inspired by this exhaustion with politics, it is by no means a protest song. I hope that people find their interpretation, and find their own meaning to it.


Question: What should we expect from your upcoming tour?

Munro Melano: I don't want to hear a band that plays everything exactly the same as the recording, night in, night out.

I want to see a band that's reacting to each other onstage, and trying new ideas here and there, bringing a level of excitement.

That level of risk taking is something that you can expect from my upcoming tour.


Question: If you could have anyone, in the world, attend a show, who would it be?

Munro Melano: I once attended a Paul Simon concert on my own. By chance, I was seated next to a rather large, middle age man with a pony tail, who also happened to be at the concert alone.
He sung along to every song as if he were Garfunkel.
I wish he would be at my gig. He was awesome.


Question: Do you prefer performing live or recording?

Munro Melano: My favourite thing to do is perform live in someone else's band, where I haven't had to book the gig, promote, organise sound check, or worry about attendance numbers. I can just hide at the back of stage, stare intently at the drummer, and focus solely on the music (sorry to all the drummers who I've creeped out over the years).


Question: What motivates you most when writing music?

Munro Melano: Mostly I stumble across musical and lyrical ideas by accident. And then it's my curiosity that keeps me going - it's like finding a thread and pulling it this way, and that way, to see where it leads.


Question: Which music/artists are you currently listening to?

Munro Melano: I've been loving the original Jurassic Park soundtrack. It's something I have to do in private though, cause you can't blast soundtracks around the house in the same way that you can blast a pop song.

Also, I'm enjoying Adrian Whitehead's album Nerd From The Suburbs. It's a slept on gem that came out of Melbourne in the past year.


Question: What or who was your inspiration to go into the music industry?

Munro Melano: I sat next to a really good guitarist in my year nine history classes who convinced me to pick up the piano and join his band. He became one of my best friends through the rest of high school and university.

I've gone on to really value friendship and community as an integral part of creating music. There is so much hanging out time between rehearsing, performing and recording, that you want to make sure you're happy to be there.


Question: If you could collaborate with another artist, who would it be?

Munro Melano: I'd love to work on a computer game score. I think that's where the most exciting stuff in art and entertainment is currently coming out of, and I'd love to do something adventurous within it.


Question: Can you tell us about the documentaries, Paper Trails and [CENSORED], which you worked on?

Munro Melano: I'm lucky to have a super talented film maker as my partner, and I'm even luckier that she pulled me into these projects. She worked on both of these films over the past 4 years and then by chance had deadlines to get them finished just a couple of months out from each other. It meant I had an extremely busy time composing the music, and it pushed my solo album release back by a year, but I'm thankful that I got to pull in some new arranging ideas I learnt from film scoring into my album.


Question: How can we watch these?

Munro Melano: Paper Trails has finished its broadcast on ABC, and is now available for hire here.
[CENSORED] will only be shown at film festivals. Unfortunately it's finished its Australian festival run, so if you wanted to catch it you'd have to get to one of the festivals it's playing at across the globe.


Question: Can you share your socials?

Munro Melano: www.facebook.com/munromelano
www.instagram.com/munromelano
www.munromelano.com


Interview by Brooke Hunter