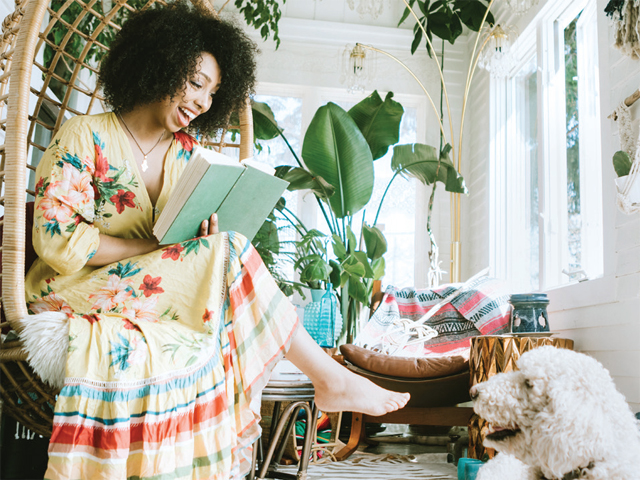 Spring chic: stylish pet accessories complement on-trend interiors
When it comes to refreshing interiors, there is no easier way to transform the home than with the addition of a few trending accessories and furnishings.

Being a parent doesn't have to mean daggy interiors, and now pet parents too are spoilt for choice when it comes to choosing stylish pet products that make for stunning contributions to home decor.

With rental restrictions on pets set to ease across the country, pet parents in rental properties can also enjoy the freedom to decorate their homes loud and proud with their pet's favourite toys, beds and accessories.

This spring, design and colour experts are predicting interiors will embrace a mix of trends from earthy neutral palettes and textures, to bright and bold patterned prints and saturated and nurturing greens reconnecting us with nature.

To help with your spring mini makeover, PETstock has collated the top trending pet products to suit any home this season.

Earthy
For pet parents that appreciate wholesome earthy tones in their home décor, the shades and materials of these pet accessories will fit the theme perfectly. The raw finishes and neutral tones evoke a sense of calm and restfulness in the home. Made from woven paper rope with a feather teaser attached, the Petpals Cat Scratcher Walk-Up Condo & Perch gives cats a platform to play, scratch and relax while providing a subtle textural effect. For dog owners, the earthy brown colour of the Superior Hessian Dog Bed offset with the biscuit-shade dog bowl gives the natural colour scheme some depth.
Get the look: Petpals Cat Scratcher Walk-Up Condo & Perch RRP: $149.99, Superior Hessian Bag Raised Dog Bed RRP: $59.99 – 69.99, Stoneware Brown Dog Bowl RRP: $13.99

Bold and bright
If you're a pet parent that shuns the neutral colour schemes, there's a range of bold and colourful accessories to complement a vibrant home interior. To inject a sense of fun into your pet's décor try the Le Woof Feeding bowl, perfect for a French Bulldog with a little bit of attitude and a vibrant Kong Phatz Hippo for a playful Golden Retriever.
Get the look: Tennis Ball RRP: $2.99, Le Woof Feeding Bowl RRP: $14.99 – 24.99, Kong Phatz Hippo RRP: $21.99

Patterned or pastels
Bold, striking and even clashing patterns can make a statement bringing a sense of fun in the home. Installing colourful designs is an easy way to inject life into spaces and reflect the quirky and varied personalities living inside.

The master bedroom could arguably be the most important room in a house and that's no exception for your furry friend.

The Black Diamond Portsea Lounge is the perfect patterned accessory and the vibrant T & S Floor Cushions provide an on-trend décor addition for larger cats and dogs.
Get the look: Black Diamond Portsea Lounge RRP: $159.99 – $214.99, T&S Floor Cushion Teal RRP: $96.99 – 129.99, T&S isleep Pink Linen Dog Bed RRP: $69.99 - $174.99.

Neutrals
For pet parents with neutral schemes or who like to minimise the appearance of their pets' accessories, the light grey T+S Snug Bed Cloud and Terrazzo Feeding Bowl will fit perfectly into a timeless home.

The neutral Snug Bed Cloud and the monochromatic accent features of the feeding bowl adds a sophisticated touch without making too much of a statement amongst the furniture.
Get the look: T&S Snug Bed Cloud RRP: $99.99 – 114.99, Terrazzo Feeding Bowl RRP: $14.99 – 24.99.

Greenery
Statement making indoor plants add colour and life to any indoor space, creating a warm, nurturing mood backdrop for almost any room setting.

However, many of the most popular species can be toxic and even fatal to pets. For pet owners looking to brighten up the home and add some greenery this spring, there are many non-toxic houseplants safe for both dogs and cats. These include Blue Echeveria, Burro's Tail, Bamboo and Ponytail Palm.

Young or old, your dog and cat can be vulnerable, so it pays to check whether your household plants or flowers are safe. Click here to view ASPCA's list of non-toxic plants and flowers.