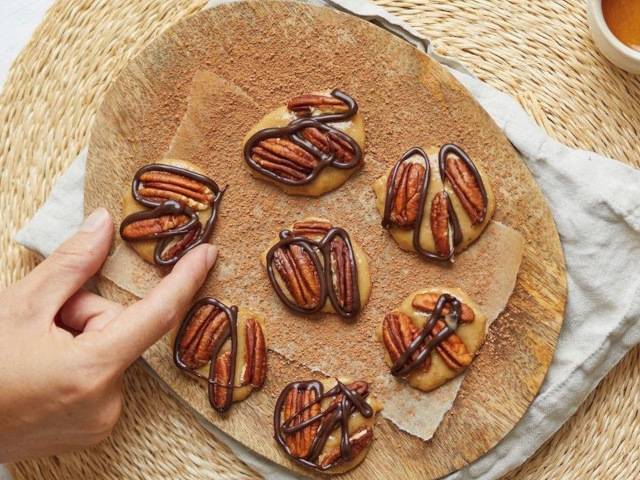 Here is a sugar-free, vegan, and gluten free pecan turtle recipe, using Lakanto Monkfruit Sweetener to give you that delicious sugary taste, sans sugar.

INGREDIENTS
• 1 cup / 100g raw pecans
• 100g Lakanto Chocolate Topping or sugar free dark chocolate
• 1/3 cup / 80ml cashew butter (raw or roasted)
• 1/3 cup / 80ml Lakanto Golden Malt Syrup, or Lakanto Monkfruit Sweetener
• 2 tsp. pure vanilla extract
• ½ tsp. flaky sea salt

METHOD
1. Find a baking sheet or tray that will fit in your freezer, then line it with parchment paper.
2. In a medium sized bowl, stir together the cashew butter, Lakanto Golden Malt Syrup or Monkfruit Sweetener, vanilla and flaky salt until thoroughly combined.
3. Scoop a teaspoon of the caramel onto the lined baking sheet, using another spoon to help remove it – this stuff is sticky!
4. Press a whole pecan on one side of the caramel blob, then add two halves to the sides. Repeat until you've used all the caramel. Place in the freezer for at least one hour, and up to 24 hours.
5. Once the caramels have chilled, prepare the chocolate. Melt the chocolate if using.
6. Remove the caramels from the freezer and drizzle chocolate over them, using a piping bag or spoon.
7. Place the cookies back in the freezer until set, then transfer them to an airtight container and store in the freezer or fridge until ready to serve.

Voila! Enjoy your new favourite Pecan turtle recipe.