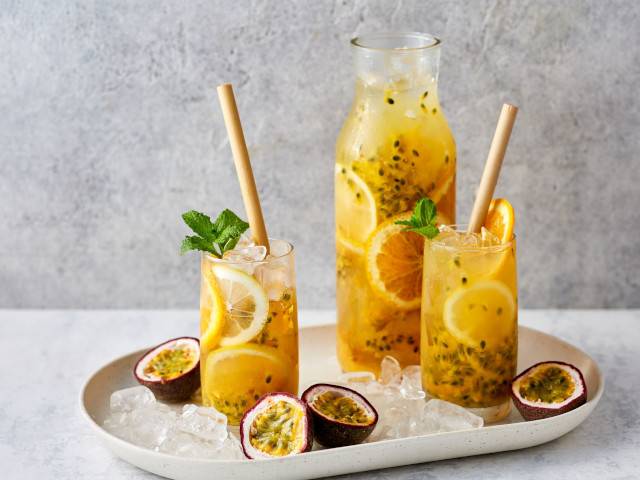 Australian Passionfruit iced tea
Serve: 4 - 5
Prep time: 15 - 20 minutes plus cooling down time.

Ingredients:
• 2 black tea bags
• 3 cups boiling water
• 2 tbsp caster sugar
• Pulp from 6 fresh Aussie passionfruit
• Juice of 1 lemon
• Juice of 3 oranges

Serve:
• Ice
• 3 - 4 sprigs mint
• 1 orange thinly sliced
• 1 lemon thinly sliced

Method:
• Brew the teabags in the boiling water, remove the tea bags and stir in the caster sugar until dissolved. Set aside to cool down.
• In a large pitcher jug fill 1/4 full of ice, pour over the lemon and orange juice followed by the passionfruit pulp. Stir well to combine. Add the orange and lemon slices followed by pouring in the cooled down ice d tea, stir again. Add the mint sprigs and fill the remainder of the pitcher with ice and serve straight away.

TIP: To reduce bitterness, cold brew the tea by steeping for several hours in cold water.