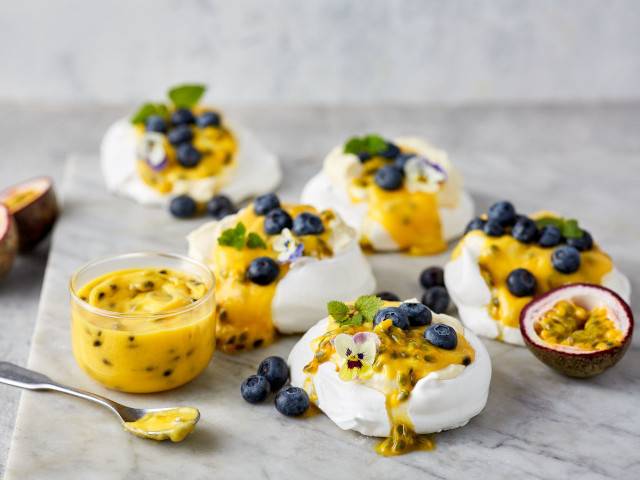 Summer is about to get a whole lot sweeter, with an abundance of fresh Australian passionfruit available in store now.

Whilst the end of summer can be bittersweet for most, Australian passionfruit growers are encouraging Aussies to add a dash of passionfruit to make the most of the fruit during the summer flush.

According to northern NSW passionfruit grower Dennis Chant, favourable growing conditions across most regions have resulted in a good yield of delicious and plump fruit this season.

"After much-needed rain in some of the growing regions, passionfruit lovers can expect plenty of great quality fruit to help savour the rest of the summer months.

"There will be lots of delicious passionfruit in stores, so it's a really good time for all Aussies to make the most of our locally grown passionfruit," said Chant.

Matthew Dwyer, Group Marketing Manager at Hort Innovation, says the passionfruit marketing campaign this year is inspiring Australians to add a dash of passionfruit to their every day.

"Australian passionfruit are a delicious and healthy option. Incredibly versatile, a dash of passionfruit can have a big impact on everyday meals, easily lifting your favourite desserts, breakfasts, salads and drinks from ordinary to extraordinary," said Dwyer.

The vibrant and tangy fruit, which experiences flushes in summer and winter, is not just tasty, it also boasts a range of nutritional benefits:

Good Mood Food – passionfruit energises the mind thanks to its vitamin C and niacin. Both are needed for a happy healthy brain function.

Vitamin C – a serve of passionfruit (two passionfruit) contains 18% of your daily Vitamin C needs, which is good for your mood, brain, skin, teeth, gums, bones and immune system.

Skin health – Passionfruit contains nutrients to help keep your skin healthy and radiant. Niacin and vitamin C are both needed for skin structure. Vitamin C contributes to collagen keeping skin plump and firm.

Gut health – Passionfruit is a good source of gut loving fibre due to the fruit's crunchy black seeds. One serve of passionfruit (two fruits) contains 19% of your daily fibre needs, which can help support and maintain gut health.


Mini pavlovas with Aussie passionfruit curd
Prep / cook time: 50 minutes plus cooling time
Serve: 15 - 16 mini pavlovas

Ingredients:
•8 large egg whites at room temperature
•2 cups caster sugar
•4 tsp cornflour
•2 tsp lemon juice(or white vinegar)
•1 tsp vanilla extract

Passionfruit curd:
•1/2 cup fresh passionfruit pulp
•1/2 cup caster sugar
•2 tbsp lemon juice
•4 egg yolks
•6 tbsp butter

Serve:
•Whipped cream
•Blueberries
•Extra fresh passionfruit
•Mint leaves

Method:
To make the mini pavlovas:
• Pre heat the oven to 180C.
• Line a large flat baking tray with baking paper.
• Whisk the egg whites until firm peaks develop.
• Gradually add the sugar a little at a time while whisking. Keep whisking until the meringue turns to a satiny texture.
• Sprinkle over the corn flour and whisk in, followed by whisking in the lemon juice and vanilla extract.
• Using a spatula, spoon the meringue out onto the baking tray, each mini pavlova to be approximately 10cm wide.
• Reduce the oven temperature to 150C and place the tray in the oven and bake for 30 minutes.
• Once the pavlovas are cooked turn the oven off but don't open the door, leave them in the oven for a further 30 - 40 minutes to slowly cool down.
• Remove the mini pavlovas from the oven and transfer to a wire rack until they are completly cooled.

TIP: They can be made ahead of time and stored in an airtight container.

To make the passionfruit curd:
• Combine the fresh passionfruit pulp and the sugar into a glass bowl placed over a double boiler (saucepan with simmering water). Ensure the base of the bowl is not submerged in the simmering water. Whisk until the sugar dissolves.
• In a separate bowl lightly whisk together the egg yolks and lemon juice.
• While whisking, gradually add one spoonful at a time of the warm passionfruit mixture into the bowl of egg and lemon juice mixture. Ensure you are whisking so nolumps appear. Once both have been fully mixed, add the bowl back to the double boiler and whisk further until the mixture becomes thick and creamy.
• Add the butter and whisk through.
• Take off the heat and allow to cool down before placing in the fridge covered until you are ready to serve the pavlovas.

Serve:
• Serve the mini pavlovas with a dollop of whipped cream, a good spoonful of the passionfruit curd, and some extra passionfruit for a pinch of tartness.
Sprinkle fresh blueberries over the top and add some mint leaves.