Launch Of The First Oyster-Farm Hotel and Spa
La Maison Tarbouriech, a famous three-generation French oyster-farming family who brought to the world one of the most sought-after oysters, has just opened a unique domain that ambitions to become a true symbol of experiential tourism.
www.tarbouriech.fr

Inventor of the "solar tide", an innovative process that recreates subtle tidal cycles, La Maison Tarbouriech produces a unique pink oyster, the "Tarbouriech Special", which is twice as fleshy than the original local oysters (Bouzigues) and has an inimitable hazelnut taste. With the "Tarbouriech special" being served in many Michelin-starred restaurants around the world, it was only a matter of time before this entrepreneur created a place to welcome guests for the night on his property close to the Thau lagoon, on the Mediterranean Sea.

To accompany in the development of a unique concept, La Maison Tarbouriech has worked during the past three years with experts in the field of experiential and sustainable luxury tourism and hospitality and eco-design:

• Ludovic Lainé, Managing Partner of Atelier LaPaz, a concept design studio with offices in Paris and Tokyo that specializes in the creation and development of innovative, heritage-centric, and ethical concepts for the luxury, tourism and cultural sectors. Ludovic Lainé, who advocates luxury that is created simultaneously by the expression of a territory's uniqueness and an innovative and global vision, explains: "Between tradition and modernity, the Domaine Tarbouriech project falls very clearly into our approach, which reinvents the experience for travellers who are seeking adventures, discoveries and authentic, less ostentatious luxury."
• Thomas Rondony from Agence Thomas Rondony Architecte: A graduate of the École Spéciale d'Architecture (ESA) in Paris, Thomas Rondony worked alongside Rudy Ricciotti for 5 years, before opening his studio in Montpellier in 2001. In love with the Mediterranean, he has nourished his inspirations from the varied character and the poetry of the landscapes that he holds dear, revisiting the established codes respectfully and with tenderness.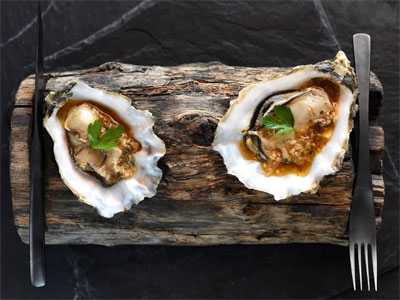 Le Domaine Tarbouriech, a 13th-century restored and modernized property, features 15 comfortable rooms themed around the activities of the oyster farm, the Languedoc -Roussillon region, and the travels and passions of the Tarbouriech family.

A stay at Le Domaine Tarbouriech will take its guests on an enriching "edutaining" journey

• through time via tributes to historical figures such as Thomas Jefferson and the libertine Giacomo Casanova who both visited the area several centuries ago
• through space: from the lagoon of Thau to Japan where La Maison Tarbouriech also has activities.

The Domaine Tarbouriech has been conceived to focus on well-being, gastronomy and unique activities.

• Well-being: At the core of the concept, a 400-m² well-being centre that gives centre stage to millennia-old use of the oyster for its cosmetic and therapeutic virtues. The "Ostreatherapy" concept proposes, in addition to the gustative qualities and nutritional benefits of the oyster farm's own oysters, a way of experiencing a unique rejuvenation offering trough signature personalized treatments.
• Gastronomy: Proposed in three venues (two restaurants and a bar), the cuisine of the Domaine Tarbouriech is one that exclusively uses seasonal produce, mainly cultivated on site as biodynamic agriculture or permaculture. For products from outside the Domaine, the organization ensures a sourcing from regional market gardeners and breeders who also respect the environment and health.
• Activities: In addition to the unique places to discover around the Domaine Tarbouriech, Atelier LaPaz is currently developing "signature" programmes and activities that will call upon various talents and experts (creators, writers, historians, scientists, etc.) in residence.

Eco-conceived, the Domaine Tarbouriech demonstrates a true commitment to authentic and ethical luxury. In terms of environmental responsibility, the project was globally addressed with rigueur aiming for optimal respect for the environment. The architectural vision incorporates a passive bioclimatic approach and use of recycled or recyclable materials, many coming from the oyster farm operation.

The Domaine Tarbouriech should quickly become a sought-after venue for rejuvenation and culinary and cultural discoveries whose reputation goes beyond the French borders.

An introductory video: