Fearlessly traversing a multitude of genres while probing the deeper parts of the human psyche, Melbourne's On Diamond return with intriguing new single 'Candle'. The band broke barriers with their eponymous 2019 debut, featuring the head-turning singles 'How', 'Poison Blood', and 'Light'; their genre-defying sound garnering instant success. Now, the beloved quintet are back and excited to reveal their next alt-pop oddity in the introspective mantra that is 'Candle'.

Released via Eastmint Records, 'Candle' is the first we've heard from the band since their critically acclaimed self-titled album earned nominations for The Australian Music Prize and Music Victoria Awards' Best Album and landed Album Of The Week on RRR, PBS and 4ZZZ. Without skipping a beat, the band's new single continues with the same impressive momentum, opening with an eerie atmospheric loftiness before breaking into a punchy crescendo of clanging cymbals, psychedelic, reverb-drenched guitar riffs and densely layered ethereal vocals.

"A truth candle is a magic candle fashioned by the mystics in The Forgotten Realms - a world in Dungeons and Dragons. It acts as a truth serum and all who fall under its power are compelled to tell the truth. This song recalls a moment in my late teens when I learned a painful familial truth. It was extremely jarring but at the same time it revealed the root of a darkness I'd felt my entire life, which in a strange way brought a sense of relief. The song is also a reflection on recognising the ugly, covered up truths present in our society and how we decide to respond to and engage with these truths." " Lisa Salvo, On Diamond

Comprising an all-star line-up featuring members of Jaala, Grand Salvo and Jazz Party, On Diamond presents an interactive group dynamic both in the studio and on stage. Led by Lisa Salvo with bandmates Scott McConnachie (guitar), Hannah Cameron (guitar/vox), Maria Moles (drums), and Jules Pascoe (bass), On Diamond's unique and now-quintessential sound includes hints of rock, noise, alt-pop, folk and improvised music, bonded by freedom of expression and experimentalism. 'Candle' serves as another example of On Diamond's fortitude, and their resolve to produce music that is both personal and meaningful to them, and liberating in the many different sounds they work within. As a result, they continue to make their mark on Australian music " more bold and daring than ever.


Interview with Lisa Salvo, On Diamond
Question: How would you describe your music?

Lisa Salvo: I describe it as experimental pop music. I think of this as an umbrella term in that it allows us to apply as many alternative or contrasting facets to the music as we like and it can still make sense. Recently I've enjoyed hearing others' takes on it - psychedelic, post-punk, progressive rock, blues, jazz-punk. These tags paint a colourful picture for me in imagining what we might do next. Folk music is a key influence in my songwriting, and improvisation within the songs is an important mindset that we try to hold on to.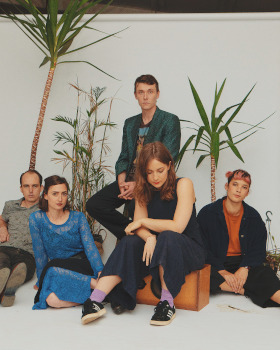 Question: Can you tell us about Candle?

Lisa Salvo: There's a repeated lyric in the song - 'truth candle'. A truth candle is a magic candle fashioned by the mystics in The Forgotten Realms - a world in Dungeons and Dragons. It acts as a truth serum and all who fall under its power are compelled to tell the truth. I didn't actually know this until after I wrote the song, and it complimented my meaning perfectly.

This song recalls a moment in my late teens when I learned a painful familial truth. It was extremely jarring but at the same time it revealed the root of a darkness I'd felt my entire life, which in a strange way brought a sense of relief.

The song is also a reflection on recognising the ugly, covered up truths present in our society and how we decide to respond to and engage with these truths.


Question: Is there a particular message you hope listeners take from your music?

Lisa Salvo: I hope that our music can provide a space for reflection. A spectrum of emotion is woven into the music, from intense sadness to elation, and it documents my process of learning to accept and move through the effects of past trauma towards empowerment. Perhaps listeners may feel less alone in navigating their pain and the songs might offer empathy.


Question: How has COVID-19 affected you as a band?

Lisa Salvo: Well, similarly to other bands, we haven't been able to get together and work on music or perform live. For me the timing has been ok - I've needed a break to dream up concepts for the next record, search for the themes and stories to include in new songs. Progress has been slow, but fragments and ideas are soaking into my psyche.

I'm conscious that others have been in a period of strife that far exceeds the length of the coronavirus, and I feel for everyone who is struggling during this pandemic.


Question: What motivates you most when writing music?

Lisa Salvo: I'm highly motivated by the idea that I could come up with something very unique. I try to steer away from anything that sounds too familiar to me. I strive to articulate my experiences or thoughts articulately and I'm most excited when that expression is also poetic.

Knowing that the band will take my ideas and breathe life into them is currently motivating me to get the nuts and bolts of the songs right.


Question: What has been your favourite part of becoming a music artist?

Lisa Salvo: Although there are many barriers present in the music industry, I think my most valued personal lessons have been in developing resilience, and sticking to my guns when it comes to my creative vision and professional goals. Furthermore, being in the arts sector has exposed me to a wider community made up of varied people groups who generously share their knowledge and experiences, including minority groups, and I consider this an extremely important part of my moral and social education and growth.


Question: What's next, for you?

Lisa Salvo: We're just working on the songs for our next record, and I imagine that will usher in a whole new chapter for us.


Question: Can you share your socials? (links please)

Lisa Salvo: Sure:
Instagram @ondiamond
Facebook
Listen to Candle here!


Interview by Gwen van Montfort