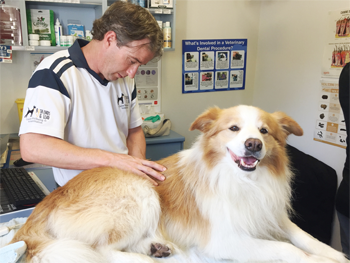 Make sure you are not unintentionally harming your dog with these tips from The Dog Healer
Tim Norris, aka The Dog Healer aims to educate dog owners with dogs aged 6 years and older.

Tim, The Dog Healer states: "Once your dog reaches 6 to 7 years of age, it's considered a Senior Dog. Dogs age 7 times faster than we do … so a dog who is 7 years of age is the human equivalent of 49 years! Over 1 in 4 dogs will suffer with the pain of Arthritis in their life time, with this number increasing as they reach their senior years."

Here is what we can do to help our dogs live longer, healthier, pain free lives:

Overfeeding: It's estimated that 40% of dogs in Australia are overweight. For every 1 pound of excess weight, it puts an additional 4 pounds of force through your dog's joints. This can lead to a wide range of health and joint issues for your dog, like heart disease and debilitating joint problems. Keeping your dog at a healthy weight and ensuring they have a nutritious diet is critical to their health and longevity.

Inappropriate Exercise: Are you exercising your dog too much? Too little? Or inappropriately for their age and condition?

Throwing a ball too much, too often or for an older dog is one of the biggest risk factors for injury and Arthritis.

Our dog's exercise needs change as they age, so we have to adapt how we exercise them to minimise the injury risk.

Unsafe Home Environment: Is your home environment safe for your dog?

There can be many health and injury hazards around the house that can impact on our dogs. For example, tile, vinyl and wooden floorboards will be slippery and unsafe over time for our dogs as they become older and less stable.

Many dogs get injured through jumping up and down off the bed and couch so think about using a half way step to help them get up and down.

Too Much Stress: Dogs exposed to consistent levels of stress can cause anxiety, which over time can lead to a range of health and behaviour issues.

Creating a calmer and more relaxed environment for your dog at home can help keep them happy and healthy.

No Pain Management Plan (outside of taking pain medication) : What do you do when your dog is stiff, sore or in pain?

Dogs get stiff and sore from time to time (just like people do). If you don't address these issues early on, this can lead to more serious joint problems resulting in a more painful, less active and shorter life.

The key is having proven hands-on tools and a pain management plan to help your dog in the moment … relieve their pain and stiffness and prevent it from becoming a long term, life-changing issue.


Giving your dog a Massage will help to relieve any muscle soreness or pain they have, keep their muscles and joints healthy and moving well.

You can learn how to massage your dog safely using simple and proven techniques which are quick and easy to do.

Building some gentle Strength and Conditioning Exercises into your dog's daily routine will help them stay stronger and more active and give them important mental stimulation too.

Tim concludes: "Having these proven hands-on tools and a pain management plan means that you'll be able to help your dog any time of day or night when they need it."

Tim Norris, The Dog Healer, Both Ends of the Lead

At Both Ends of the Lead, we specialise in natural, non-invasive and non-pharmaceutically based Arthritis treatment and Senior Dog care.

If you have a dog that is in pain and suffering with the misery of Arthritis or who is starting to slow down and find life more difficult, we can help you.

We offer personalised consultations and treatments if you live in the Sydney area or a range of online solutions in our Online Learning Centre if you're outside Sydney, interstate or overseas.

We work with a growing number of vets who actively refer to us to help their clients who are either not responding well to pain medication or are looking for a more natural way to manage the pain of Arthritis.

Check out our free online training Your Dog Has Arthritis … Now What? to get started and help your dog live the longest, healthiest, pain free life possible.
http://www.bothendsofthelead.com.au/