New Zealand's first smart hotel opens in Queenstown
New Zealand's first fully 'smart' hotel has opened its doors in the heart of Queenstown.

MIPAD Holdings Ltd has opened mi-pad Queenstown, a next generation, energy-conscious hotel experience for the smart traveller and the ultimate marriage of technology, sustainability, comfort and convenience.

The six-storey hotel features 57 stylish and well-appointed rooms with the latest in-room tech, multiple 'social spaces' and an impressive rooftop terrace.

And the key to mi-pad Queenstown is that there is no key.

Guests booking their stay download the hotel's personal app 'mia' and their smartphone becomes a room key, meaning physical check-ins (or check outs) are a thing of the past.

Mia also has a range of other tricks up her sleeve, with the app enabling guests to set temperatures and mood lighting in their room (even remotely), request room service or alert hotel staff that they don't want to be disturbed.

Access to the hotel is available 24/7 thanks to the technology. Once guests are settled in, mia transforms into a personal digital concierge, delivering the latest information on events, activities or offers and encouraging them to experience the best of this stunning destination.

The $15m John Blair-designed hotel is in the heart of Queenstown, less than a two-minute walk from the vibrant centre with its hundreds of bars, restaurants and activity operators set on the shores of stunning Lake Wakatipu.

The mi-pad hotel concept is the brainchild of Queenstown property developer Lewis Gdanitz and is the fruition of three years of hard work.

"mi-pad is the result of 15 years of research, travelling the world and finding the places that did accommodation really well," he says.

"I'm delighted that we've been able to deliver a property that's unlike anything else on offer in New Zealand, operating on a premise of affordable luxury delivered using the latest technology.

"I'm also very proud of the eco-conscious initiatives we have in place for every aspect of the operation."

MIPAD Holdings Ltd is a joint venture between Lewis and experienced hotel investment and development company TJK NZ Ltd, owner of luxury boutique hotels The George in Christchurch and Regent of Rotorua.

TJK NZ CEO Stephen Borcoskie said the company had a proud pedigree of leadership in, and commitment to, the New Zealand hotel industry.

"Our goal is to always exceed customer expectations by excelling in service delivery, and we're thrilled to be entering the Queenstown market which consistently leads the way in delivering world-class experiences and lifelong memories to visitors from around the globe.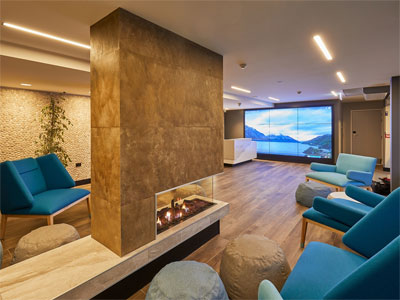 "It makes perfect sense to open a unique property like this in Queenstown."

Hotel manager Kylie Hogan has 20 years' experience in international resort management.

"We're offering an innovative, connected hotel experience for smart travellers who'd prefer to spend their hard-earned dollars on experiences rather than pay over the odds for accommodation," she says.

"We appreciate that they want to keep in touch with family, friends, or colleagues whether they're here to ski their hearts out, check out bike trails, enjoy some world-class golf or award-winning wines.

"mia's the key to all of that, the complete package for guests who want to have fun like a local."

The hotel hasn't forgotten the basics of ensuring guests get a great night's sleep, with Queen beds, clever storage options, smart TV's and bathrooms featuring organic products and top-of-the-line hair styling tools.

Guests can have as much or as little interaction with mi-pad staff and other guests as they like, including the option to share experiences, photos or messages through mia's private chat group.

A floor-to-ceiling 'social wall' in the hotel's entrance lobby also features mia's latest updates and guests shared experiences.

Although there are snacks and breakfast options available within the hotel, mi-pad's owners made a conscious decision to keep F&B services to a minimum to encourage guests to savour the town's renowned eateries.

But if they prefer to order-in or BYO, the hotel's best kept secret is its huge rooftop terrace with an outdoor fireplace, plentiful seating and wraparound 270-degree views of Lake Wakatipu and surrounding mountains.

The terrace is exclusively available to guests and is the perfect spot to enjoy an outdoor dining experience or luscious wine with some of the best views in town.

To unlock the key to the full mi-pad experience, book online at www.mipadhotels.com