New Zealand, experts in shore excursions, and Royal Caribbean, the cruise line with the biggest and most innovative ships in the world, have identified seven of the top adventures New Zealand has to offer, which can be all be ticked off while the ship is in port.

Coming into his fourth season as a cruise tour operator, Account Manager at ID NZ Alex Howard has revealed his hot tips for unmissable sights on a cruise around New Zealand; many of which can be done in under four hours, or eight, making them the ideal option on a port day.

"When people book a shore excursion, the deciding factor can come down to time available. New Zealand is a compact place however, and people just don't realise how accessible some hotspots are – so they tend to be overlooked when planning on-shore adventures," says Alex.

Susan Bonner, Vice President and Managing Director, Royal Caribbean Australia and New Zealand, agrees. "Guests who book through the cruise line can choose to embark on a four-hour or eight-hour adventure, visiting some of the country's most breathtaking sights while being guaranteed to make it back to their ships on time," adds Bonner.

Four hours or less:

Otago's Wild Wonders
Starting in Dunedin, Otago's Wild Wonders offers a one-hour tour over the shores of Otago Harbour, where guests get to see fur seals and penguins in their natural habitats against a backdrop of city and rugged coastline. "This owner operated business is run by Perry and Tracey Reid on their very own land," says Howard. "Perry and Tracey's fully functioning farm has been in the family since 1849, and even today, three family generations are involved in day to day life on the farm. Guests warm to fact they are visiting a family's home and all coaches that arrive are greeted by a member of the Reid family".

Akaroa and Harbour Wildlife Cruise
"This one always has guests raving," says Howard. "The Akaroa Harbour and Wildlife Cruise visits the only place in the world where people can see Hector's dolphins." This marine life oriented cruise offers sightings of White-Flippered Blue Penguins and fur seals, and guests can see ancient lava flows along the edge of the harbour."

Gannets at Cape Kidnappers
Nature lovers can see a mainland nesting spot for 20,000+ Gannets at Cape Kidnappers, the largest and most easily accessible mainland Gannet colony in the world, and venture on a Gannet Safari on this extraordinary excursion. Guests can get up close in a 4x4 vehicle to just a few feet of these incredible creatures. Alex remarks, "the six-foot wingspan of a mature Gannet is a sight to behold!"

Lord of the Rings and Weta Workshop Tour
Aside from the country's sightseeing and wildlife, guests can learn about pop culture at the Lord of the Rings & Weta Workshop Tour going behind the scenes for 3 and a half hours, exploring picturesque forest where the magic of special effects are brought to life by award-winning Director Peter Jackson and his talented team.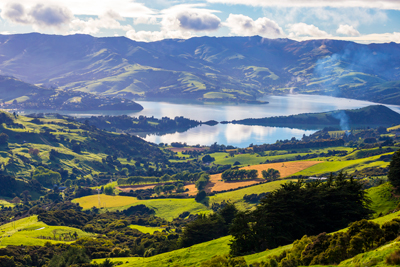 Eight hours or less:

Taieri Gorge Train
Another can't-miss excursion is the Taieri Gorge Train, where passengers take a ride on a vintage train across the eastern shores of the Otago Harbour to the Taieri River Gorge. This iconic rail journey offers views of an ancient sheep run called "Pukerangi" or the Hills of Heaven. Views include Mt. Allan and Christmas Creek, where one miner struck gold on Christmas Day in 1863.

Marlborough Train Tour
Howard says there are many more excursions available than most people are able to research on their own. In 5 hours for instance, the Marlborough Train offers a majestic steam ride journey.

Other excursions in this port include a cruise on the beautiful Marlborough Sounds, arriving at a paua (abalone) pearl farm where guests meet the owners and delve into the process of how these precious gems are farmed. Guests are then invited to purchase hand-made paua jewellery at the only place in the world they are for sale!

Guests visiting New Zealand's most famous wine producing region can enjoy wine tastings at various cellar doors. Howard claims Marlborough Sauvignon Blanc is second to none.

The more adventurous can join a sea kayaking tour, or a 2-hour scenic tour to stretch the legs on the Queen Charlotte Track.

Waiheke Island
Wine connoisseurs can even take a high-speed ferry and visit Waiheke Island for an incredible wine tour taking 4 hours, 45 minutes.

White Island
Unforgettable trips right here in New Zealand include White Island Volcano's cruise and exploration excursion offering an up-close look at one of the world's most active volcanoes in Tauranga taking 8 hours.

And Howard's top tip for making the most of time onshore is to strike up a conversation with the locals "Go where locals go," Howard divulged. "Stop in a quaint village and shop for gourmet artisan foods and items you won't find anywhere else – like a visit to the Vines Village where a collection of boutique stores and family-friendly activities are nestled amongst wineries in the heart of Marlborough. Here, guests can discover the award-winning Whitehaven Wines Cellar Door, Golden Mile Brewing, Vines Village Café and five artisan stores sampling some of Marlborough's best products and produce including chutneys, relishes, chocolates, liquors and more!

Royal Caribbean's award-winning ships will have three megaliners in the New Zealand and Australia region, including Ovation of the Seas returning for her third, longest season yet. Together, Ovation of the Seas, Explorer of the Seas, and Radiance of the Seas will be based in Sydney, offering 60 sailings ranging from three to 21 nights during the 2018/19 season. Radiance will also offer three one-way cruises departing from Auckland, allowing guests to tack on new experiences to the beginning or end of their cruise. All three megaliners will sail throughout Australia, NZ and the South Pacific, with Explorer of the Seas focusing primarily on the South Pacific.

For more information or to book a cruise, visit https://www.royalcaribbean.com.au, call 0800 102 123 or contact your travel agent.