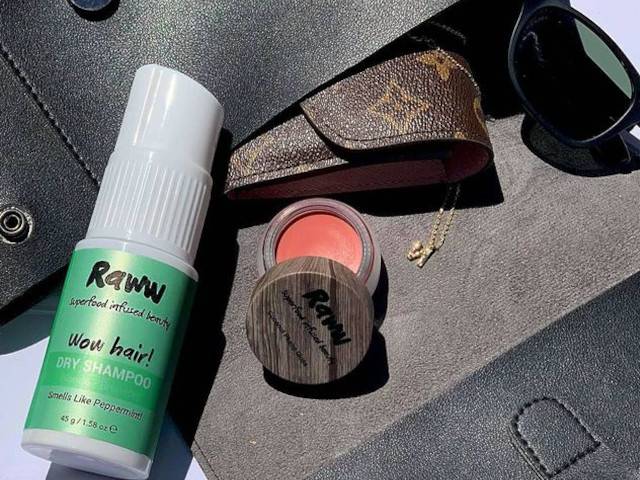 Keep your hair feeling fresh with natural dry shampoo
If you love that fresh hair feeling but don't always have time for your full hair care routine, it's very likely that dry shampoo is already a beauty product you cannot live without.

But did you know that the majority of dry shampoos contain lots of chemicals that can be harmful to your health? That's right - unfortunately, our hair care life saviours could be doing us more harm than good. Luckily for us busy babes, there are some brands out there that make all natural dry shampoo spray that can do us no harm. Raww Cosmetics is one of them, with their SUPER good natural dry shampoo range!

Why we can't live without dry shampoo

Oh, where do we begin? We just can't live without dry shampoo. It's super easy to use and convenient when you're in a rush and want your hair to feel fresh. How does dry shampoo work? It absorbs oil from your scalp and hair, making it look and feel freshly washed again.

Overwashing your hair isn't a good idea. It can damage the hair follicles and strip the hair from its naturally occurring oils which funnily enough can result in more oil being produced, making your hair look greasy and oily. The benefits of dry shampoo are that it will help keep your hair fresh between washes, and it's great at boosting volume, texture, and hold. That means you can last a few more days before turning back to your shampoo and conditioner!

To apply, focus on the roots - that's the spot that will look oily first. Apply a small amount of dry shampoo on your roots and blend the formula by rubbing with your fingertips or brushing the product through with a hair brush. Add as much product as you need to get your desired result. Giving your roots a nice massage can also help blend the formula into your hair for a little extra volume and bounce.

How to choose the best dry shampoo?

The short answer is: go for a natural dry shampoo! As with all beauty products, the more natural ingredients they have, the better. Unfortunately, most non-natural, conventional dry shampoos tend to be full of harmful ingredients. Particularly in aerosol products, keep an eye out for ingredients such as butane, alcohol and talc. Not only are they highly flammable, these ingredients can dry out your hair, be harmful to your overall health when you're inhaling them on a daily basis and they cause environmental pollution which is bad for the planet we all call home. Yikes!

When you're looking for a dry shampoo that's good for you and your hair, look for those that are free from nasty chemicals and toxins and are packaged in a non aerosol container. Enter: natural dry shampoo! Raww's WOW Hair! Dry Shampoo is an all natural dry shampoo spray perfect for freshening up any hairstyle, adding volume to your hair and extending the time needed between washes. It's made with 100% natural ingredients (yes, it's possible!) and it's the best non aerosol dry shampoo: it comes in a clever pump bottle, making it safer for you and the environment.

Its lightweight formula doesn't weigh your hair down, which helps to hold off excess oil and dirt build-up, giving you the most natural-looking finish. Raww have dry shampoos for both blondes and brunettes, and the invisible formula blends perfectly and it smells amazing too! Infused with natural peppermint oil, it leaves your hair looking and smelling super fresh, ready to tackle a new day.

Make the switch to natural dry shampoo now!

For a low maintenance hair care routine with hair-loving ingredients, we're big believers in switching to a natural dry shampoo, free from nasty chemicals and toxins. It will be perfect for keeping your hair looking fresh and voluminous as part of a daily routine, and it's sure to become your number one hair care product for those busy days!