Nathan Cavaleri is back and set to release his first solo album, Demons (out August 6) since being signed to Michael Jackson's label at age twelve, now sharing his affecting new single, Before You Check Out, an introspective song with a deeply important message and a suitably poignant film clip. Cavaleri will be celebrating the release of his new album with a national tour and is announced on the first Bluesfest 2021 lineup.

This is an artist with an incredible story to tell, so it's fitting that ABC's Australian Story will in early August be airing an episode detailing Nathan Cavaleri's extraordinary life. Picking up a guitar and learning enough basic skills from his Dad to play along with his favourite blues albums at just three years old, Nathan was playing electric guitar by five and had played his first gig by six – a 90 minute busking set in front of his Mother's coffee shop that saw him take home $270. Soon after, Nathan was diagnosed and treated for leukaemia, and the Starlight Foundation set up a meeting with his hero Mark Knopfler, attracting the attention of the media and soon after, a host of Aussie music icons. By age ten, Nathan was making regular appearances on Hey Hey It's Saturday and had toured the country extensively playing sold out arenas with Jimmy Barnes and Diesel, by twelve he'd toured the world and played with BB King, Etta James, Bonnie Raitt, and had made guest appearances on all the big American TV talk shows, he even performed for the Clintons during their time in office. He was pursued by Prince and Madonna, and a bidding war ensued, with Nathan eventually signing to Michael Jackson's MJJ Records. Soon after, seven years after his diagnosis, Nathan was given a clean bill of health at age thirteen. He recorded a bunch of records, starred in Camp Nowhere – a Disney film alongside Jessica Alba – and even starred in an episode of Baywatch alongside The Hoff, and after one final tour with BB King, Nathan decided to take a break. He came back to Australia and started a blues rock band with Col Hatcham from The Screaming Jets, dropping releases and touring extensively before suffering adrenal fatigue and severe anxiety which spiraled into depression and saw Nathan step away from the stage. He's since taken a number of years to work on his health, has dealt with and learned to manage his personal demons and has a newfound appreciation for his unique story. And now Nathan is back and ready to unleash his unique and commanding new music on the world.


"What matters to me most is that I have a body of work that expresses messages that I'm deeply passionate about on a bed of music that is built on a lifetime of writing, recording and touring," insights Nathan. "The bulk of Demons was created during a time when I didn't believe that I'd be mentally and physically stable enough to return to the stage. All songs were written from a place of catharsis. Lyrical themes range from antidotes for the depressed to my fascination for the more taboo side of desire. All falling one way or another under the theme of how humans crumble, melt, face, overpower, surrender, run or dance with our Demons."
Eager to make his way around the country on tour, Nathan explains what fans can expect from his shows, saying, "In contrast to my younger years as a performer, the Demons tour will see me connecting to audiences in an intimate story-telling type of way. As a kid I had something to play, now I have something to say. My set will be strung together with epic and incredulous stories of growing up on the road, to how my connection to music deepened when I was battling Leukaemia as a kid, to the lessons I had to learn in more recent years dealing with mental health demons. Light and shade of the set mirrors the extreme dynamics of life experiences which I try to express in a raw and relatable way."



Interview with Nathan Cavaleri
Question: How would you describe your music?

Nathan Cavaleri : My music is a form of expression and communication inspired by life experiences with production influenced by styles that have rocked my world - Psychedelic folk, hiphop, country, indie/alternative all lying on a bed of blues.


Question: Can you tell us about your upcoming album "Demons"?

Nathan Cavaleri : "Demons" was mostly written at a time when I was lost in a dark depression with zero intention to return to the stage. Song writing was therefore a cathartic outlet uncorrupted by "career goals". Just like when I was a kid, song writing was once again a time for self-expression. With time, the tracks for "Demons" were written and left me with the urge to re-consider a life in music. Some songs feel anthemic and profound, others are sleazy and cheeky. I wanted to name the album "Demons" because it reminds me (and hopefully others) how much we can learn by dealing, playing, attacking, hugging or dancing with our demons.


Question: What inspired Before you check out?

Nathan Cavaleri : Heads up - Sensitive topic. :) "Before You Check Out" was inspired by the loss of my cousin to mental health challenges - The type that many experience. Having battled and learnt from my own demons, I felt both deep sadness and empathy because I strongly identified with what he went through. During a time that I was trying to make peace with the regret I felt for not reaching out to him, I ask myself the question, "If time could show mercy, what lesson would I share?" I paused and looked around at a sunrise that I didn't see because I was lost in thought. This reminded me of a lesson I learnt in previous years that dramatically changed my life for the better - How our thoughts can colorise our experience and if we aren't consciously aware of this, can make us feel like we're walking in a world that in fact does not exist - A notion that helps me to identify the real course of emotional pain. The chorus lyrics for "Before You Check Out" instantly popped into my head. "Before you check out, before you give in, just know you're checking out of a place you've never been."


Question: Is there a particular message you hope listeners take from your music?

Nathan Cavaleri : I assume you'd want me to focus on the "non-sleazy/cheeky" songs ;) If I had to pick one message, it would be to reframe adversity. Rather than trying to outrun or attack a bad feeling (demons), use it as an indicator. Use those moments to teach you. For me personally, fear has been the greatest teacher. It's only by making peace and learning to wisely communicate with our demons, do we ultimately become free from their grip. (Damn I read too much self-help hahaha!)


Question: What tips do you have for people struggling with depression?

Nathan Cavaleri : THERE IS ALWAYS A WAY! Just because you can't see a way, doesn't mean there isn't one. Further, there are multiple ways despite what we hear. Millions of people around the globe are proof of this. I hesitate giving specific advice because everyone is different, but I found it very helpful to reframe adversity. If you can operate under a belief that "there is always a way" then the mission becomes more about learning rather than fighting. You can't battle depression. Depression thrives on resistance. But when we begin to be observant and curious with a "puzzle-like" mentality, doors start to appear. Not all of them are desirable but stick at it with love and faith and know that every experience will teach you so much about yourself! When the momentum increases, you'll realise that the purpose of these lessons go way beyond overcoming depression. Watch life open up.


Question: Do you prefer performing music or acting?

Nathan Cavaleri : Performing. I'm shit at acting. Haha!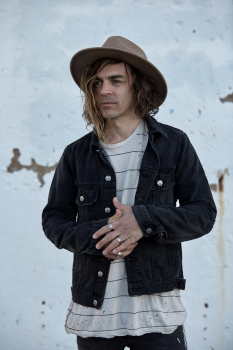 Question: Please tell us about "Australian Story"?

Nathan Cavaleri : For some time, my team and I were looking for a media that would want to broadcast the deeper elements of my journey. There's only so much you can share in a 10 minute long interview and the topics I wanted to hook into would be inappropriate for many medias. Someone suggested that Australian Story would be a good fit. We reached out to them and they agreed. It was quite a process to watch a part of my life come together in front of the camera. I unexpectedly learnt some things about myself during the process too. They're a great bunch of people. I felt safe diving into deep waters with them although not safe enough to be completely comfortable with not seeing an edit before air date! My first watch will be when 1 million other people see it! Eeeee….


Question: What motivates you most when writing music?

Nathan Cavaleri : It use to be a riff or a groove and whilst they are still motivating factors, I really get excited when I come across a lyric or an idea that feels unique. Ideas come wherever, whenever - A line in a book, something someone says, an experience someone has had, an experience I've had…Having mental and physical space to create is also important. The initial rush comes from the act of creation. From as young as I can remember, creating a track from thought alone using elements that I have a deep connection with is one of the most exciting things! However, it becomes more when I feel like it may translate and be a catalyst for connection.


Question: What or who was your inspiration to go into the music industry?

Nathan Cavaleri : I never consciously decided that I was going to enter the industry. It just happened. However, if I had to think of the artists that made me want to play the world, it would be Mark Knopfler from Dire Straits and Diesel.


Question: You've achieved so much, can you provide your tips for creating a successful schedule?

Nathan Cavaleri : Flow is so important. When the mind/body is in a state of flow, creative ideas surface quicker, time warps, strategies are obvious and in general, it feels like you're smashing tasks in a seamless and rewarding way. Knowing this will help you to identify flow blockers.

Organisation - If you aren't organised, you can't get into flow. I like to spend a couple hours on a Sunday night planning out my week and putting in the calendar. Don't just do tasks. Put them as time events and allow. I like to nail the hardest tasks first when my "system resources" are running effectively and the dopamine from an early win serves as fuel for smashing through the rest of the day.

Exercise - Not only is it a proven trigger for flow but getting out of your "head" and into your body is brilliant for creativity, productivity and helps to digest hard emotions not to mention the physiological benefits.

Rituals - Whether it's a meditation in the morning, exercise at night, or setting a timer for every 60 minutes to get away from the screen and move the body… Tracking your emotions and physical states throughout the week will give you an idea of what type of rituals you need to keep you grounded and productive.

SLEEP - There's too much emphasis on productivity. Start to reframe sleep as productive! How much more efficient are you (and happier) when you get it? Not to mention how important it is for general health / immune function.

Purpose / Path - Most importantly, know where you want to head. You can't follow a map if you don't know where you want to go. Take some time to imagine how you ultimately want to spend your time. Forget fears and "how to", just wave a magic wand until you come up with a vision that both lights you up and scares you. Write it down in it's purity. This vision will be your anchor and in a separate session, put together a plan.

I could go on but those are a few fundamentals.


Question: Was there a moment you contemplated throwing in the towel?

Nathan Cavaleri : I did throw in the towel. For 2-3 years. I also gave up on socialising and doing lots of other things because they were all corrupted by anxiety. However, making such permanent decisions from a place of fear didn't sit right with me. So I made myself a deal that I could only make the decision on the other side of fear. Lucky - On the other side of fear was bliss!


Question: What has been your favourite part of becoming a music artist?

Nathan Cavaleri : I have many favourite aspects but one that sticks out is the high I feel approaching the last couple songs of a gig. It's a magical feeling when you realise that your own deep expressions were a source of joy for others. Even if for one night.


Question: What's next, for you?

Nathan Cavaleri : If Aus can jump on top of COVID, I look forward to touring "Demons". Either/or, I'll continue to enjoy streaming and creating on Twitch, start surfing again (for the 10th time), have a much needed break and then cook up another album! I'll be doing this forever.


Question: Can you share your socials? (links please)

Nathan Cavaleri : Twitch
Instagram
Facebook
Youtube


Interview by Gwen van Montfort