Napoleon Perdis Luminous Lip Veils
Get ready for scene-stealing sheen: Luminous Lip Veil catches the light like never before. This liquid lipstick is enriched with Aloe Vera to hydrate your pout and flavored with Lychee Extract for lip-smacking glamour. A brush applicator makes application easy.
Pro Tip
To create a crisp line, use lip liner after applying gloss. Wear Luminous Lip Veil over lipstick or solo for effortless style.
Napoleon Perdis Luminous Lip Veils
RRP: $25.00
Available in 20 colours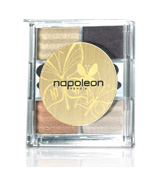 Napoleon Perdis Prismatic Eye Shadow Quad
For dramatic, chromatic beauty, mix and mis-match this quartet of riveting shades. Pigment-rich, easy-to-blend colors range from sparkle to shimmer, metallic to matte, and allow for endless combinations. Ideal for wet or dry application. Applicators included.
Pro Tip
Follow these three easy steps to perfect peepers: First, define your upper and lower lash line with one of the four shades. Next, choose the shade that will be your major color statement and use on the eyelids, blending with the other hues in the palette if desired. Lastly, use the lightest shade to highlight the brow bone or inner eye area.
Napoleon Perdis Prismatic Eye Shadow Quad
RRP: $49.00
Available in 14 colour combinations
Available at Napoleon Perdis concept stores and David Jones, for stockists call 1800 814 572 or visit
www.napoleonperdis.com