Napoleon Perdis Long Black Mascara
Unleash your inner screen siren with this truly vampy number. The proprietary blend of allantoin, candellia wax and beeswax ensures supreme lash conditioning, while anti-irritant ingredients make it ideal for sensitive souls.
Long Blacks intense black pigment provides maximum payoff with minimum effort. The bent wand applicator acts as a built-in lash curler and creates excellent contour and control over unruly lashes.
Napoleon Perdis Long Black Mascara
RRP: $33.00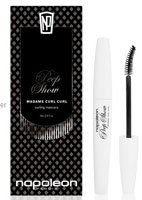 Napoleon Perdis Madame Curl-Curl
Madame Curl-Curl, as her name suggests, is all about achieving sinuous glamourand lashes that bend and twist upwards. Even the most stubborn lashes cannot helpbut be persuaded to behave. A high concentration of sugar polymers sets lasheswhilst being curled, so the effect lasts throughout the day. The sophisticated formulalengthens and lifts hairs while coating them with moisture.Napoleon Perdis Madame Curl-Curl
RRP: $30.00
Aavailable through all Napoleon Perdis concept stores, David Jones Department stores and select independent retailers in Australia. For Stockists call: 1800 814 572 or visit:
www.napoleonperdis.com