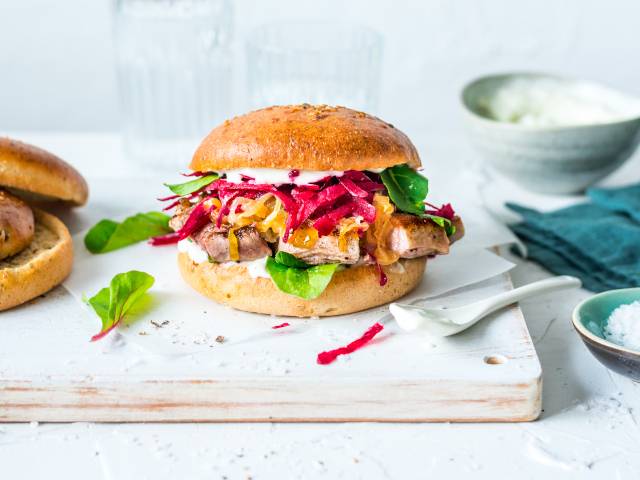 Hemp & Rosemary Sourdough Lamb Burgers.
Serves 2

Ingredients
2 x Hemp & Rosemary Sourdough Buns
200g lamb fillet
1 x onion
1 tsp coconut sugar
1 cup mesclun
1 small fresh beetroot (peeled and grated)

Method
1. Thinly slice the onion and heat a drizzle of olive oil in a pan over a low to medium heat. Add the onions to the pan and leave to soften for 3-4 minutes. Once the onion is soft, add the coconut sugar, stir and cook for a further 5 minutes, or until your onions are caramelised.
2. While the onions are caramelising, season the lamb fillet with salt and pepper. Heat a pan on a high heat and add a drizzle of olive oil. Cook the lamb, turning occasionally, for 5 minutes or until cooked to your liking. Remove the lamb from the pan and set aside to rest for 5 minutes before thinly slicing.
3. Cut your Hemp & Rosemary Sourdough Buns in half and put in a toaster to lightly toast.
4. To build your burgers, spread your bun bases with aioli and top with the sliced lamb, caramelized onion, grated beetroot, fresh mesclun and the top half of the bun. Enjoy!


Even if you don't have coeliac disease, many people report feeling healthier day-to-day eating gluten-free.

While going gluten-free can seem really daunting at first, it doesn't have to be hard.

Here are five food swaps that coeliac and gluten-sensitive foodies can still enjoy, making it a piece of (gluten-free) cake.

GLUTEN-FREE FOOD SWAPS!

SWAP1: BREAD

Forget the old white loaf of bread. For an endless variety of gluten, soy and dairy-free, keto and paleo twists on classic breads, sourdoughs and pizza bases, head to Venerdi Breads. Stand-outs include the broken black rice and polenta sourdough, Gluten Freedom sweet potato sourdough, Gluten Freedom hemp and rosemary sourdough buns, paleo super seeded and hemp and linseed bread. venerdibreads.com.au

SWAP 2: PASTA

Swap refined wheat pasta for legume-based pasta. Legumes are a good source of fibre, b vitamins and protein. They are gluten-free, vegan, taste delicious and can be substituted in any pasta-based meal.

SWAP 3: PIZZA BASE

Everyone needs a good pizza base substitute if you're eliminating gluten from your diet. Venerdi Breads has a delicious choice of pizza bases that are vegan and free from gluten, soy and dairy.

SWAP 4: GLUTEN SNACKS FOR HOME-MADE KALE CHIPS

Kale is a nutrient-rich vegetable and also a good source of calcium, iron, magnesium and vitamin c. Kale chips are an easy way to introduce kale into the diet, and tastier than munching on plain leaves. Drizzle olive or coconut oil and sea salt over washed and dried kale pieces. Bake in the oven until crunchy.

SWAP 5: SOY SAUCE FOR COCONUT AMINO SAUCE

Made from aged coconut tree sap, it's a tasty alternative to soy sauce that's packed with flavour. Ideal for salads, dressings, stir-fry, sushi, soups, or with rice and beans.