Mia Dyson The Moment Interview
You are Mia Dyson and you've worked your ass off the past decade to be heard on the Australian continent. That work has paid off. People know your name. Writers gush about your whisky-tinged voice and liken you to Lucinda Williams, Bob Dylan and the Boss. You've headlined shows, played the festivals, cut three records and received plenty of radio play. You've been nominated four times for an ARIA, winning one. You've toured with Eric Clapton, Bonnie Raitt and Stevie Nicks.
But there is this dream you've had since you were a child listening to your parents' vinyl collection and later reading E Annie Proulx. Get to America. Tour across the States playing music, soak into the American culture and ultimately, make a lasting record.
So you sharpen your teeth and sink into that dream.
Well, Mia Dyson, welcome to America. It's 2009 and nobody knows your name.
In the next three years you'll separate from your long-time partner, you'll go broke, lose your band and your management will try to change your name and sell you out to reality television.
And what is your response to it all?
You make the most gutsy and revealing album of your life. You reclaim the helm of your career, building a community of players and friends, touring through the vast cities and big sky country you've heard achingly described in your favourite songs, enjoying America the way you dreamed of.
"The Moment" frames that three-year journey into a chaotic American landscape and the depths of uncertainty. It is an album about grabbing hold of what scares you most and letting go of trying to control your own fate. Each song holds up a piece of broken heart and examines it through the fresh eyes of a woman who's found her place, and is suddenly aware that not much in life can be planned. From the chronicle of an imploding relationship ("Pistol") to the life-affirming heart-pounding joy of forging ahead ("When The Moment Comes") to the empathetic gaze outward into a dark canon of Australian history in "Jesse". This is the kind of album America meant for Mia Dyson to make all along.
And now it's time to bring it all home.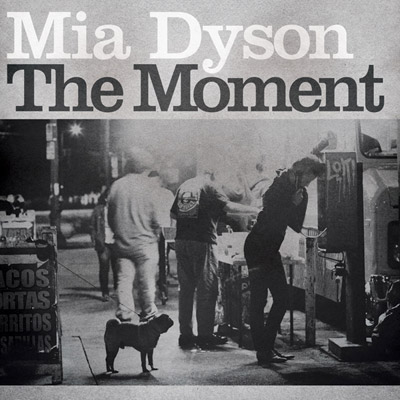 Interview with Mia Dyson
Question:
How would you describe Pistol?
Mia Dyson
: A emotionally-charged break up song.
Question:
What's was the main motivation behind The Moment?
Mia Dyson
: Everything from my own life experience and observations in songs like 'The Outskirts of Town' and 'Pistol' to stories shared with me by others like 'Jesse', a song about forced adoption given to me by a woman at a show a few years ago.
Question:
What music/artists do you listen to when you are not playing your own?
Mia Dyson
: Lucinda Williams, Gillian Welch, Neko Case, Tom Waits, Bob Dylan, The Band, Liz Stringer, Jen Cloher and Laura Jean.
Question:
What's next? Tour/Album/Single?
Mia Dyson
: Well, I've just released a record, so a new album will be a ways off. I'm currently on tour promoting 'The Moment' and will probably release another single from it in the new year.
Question:
Was there a moment you contemplated throwing in the towel?
Mia Dyson
: There's been many, but they're short lived. Just when the way forward appears blocked or impossible.
Question:
Do you prefer performing live or recording?
Mia Dyson
: I like both for different reasons. Live is an immediate high and gratifying to be part of a band creating something that disappears. But Recording was be very rewarding to, when songs evolve and become their own entities as the recording process takes place.
Question:
What/who was your inspiration to go into the music industry?
Mia Dyson
: My dad had a big influence on me, being a guitar maker and player himself. He encouraged me and both my parents played a lot of good music in the house while I was growing up.
Question:
What is the biggest challenge you have faced along the way to your musical success?
Mia Dyson
: Moving to the USA and 'starting again'. It was incredibly tough for the first six months and many times I just wanted to come home. But the US has a strong pull for me, with its rich musical history and I stuck it out!
Question:
What's a typical day like?
Mia Dyson
: On the road it's get up, drive or fly, sound check, eat, play, hang, and sleep. At home, I write in the mornings, ideally for a couple of hours, and then, being self-managed, spend the afternoons in the 'office' doing all that needs to be done to keep my career moving. Hopefully see a band or dinner with friends in the evening.
Question:
What has been your favourite part of becoming a music artist?
Mia Dyson
: Getting to create!
Question:
If you could collaborate with another artist, who would it be?
Mia Dyson
: Lucinda Williams - I'd love to write with her, and play in a band with her.
Question:
Do you have a website fans can visit?
Mia Dyson
:
www.miadyson.com
Question:
Can you tell us 5 things required for a happy healthy & enjoyable life?
Mia Dyson
: A creative outlet, love and friendship, healthy food, lots of sleep and chocolate!
Question:
What message do you want your music to say to your fans?
Mia Dyson
: Do what you love!
Interview by Brooke Hunter