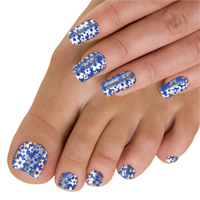 Metallic Nails
Metallic Nails has introduced a new type of nail product to Australia that allows the simple creation of stunning designer nails unachievable by traditional methods. The product follows a recent global nail phenomena where modern nail wraps are stunning new alternative for nail polish. Not only do these products allow for beautifully detailed designs but they remove the mess, chemicals and drying involved with nail polish.
Metallic nails currently stocks over 120 designs with everything from wild animal prints, to beautiful metallic flowers, crazy graffiti and hypnotic patterns.
In addition to the unique designs, the new technology also strengthens nails making them more resistant to chips and scratches. They are flexible and can be used with other nail products to create a long lasting effect. With simple application and pre-cut wraps to fit both artificial and natural nails this is the perfect treat for any girl that wants eye catching nails this summer.
www.metallicnails.com