Markus Meier Modern Days Interview
After the successful release of the first single A Perfect Night from Markus Meier's third album, Modern Days, this talented country performer is gearing up for another chart topping song. Markus released the second single Only Human, and it is already garnering interest around Australia. With his third offering, Markus took a different direction with his music, and in turn, is steadily building a whole new fan base.
The album, Modern Days, was recorded with acclaimed producer Garth Porter, and written with Matt Scullion and Dan Conway. Recorded with a swag of the best musicians in Australia, including Pete Drummond (Dragon) and Ian Lees, the album shows why Markus has been getting the reputation for being one of the new breed of country aritsts to watch out for. As a two time Golden Guitar nominee, Markus is no stranger to country music audiences, having toured in support of The McClymonts and Lee Kernaghan over the past 12 months, and holding the permanent position in Lee's touring band.
Modern Days is a different direction musically for Markus. "Music has always been a creative process and as an artist you must evolve with the music and with the times," he says. "Modern Days is an example of 'country' moving into the future and becoming 'new country' and 'country rock'. Our aim is to engage a new, youthful audience, perhaps even people who wouldn't normally listen to country music. This album is more general than my previous two and hopefully will win over some new fans and get them interested in new country music."
The first single from the album A Perfect Night hit #1 on the country charts. The release of Only Human as the second single for the album was an easy one for Markus. "Only Human is one of those songs that music lovers from all walks of life will find something to connect with," he says. "It has always been a standout track of the album for me personally. The track has a unique sound about it, which I love, but I think it will slot in on most radio playlists. It has an up-tempo country vibe with an infectious hook."
The video clip for Only Human is already attracting attention. Telling the story of a boxer's life in the ring, and the problems the violence of this life brings with it to his personal relationships. It was filmed with boxing champion Danny Price, professional fighter Harry El Husseini and model and actress Jessica Saras. Part of the filming also took part in Anthony Mundeen's training gym. Markus says the boxing concept seemed perfect for the song. "Boxing can be such a brutal sport with horrific injuries incurred, yet the athletic boxers almost glide across the ring like a ballet dancer would own a theatre stage," he says. "We used a lot of slow motion shots to display the boxing scenes more like an art form, and the whole clip is purposely shot quite dark to depict the mood of the song."
The song depicts the vulnerability of humanity. "No matter where we come from, we are all human beings and we are not as bullet proof as we think we are," Markus says. "Cut me and I bleed…"
Only Human is online at
www.youtube.com/watch?v=V-Ll-lPu4F0
Modern Days, is out now through WJO Distribution. Only Human is at radio now.
For more information please visit
www.markusmeier.com.au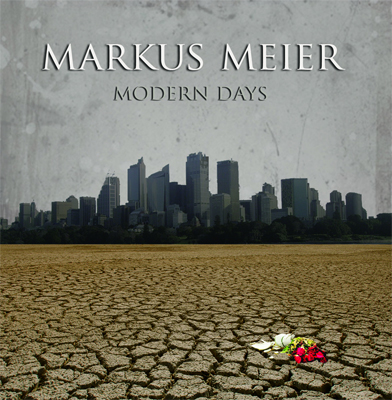 Modern Days Music Review
: Markus Meier is certainly a talented and quite a unique country music artist whose music is full of energy. The title track Modern Days is my favourite song on this album not only because of the thoughtful lyrics but the rhythmic beat of this soulful track.
Interview with Markus Meier
Question:
How would you describe your music?
Markus Meier
: New country rock... Coldplay/Kings of Leon meets Keith Urban/John Mayer (if that makes any sense).
Question:
How does Modern Days differ from your previous albums?
Markus Meier
: Modern Days is more general in song topics, things like love and confused direction. Modern Days in general is probably closer to rock than country. Having said that, I'm still really proud of all my albums.
Question:
How did it feel to hear your song played all over the airwaves?
Markus Meier
: It's any songwriters dream to have their work played on the radio! When I first heard one of my songs over the PA system in Target I started laughing to myself and people walking past thought I was a nut...
Question:
Did you have any pre-conceived ideas about the music industry?
Markus Meier
: Not really... If anything I try not to have too high expectations of the industry as there is far more disappointment and knock backs than successes.
Question:
Do you write your own songs? What's your inspiration?
Markus Meier
: Yes, I started writing my own songs as a 10-year-old (although they were not so good) Inspiration can come from anywhere, friends, family, strangers... being on tour visiting new places, relationships past and present… you get the idea!
Question:
What music/artists do you listen to when you are not playing your own?
Markus Meier
: I listen to all types of music from real old school 60's to the top 40, basically a bit of everything.
Question:
What's next? Tour/Album/Single?
Markus Meier
: We just finished a regional NSW tour and our next festival is Mud Bulls and Music up in QLD. Also working on pushing the second single and video of Modern Days called 'Only Human' .
Question:
Was there a moment you contemplated throwing in the towel?
Markus Meier
: Yes! I have thrown a few towels around, but I keep coming back to music because I'm not myself without it…
Question:
Do you prefer performing live or recording?
Markus Meier
: They are both very different animals, both very exciting, but if you're making me choose I say performing live every time. You can't beat a live crowd!
Question:
What/who was your inspiration to go into the music industry?
Markus Meier
: When I was very young my mum would sing to my brother and I as we travelled around Australia in a motor home, so I guess my mum is to blame!
Question:
What is the biggest challenge you have faced along the way to your musical success?
Markus Meier
: One of the bigger challenges as an independent artist is convincing the industry and the people who are in power that you are good enough to be up there in lights with the big acts.
I am very proud that I have been able to remained an independent artists but it also means we usually have to work twice as hard to achieve our goals.
Question:
What's a typical day like?
Markus Meier
: Wake up way too early, catch a plane to somewhere, pick up rental car and drive too fast:), check into hotel, soundcheck, try to eat something that resembles food, rock out at the gig, sign cds and weird body parts, talk to people at the gig and drink what's left in the band room and mini bar, go to bed before you have to wake up and do it again... too easy.
Question:
What has been your favourite part of becoming a music artist?
Markus Meier
: Seeing people in the crowd sing the songs back at me... love it.
Question:
If you could collaborate with another artist, who would it be?
Markus Meier
: Taylor Swift.
Question:
Can you tell us 5 things required for a happy healthy & enjoyable life?
Markus Meier
: 1. Try to eat real food, not the man made stuff!
2. Keep active (I don't mean run triathlons) just get off the couch and go outside
3. Don't watch TV, use your imagination and entertain yourself
4. You must find love...
5. Listen to music (mine included;)
Question:
What message would you like to say to your fans?
Markus Meier
: Thank you for your support, without you I wouldn't have a gig! You guys rock!
Interview by Brooke Hunter