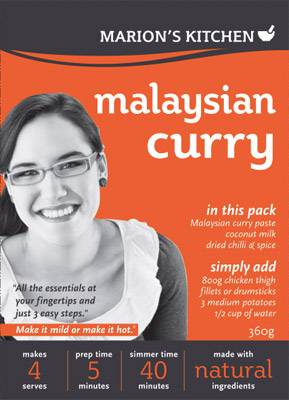 Marion's Kitchen Malaysian Curry
Marion's Malaysian inspiration delivers a delicious new food journey

One of Australia's most inspiring home cooks, Marion Grasby, has done it again. On a mission to help Australia continue its embrace of exciting Asian flavours; one tasty home-cooked meal at a time; Marion has just released the newest member of her highly successful meal kit range, Marion's Kitchen.

The new Malaysian Curry meal kit is set to add a rich and exotic twist to meal times and will become a must-have on any shopping list. The Asian-inspired creation is hitting supermarkets across Australia now and is the seventh edition to the Marion's Kitchen range.

Continuing her philosophy of bringing some of Asia's most unique and delicious flavours to Australia in the form of easy step-by-step meal kits, Marion's Malaysian Curry kit is bursting with flavour and can only be
described as mouth-wateringly yummy.

A perfect meal for any occasion, Marion's Kitchen Malaysian Curry contains coconut milk, dried chilli & spice and of course, the key to unlocking that authentic flavour: a richly spiced and delicious Malaysian curry paste.

'My newest Marion's Kitchen meal kit gives food lovers the chance to create their very own Malaysian culinary experience at home with friends and family. It makes cooking this dish super easy and convenient," says Marion Grasby. 'I've done all the hard work, so the only things left to worry about are adding the chicken and potatoes...simple!"

Marion's Kitchen Malaysian Curry is available now in supermarkets nationally for only $6.99 (including Woolworths, Coles and selected independent stores). For more information, visit: www.marionskitchen.com.au www.facebook.com/mariongrasby, www.twitter.com/marionskitchen.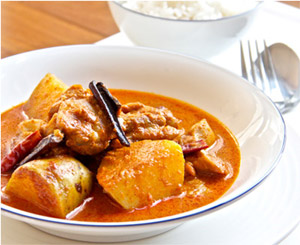 Marion's story:
Marion is a little bit Thai (courtesy of her Mum) and a little bit Australian (courtesy of her Dad). Her love of food and travel became ingrained at an early age as her globe-trotting parents lived and travelled in Papua New Guinea, Thailand and Australia.

Marion is the owner and creator of Marion's Kitchen and counts her successful food company as her biggest achievement and dream come true. After splitting her time between Sydney and Bangkok over the last few years, Marion has recently moved to Thailand to develop her product line further. She is constantly working on new and exciting products to introduce to her range, which Australians are hungry to taste.

Marion also stars in her own television show, Marion's Thailand which airs on Foxtel network, Lifestyle FOOD on Tuesdays at 8.30pm.

Also available in the range: Pad Thai, Thai Red Curry, Thai Green Curry, Singapore Noodles, Thai Basil & Chilli Stir-Fry and San Choy Bow. Marion's Kitchen is stocked in over 3,500 stores, making the company one of the most popular producers of Asian food nationally.