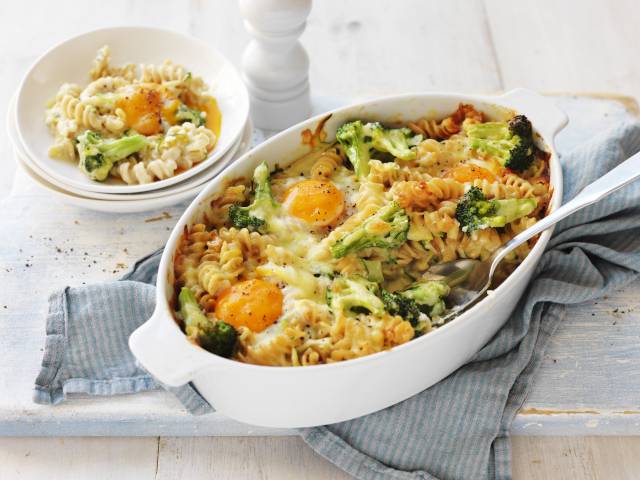 This winter, rug up with a delicious bowl of comfort food - sure to warm you from the inside out!
Delicious winter warmer recipe ideas from Australian Eggs - from fast and simple comfort meals to slow and steady recipes that the whole family can get involved with! Recipes include a delicious Salmon and Rice Egg Pie, Mac and Cheese, Twice Baked Cheese Souffles (perfect for a Sunday brunch!), Kedgeree, Egg and Lentil Dahl.

Mac and Cheese

Prep Time: 10 minutes
Cook Time: 30 minutes
Serves: 4

Ingredients
• 250g spelt pasta
• 300g broccoli, cut into small florets
• 1½ tablespoon olive oil
• 1 garlic clove, crushed
• 2 tablespoons plain flour
• 400ml milk
• 1 teaspoon Dijon mustard
• 1 zucchini, grated
• 80g (1 cup) grated vintage cheddar cheese
• 4 eggs

Method
1. Preheat oven to 200°C/180°C fan forced. Lightly spray a 1.5 litre (6-cup) capacity baking dish with oil.
2. Cook pasta in a large saucepan of boiling salted water following packet instructions, adding broccoli for last 2 minutes of cooking time. Drain.
3. Heat oil in a large non-stick frying pan over medium heat. Cook garlic, stirring, for 1 minute or until fragrant. Add flour and cook, stirring, for 1-2 minutes. Gradually stir in milk and bring to the boil. Reduce heat and simmer, stirring occasionally, for 3-4 minutes or until thickened. Stir in mustard, zucchini and half the cheese and cook stirring for 1 minute. Add cheese mixture to pasta mixture and stir until well combined.
4. Spoon pasta mixture into prepared dish. Make four indents in the pasta and carefully break an egg into each indent. Sprinkle bake with remaining cheese. Bake for 12-15 minutes or until eggs are cooked to your liking.