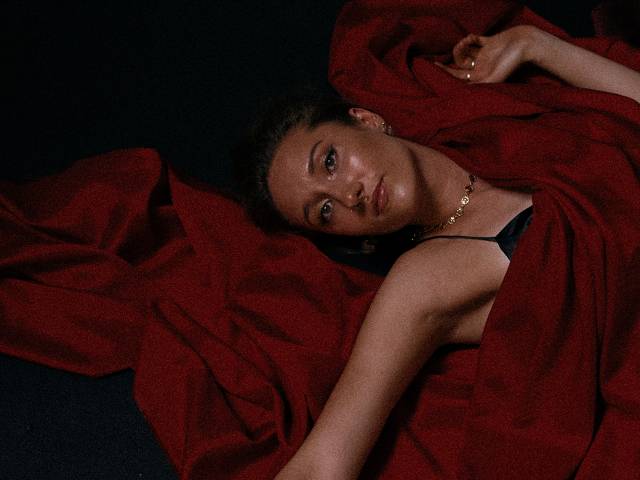 Known for defying genres with an alluring fusion of indie-rock, lo-fi folk, sprinklings of psychedelia and stunning jazz-style vocals, Brisbane's Lucy Francesca Dron is releasing her vulnerable new single 'Liquid Numbing Pain'.

With the release of charismatic single 'What Is Next?' in January this year, Lucy Francesca Dron has experienced a busy start to 2021, playing a sold-out single launch event, supporting The Delta Riggs and receiving raving reviews from the likes of theMusic, AAABackstage, Australian Music Scene, Triple J Unearthed, Scenestr and more.

With no signs of slowing down, Dron now delivers a pain-drenched single and music video in 'Liquid Numbing Pain', which drips with dulcet indie-rock tones as the melodic strumming of electric guitar partners with humble percussion. The raw emotion seeping through Dron's honeyed vocals is undeniable as they move rhythmically through the verses, intensifying alongside the drums in the aching chorus.

Journeying through different stages of heartbreak, the song's second half builds with a slow-burning rage, culminating in an outpouring of instrumental and vocal prowess within the elongated bridge. Finally, emotionally exhausted, the song is incrementally stripped back until the last note sounds.

Lyrically, 'Liquid Numbing Pain' explores the desire to escape from the gut-wrenching emotions caused by heartbreak. As the song moves from devastation and self-accusation to rage, blame and back again, Dron leaves herself utterly exposed, stating:

"This track is a raw and honest retelling of my own experience of intense heartbreak and loss."

Produced by Phoebe Faye & Johnathan Oldham, the music video moves through picturesque scenes of Dron wrapped up in silk, as she blames and torments herself. Distressed from her heartbreak, she is seen numbing her pain and anguish which combined with the expressive track, makes for a powerful and revealing visual accompaniment.
'Liquid Numbing Pain' will accompany 'What Is Next?' on Dron's upcoming EP 'Leftovers', which is a collection of songs that each signify a different stage in Dron's coming-of-age journey.

'Liquid Numbing Pain' is out now ahead of the release of EP 'Leftovers' on June 4.